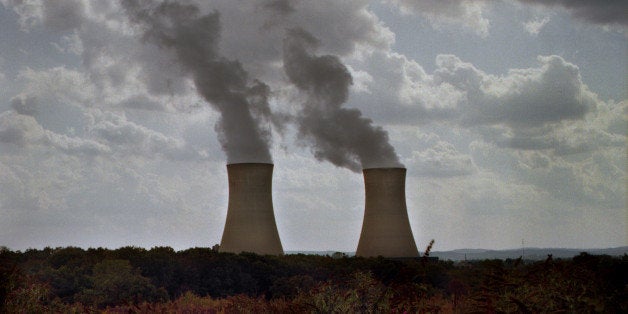 WASHINGTON -- Mississippi may be the latest battleground in the debate over what to do with nuclear waste. A state-based energy group presented a plan to the state Senate on Monday that proposes building a "massive nuclear energy industry cluster" in the state that includes a nuclear waste recycling facility, as well as short- and long-term storage.
The Mississippi Energy Institute (MEI), a group that represents a number of energy companies, pitched the idea at a meeting of the Senate Economic Development Committee on Monday. The group has released a white paper outlining what it sees as "significant economic development opportunities" that could come from building a nuclear waste facility in the state. News of the proposal broke late Friday, in a story in Jackson's Clarion-Ledger.
MEI President Patrick Sullivan said in an interview with The Huffington Post that his group is only in the "very, very early" stages of pitching Mississippi as an option for waste recycling and storage. "We're just having a conversation," Sullivan said. "Something like this is just not going to happen without community support." Started in 2009 by former Gov. Haley Barbour (R), the group is certainly well-connected in the state. Sullivan is a former Barbour policy adviser.
Mick Bullock, a spokesman for Gov. Phil Bryant (R), said in an email, "The Governor continues to look at other nuclear opportunities and is interested in learning more about this."
But environmental groups in the state quickly rallied against the idea. Louie Miller, the state director of the Sierra Club in Mississippi, pointed to a proposal for a nuclear waste facility introduced in the state in the 1980s that was swiftly defeated by strong public opposition. "The only dump that needs to be built in Mississippi is to dump the bad ideas of MEI," Miller said. "If you want to destroy property values faster than a speeding bullet, drop a nuclear waste dump next to somebody and see if they can give it away."
"Everybody from the governor to the botanical society came out against it," said Stan Flint, a lobbyist who led the group Citizens Against Nuclear Disposal in the '80s. The state, he said, decided "there were better things that Southern Mississippi could be known for than being an national waste dump."
The proposal comes at a time when nuclear waste storage has again become a hot political topic. Nevada's Yucca Mountain has been the only site designated for storing spent nuclear reactor fuel in the U.S. since 1987, and the federal government spent $15 billion and more than two decades working on it. (Nevadans, including Senate Majority Leader Harry Reid, were not very big fans of that idea, however.)
But in 2010, the Obama administration shut down work on the waste storage facility and created a panel of experts to evaluate other options for dealing with waste. The panel said last year that an alternative site should be developed.
Roger Hannah, a spokesman for the Nuclear Regulatory Commission, said it was too soon to comment on the idea of siting a waste facility in Mississippi. "There obviously would be a number of steps involved should the State of Mississippi decide to pursue such a path," Hannah said, "and it would be premature to speculate on exactly how that process might proceed."
Calling all HuffPost superfans!
Sign up for membership to become a founding member and help shape HuffPost's next chapter