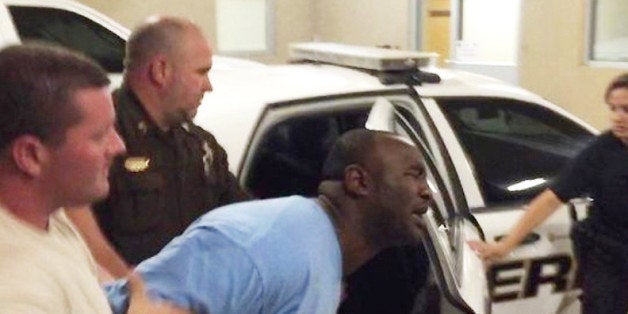 HATTIESBURG, Miss. (AP) — Two Mississippi police officers — one a rookie — were shot to death during an evening traffic stop turned violent, a state law enforcement spokesman said Sunday. Three suspects were in custody, including two who are charged with capital murder.
The deaths of the officers are the first to hit the southern Mississippi city of Hattiesburg in three decades — and come amid a national debate on policing, race and the use of deadly force, following the recent killings of unarmed black men by police in Missouri, South Carolina and elsewhere.
The officers' deaths also follow by a day the funeral of a New York City officer who was shot in the head while stopping a man suspected of carrying a handgun.
Warren Strain, a spokesman for the Mississippi Department of Public Safety, told The Associated Press that 29-year-old Marvin Banks and 22-year-old Joanie Calloway were each charged with two counts of capital murder.
Banks was also charged with one count of being a felon in possession of a firearm and with grand theft for fleeing in the police cruiser after the shooting, Strain said.
"He absconded with a Hattiesburg police cruiser. He didn't get very far, three or four blocks and then he ditched that vehicle," Strain said.
Banks' 26-year-old brother, Curtis Banks, was charged with two counts of accessory after the fact of capital murder.
Officers arrested the three Hattiesburg residents at different locations overnight following the fatal shooting of the officers Saturday evening, Strain said.
"All three subjects were taken into custody without incident," Strain said, adding they were expected to face initial court appearances Monday. Because authorities said the three were being held at undisclosed jails in the state, they could not be reached for comment. It was not immediately known if they had acquired lawyers.
Strain said the three suspects were traveling in a Hyundai vehicle when it was stopped and that shots were fired by "one individual" from the vehicle.
He declined Sunday morning to say how many shots were fired or who had fired them. He also said any information about the officers' actions or what prompted the stop "would be premature to talk about" only hours into the investigation.
The official said Marvin Banks was found at a hotel in the area after Calloway was arrested at a convenience store. He added that Curtis Banks was taken into custody at a Hattiesburg apartment.
"At this point a weapon has not been recovered. However, warrants have been issued to search several properties in the Hattiesburg area. We are hopeful and believe that the murder weapon will be recovered," Strain added. "At this point, it appears to have been only one weapon."
Strain said both officers died of their wounds at a hospital.
Lt. Jon Traxler, a Hattiesburg Police Department spokesman, identified the officers who died as 34-year-old Benjamin Deen and 25-year-old Liquori Tate. Local reports identified Deen as a past department "Officer of the Year," and Tate was a newcomer to the force who Strain said was a 2014 graduate of the law enforcement academy.
"All I know right now is that there was a traffic stop and someone started shooting at them and both of the officers were struck," Traxler said.
The officers bodies were taken to a medical examiner's office in Jackson with autopsies pending, Strain said.
After the shooting, law enforcement agents swarmed the area. Many emergency vehicles, their lights flashing, could be seen and police initial asked nearby residents to shelter indoors while they sought suspects.
The state's chief law enforcement agency, the Mississippi Bureau of Investigation, has taken up the investigation, according to Strain.
Earlier, Hattiesburg Mayor Johnny DuPree told The Jackson Clarion-Ledger (http://on.thec-l.com/1GWpqRp) he lamented the deaths.
"The men and women who go out every day to protect us, the men and woman who go out every day to make sure that we're safe, they were turned on (Saturday) night," DuPree said outside Forrest General Hospital in Hattiesburg, where the officers were taken.
The newspaper reported these are the first Hattiesburg officers to die in the line of duty in 30 years.
Hattiesburg resident Tamika Mills was quoted by The Clarion-Ledger as saying some bystanders came upon the officers on the ground, and that one of the officers asked "... 'Am I dying? I know I'm dying. Just hand me my walkie-talkie,'" Mills told the paper.
She added, according to the account, that seeing the officers down was "shocking and heartbreaking."
AP reporter Bill Cormier contributed from Atlanta.
Copyright 2015 The Associated Press. All rights reserved. This material may not be published, broadcast, rewritten or redistributed.
Related
Popular in the Community