 VIDALIA, La. -- Traffic has been swift for weeks along the majestic steel bridge that connects this low-lying river town to its sister city across the Mississippi River.
Moving vans filled with furniture, tractors and combines from cotton and corn fields, and truckloads of office supplies all head toward Natchez, Miss., the hilltop town less than a mile across the river that is quickly becoming an expatriate community for hundreds seeking higher ground.
As floodwaters and tensions rise in this scenic stretch of the Mississippi Valley, an informal exodus takes place in Vidalia, as neighborhoods empty and businesses relocate to higher ground on the opposite side of the river.
Call it a hardened sensibility to the powerful forces at play. Those who have lived along the river for generations are distinctly in tune with the rhythms of nature. And this year, nature said Vidalia should flee.
"She's mean right now; she's just treacherously mean," said lifelong Vidalia resident Vicki Torrey, reflecting on the river. "And with our officials, I'm afraid. I'm afraid that Mother Nature is just gonna outwit them."
Like many in Vidalia, Torrey essentially camps out in her home, after moving nearly every stick of furniture across the river to storage on higher ground. She and her husband still have their bed, refrigerator and two uncomfortable chairs.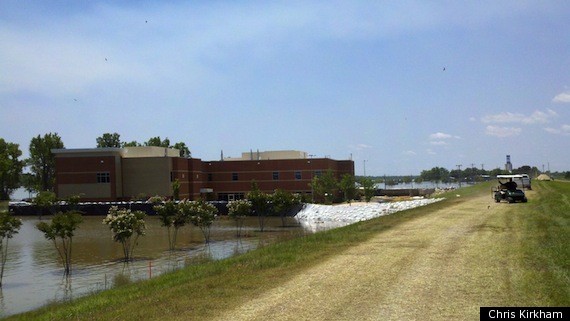 Torrey's dogs know something is awry, being without their usual beds for weeks now.
The migration across the Mississippi has happened during past floods, but never to the same extent as this year. Storage spaces in a 50-mile radius of Natchez are filled to the brim.
Short-term leases on apartments and houses on high ground have been popular, and the supply is dwindling.
"There's a lot of 'just in case' preparation going on," said Natchez real estate broker Glenn Green. "The supply has pretty much been used up. People are just asking favors of friends at this point."
The differences in landscape between Natchez and Vidalia are the product of a geological anomaly along this stretch of the river that has played out over thousands of years.
Residents of Natchez sit high atop a bluff overlooking the river, the product of sand and clay deposits blown to this part of the country during the last ice age. Residents of Vidalia sit in a natural lowland floodplain, as the river meandered throughout time and flattened out the land. They have to walk up a levee to catch sight of the now-roiling body of water.
The differences could not be more striking during this year's epic flooding. Most of the buildings in Natchez stand more than 250 feet above the already-high river, facing no risk.
The City of Vidalia, meanwhile, is in the midst of a two-week battle with the waters of the Mississippi, as officials try to protect a stretch of waterfront property that includes the town's hospital, convention center and a riverfront hotel.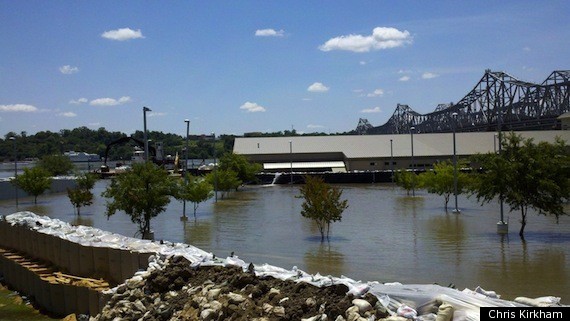 The businesses were technically built in a precarious spot, on the inside of the mainline Mississippi River levee system, as part of a local effort to encourage waterfront development.
Although many residents have questioned the prudence of building on that side of the levee, city officials said all the buildings were built above the flood levels specified by the federal government. This year's flooding is unquestionably higher than that government standard.
"Everybody thinks because it's on this side of the levee that we're idiots," said Guy Murray, the project manager for the city's flood fight. "Every one of these buildings is built two feet above the 100-year flood level. It's just a God-given deal that we're seeing right now."
With no federal levee to protect these structures from never-before-seen flooding, the city for weeks has built and maintained a series of makeshift barriers to keep the water out. All along the waterfront, enormous wire and steel-reinforced baskets filled with thousands of pounds of sand have been stacked up in an unprecedented man-versus-nature fight.
As of Tuesday, the convention center was essentially an island, surrounded on all sides by river water. Over the past few days officials have been fighting "sand boils" -- essentially burps in the makeshift levee that allow river water to start seeping through. On Tuesday afternoon, bulldozers and cranes dropped 3,000-pound sandbags at the site of the leaks.
The main river levee, which sits behind the waterfront business district, still protects all the residents in town. But the city's battle with the river serves as a constant reminder of the town's vulnerability, many residents said.
William Coleman, who works for the City of Vidalia, has even moved his possessions across the river, splitting his things among relatives and a warehouse he rented.
Vidalia resident Calvin Creel has been living in a recreational vehicle in his son-in-law's yard in Natchez. It's stuffed with nearly all his belongings.
"You're down in a bowl over there, surrounded by levees all around," Creel said while sipping a Budweiser along the riverfront in Natchez, scanning what looked to be a submerged Vidalia waterfront. "I ain't takin' no chances; I'm too old."
Residents who have remained in Vidalia noted an eerie silence in recent weeks.
Kevin Carlock said he'll stay. His grandparents rode out the flood of 1927, often regaling him with stories of levee breaks and flooded fields.
But he's ready for things to return to normal. "All of a sudden my neighborhood's empty," he said. "I have no one I can go over to and say, 'Hey, I'm out of coffee.'"
Others, like Rusty Jenkins, displayed a sober realism about life in proximity to the Mississippi River. He's a local attorney and owner of a port facility in Vidalia that's already underwater. But he makes no apologies for deciding to take risks with nature.
"You live on the river, you're going to have good and bad with it," he said. "Just like you play the stock market. Sometimes you lose your butt, sometimes you win some money."
Popular in the Community