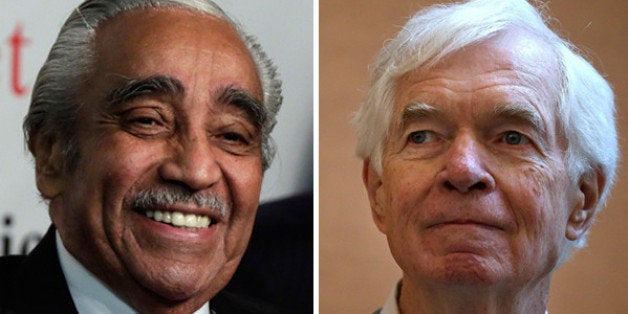 WASHINGTON -- The tea party is getting its best chance to knock off a sitting senator on Tuesday, when Chris McDaniel faces Sen. Thad Cochran (R-Miss.) in the state's GOP primary runoff contest.
Voters are heading to the polls in Colorado, Maryland, New York, Oklahoma and Utah, with primary runoff elections happening in Mississippi and South Carolina.
The tea party could also pull off an upset in New York's 22nd congressional district, where activists are hoping to unseat Rep. Richard Hanna (R-N.Y.), who is known as one of the more moderate members of the GOP caucus.
On the Democratic side, one of the biggest races will be in the blue state of Maryland, where candidates are trotting out their progressive credentials and putting forward policy proposals to create universal prekindergarten classes and legalize marijuana. Rep. Charlie Rangel (D-N.Y.) is also facing a challenge from the left, fending off attacks that he's been too friendly to Wall Street.
Here's a look at the key races The Huffington Post is watching:
MISSISSIPPI SENATE: Sen. Thad Cochran (R-Miss.) and Chris McDaniel were forced into a runoff after neither candidate received a majority of the vote in the June 3 primary. It's been a nasty race, with several of McDaniel's supporters arrested after allegedly breaking into a nursing home to photograph Cochran's wife, who has dementia, in order to write a hit piece. (McDaniel has denied knowledge of the plot.) Tea party figures like former Alaska Gov. Sarah Palin (R) are backing McDaniel, arguing that Cochran -- who has not had a competitive race since 1984 -- is not conservative enough. The GOP establishment, however, continues to back Cochran, and Sen. John McCain (R-Ariz.) is rallying with the senator Monday. Cochran is trying to appeal to more Democrats and independent voters, hoping their votes could overcome the conservative enthusiasm for McDaniel -- but this strategy is also putting him at risk of alienating grassroots conservatives even more. Outside groups have poured more than $8 million into this primary contest.
OKLAHOMA SENATE: Two rising stars within the GOP are vying to succeed retiring Sen. Tom Coburn (R-Okla.). While Coburn hasn't officially endorsed Rep. James Lankford (R-Okla.) or former state House Speaker T.W. Shannon (R-Okla.), he recently condemned negative ads by outside groups like the Senate Conservatives Fund, which has been hitting Lankford and painting him as a "Washington insider." Shannon, Oklahoma's first African-American state House speaker and a member of the Chickasaw Nation, has support from popular conservatives like Palin and Sens. Ted Cruz (R-Texas) and Mike Lee (R-Utah). He has found what little ground there is to the right of Lankford, a Baptist minister, who is facing criticism for his votes to raise the debt ceiling. The race will proceed to an Aug. 26 runoff if no candidate gets more than 50 percent of the primary vote.
MARYLAND GOVERNOR: In the Democratic primary to succeed Gov. Martin O'Malley (D), the three candidates -- Lt. Gov. Anthony Brown, Attorney General Doug Gansler and state Del. Heather Mizeur -- have been competing to prove their progressive credentials. The perceived frontrunner is Brown, who has endorsements from O'Malley, Democratic Sens. Barbara Mikulski and Ben Cardin and former President Bill Clinton. A Washington Post poll this month found that 46 percent of likely Democratic voters support him, though Gansler and Mizeur are hoping to come within reach of an upset. What's unusual about the race is the level of vitriol over Maryland's Affordable Care Act implementation. Gansler has consistently criticized Brown over the state's troubled rollout of its online insurance exchange, since Brown was O'Malley's point person for implementing the law. However, polls show that the state's voters remain supportive of the law and don't blame Brown for structural problems with the website.
The race could very well make history, as Brown would be the state's first African-American governor if elected, while a Mizeur win would make her the first female governor of Maryland and the first openly gay person elected governor in U.S. history. Gansler received a dose of negative attention last year after photos emerged of him at a teen "beach week" affair, where his son was partying. The attorney general, who had been an advocate for stricter laws against underage drinking, initially said he had no moral responsibility to intervene when other people's children were drinking, though he admitted later he had made a mistake.
NEW YORK-13: State Sen. Adriano Espaillat (D) is hoping a populist campaign will help him unseat Rep. Charlie Rangel (D-N.Y.), who has been in Congress since 1971. Espaillat has been hitting Rangel over his pro-corporate votes, calling him "a friend of Wall Street and not a friend of 116th Street or 181st Street." Rangel's campaign has charged that the state senator's record is at odds with his rhetoric, saying that his "leadership on pocketbook issues has sadly been nonexistent." Rangel maintains a lead in the polls -- although as House Majority Leader Eric Cantor (R-Va.) found out, polling in primaries can be incredibly inaccurate. Rangel has the backing of New York Gov. Andrew Cuomo (D) and former President Bill Clinton; President Barack Obama has declined to endorse in the race for the heavily Democratic district. If elected, Espaillat would be the first Dominican-American elected to Congress. He lost to Rangel by fewer than 1,000 votes in 2012. After the 2010 census, the 13th district was redrawn to be majority Hispanic.
There is a third candidate in the race: Rev. Michael Walrond, an African-American minister from Harlem who is an associate of Rev. Al Sharpton. Sharpton has not endorsed in the race, although he has implied that Rangel should not be afforded a final term in office. Walrond is not expected to win, but he could influence the race by pulling votes away from Rangel.
COLORADO GOVERNOR: Four Republicans are contesting the nomination to challenge Gov. John Hickenlooper (D): former congressman and anti-immigration agitator Tom Tancredo, former Rep. Bob Beauprez, former state Senate Minority Leader Mike Kopp and Colorado Secretary of State Scott Gessler. Some Republicans are hopeful that someone other than Tancredo will win, while Democrats wish for the exact opposite. One Democratic group has even attempted to interfere in the primary, broadcasting ads hitting Beauprez and speaking positively of Tancredo. Beauprez has been endorsed by former Massachusetts Gov. Mitt Romney and Texas Gov. Rick Perry and is considered, in Tancredo's words, "the establishment guy."
If Tancredo wins, Democrats would resurrect some of his more controversial past statements. Despite his suggestion that bombing Mecca and Medina would deter terrorism, and his characterization of President Barack Obama as the "greatest threat to the United States today," Tancredo has raised the most money in the primary. Hickenlooper, who has largely recovered from weak polling last year, led each of his potential Republican opponents by wide margins in an April Quinnipiac poll.
NEW YORK-22: Claudia Tenney is hoping to be the next David Brat, the little-known Republican professor who defeated House Majority Leader Eric Cantor (R-Va.) in their primary race. Tenney, a conservative Republican member of the state Assembly, is challenging Rep. Richard Hanna (R-N.Y.), going after the two-term congressman as being too moderate. Hanna, who is one of the few Republican members who openly supports gay rights, has been getting a boost from the American Unity PAC. The group has thrown in almost $550,000 to back Hanna. (Tenney voted against the 2011 legislation that legalized same-sex marriage in the state.)
CORRECTION: A previous version of this article identified T.W. Shannon as the state House Speaker of Oklahoma. Shannon is the former state House Speaker.
Calling all HuffPost superfans!
Sign up for membership to become a founding member and help shape HuffPost's next chapter
BEFORE YOU GO
PHOTO GALLERY
Senate Seats Up For Grabs In 2014