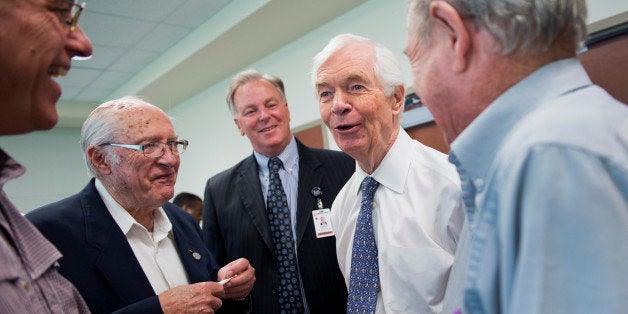 HATTIESBURG, Miss. -- The man wearing an orange polo shirt frowned just slightly when I asked if he had a few moments to talk.
Arnold Jackson, a 67-year old supporter of state Sen. Chris McDaniel's candidacy for U.S. Senate, retired from the oil exploration business years ago. When I stopped him in the halls of the Hattiesburg Lake Terrace convention center on Tuesday, the evening was young and returns from the Senate primary were just starting to come in.
He initially looked impatient. I thought perhaps I may be in for a hostile response to my questions, given the distaste among many conservative grassroots supporters for the press. But Jackson was happy to talk, and revealed himself during our conversation to be well-spoken, thoughtful, and reasonable. I asked why he supported McDaniel's tea party challenge against Sen. Thad Cochran, since McDaniel seemed focused on national issues like the national debt and Obamacare almost to the total exclusion of state-specific issues. Cochran has made a career of securing federal funding for Mississippi projects and needs.
Jackson, unlike other McDaniel supporters I spoke with, acknowledged that there is a role for members of Congress to look out for their state's interests in Washington.
"Funds that help the state can be useful," Jackson said. "However there is a balance to that."
He argued that the nation's $17 trillion debt has grown so large, and the federal budget so bloated, that it threatens America's fiscal health and national security -- a point of view shared, by the way, by the former chairman of the Joint Chiefs of Staff, Adm. Mike Mullen.
"When you're $400 billion in debt years and years ago, that's a different time," Jackson said. "It's a time now when we have to be fiscally responsible."
Securing funding for Mississippi, Jackson said, is "admirable." "It's what we send them up there to take a look at. But the bottom line is that my children are $58,000 in debt, in addition to Obamacare," he said.
The concern over America's debt, deficits, spending and regulation were concerns that came up again and again in conversations with McDaniel supporters Tuesday night. These issues are a significant and important part of why many conservatives, even Cochran supporters, are so frustrated with Washington.
Other McDaniel supporters were dismissive, however, of what Cochran has done for his home state during 36 years in the Senate (McDaniel likes to call him a "42-year incumbent" because he spent six years in the House as well).
As Cochran and McDaniel head for a three-week runoff campaign following their photo-finish draw in Tuesday's primary, the value of Cochran's service to the state will be hotly debated, in part because it figures to be a central part of the Cochran campaign's message to Mississippi voters.
For the moment, the Cochran campaign is drawing attention to a senior aide on the McDaniel campaign who was found locked into the Hinds County courthouse in the wee hours of Wednesday after entering it with two other tea party activists. That episode is guaranteed to provide some unwelcome headlines for McDaniel, and local law enforcement is investigating why the McDaniel aide was there. But it's not yet clear what it will amount to, beyond another example of amateurish behavior by McDaniel supporters.
Regardless of how that story evolves, however, the Cochran campaign will likely hold as many events as possible in front of major infrastructure, military, research and university projects that owe their existence to Cochran's work in Congress and on the Senate Appropriations Committee.
"He really needs to ramp up the message that he has devoted his life and career to service of the nation and the state. I'd have him standing in front of the Biloxi Bay Bridge, that was repaired in record time after Katrina, and the Bay St. Louis Bridge," said Andy Taggart, an attorney and veteran of state Republican politics, who has endorsed Cochran. "Both were rebuilt directly as a result of federal appropriations that Senator Cochran helped direct."
Taggart ticked off a list of other Cochran projects: Infrastructure in support of the Toyota factory in Blue Springs, the Polymer Institute at Southern Mississippi, an agricultural research center in the Delta. "Those are just a few off the top of my head," he said. There are a large number of military bases and installations in the state, not to mention the Ingalls shipbuilding yard on the Gulf Coast that supports 11,000 jobs and relies on federal contracts to build ships for the U.S. Navy.
"I'd just have him demonstrating to the people of Mississippi that because of his service, the quality of life in Mississippi is better," Taggart said. "And there are people who will vote against him because of that. That's a philosophical thing that the campaign can't change. But they ought to just make it a referendum on that."
In addition to philosophically opposing federal largesse at the state level, McDaniel supporters said all the money that the 76-year old senator has brought home hasn't really helped the state after all.
"If what he was gonna do for Mississippi was gonna make Mississippi better, it wouldn't still be last in all these things. I'm sure it's done some things for Mississippi, but it hasn't moved us up. You don't just throw money at the problem," said Todd Stokely, a 46-year old family physician from Waynesboro.
Beau Johnson, a 33-year old substitute teacher at Presbyterian Christian High School in Hattiesburg, was even more dismissive of Cochran's work in the Senate.
"Mississippi is pretty much last in everything except for the stuff you don't want to be last in," Johnson said. "We've had a senator up there for 42 years. All that money -- is it doing any good?"
He answered his own question: "It hasn't done any good," he said.
Yet it's an odd thing to say that the state would be better off without its bridges being rebuilt, or with its military bases moving to other states, or with fewer ships being built at Ingalls. And to be fair, the most thoughtful of McDaniel's supporters, like Jackson, recognize this and support the tea party candidate because his emphasis is on cutting spending and the size of government.
But McDaniel could be put on the defensive if the Cochran campaign is able to focus the runoff, day by day, on specific projects that Cochran helped fund.
McDaniel told a crowd at the University of Mississippi earlier this year, "I'm not going to do anything for you. I'm going to get the government off your back, then I'm gonna let you do it for yourself."
Even so, it is still a hard road ahead for Cochran, even if his campaign hits maximum effectiveness in driving the message that a Cochran loss would endanger the state's ability to secure federal money when it needs it. The frustration among the conservative grassroots that turned out in big numbers for McDaniel Tuesday is high-intensity.
"There's a fire everybody mentality," Taggart said.
Former Mississippi Gov. William Winter, a Democrat who gave Cochran his last serious challenge for the Senate seat in 1984, said in an interview that Cochran is "so much better qualified to serve Mississippi than the other fellow.
"I hope that Cochran can pull it out, but I'm afraid the psychology of the race is against him now," Winter said.

Calling all HuffPost superfans!
Sign up for membership to become a founding member and help shape HuffPost's next chapter
BEFORE YOU GO
PHOTO GALLERY
Senate Seats Up For Grabs In 2014