Voters in Mississippi head to the polls Tuesday for a Senate runoff election between Republican Sen. Cindy Hyde-Smith and Democratic challenger Mike Espy. The final Senate seat up for grabs in this year's midterm elections, the contest has drawn increased national attention due to a series of offensive comments from Hyde-Smith that hark back to the state's racist history. If elected, Espy would become the state's first black senator since Reconstruction.
The closer-than-expected race in a GOP stronghold has drawn comparisons to the Senate special election in Alabama last year, when Democrat Doug Jones pulled off a surprise victory against Republican Roy Moore, who had been accused of sexually assaulting or harassing nearly 10 girls and young women.
Here's what else to know about Mississippi's runoff election, whose winner will fill the seat vacated by retiring Republican Sen. Thad Cochran and held briefly through appointment by Hyde-Smith.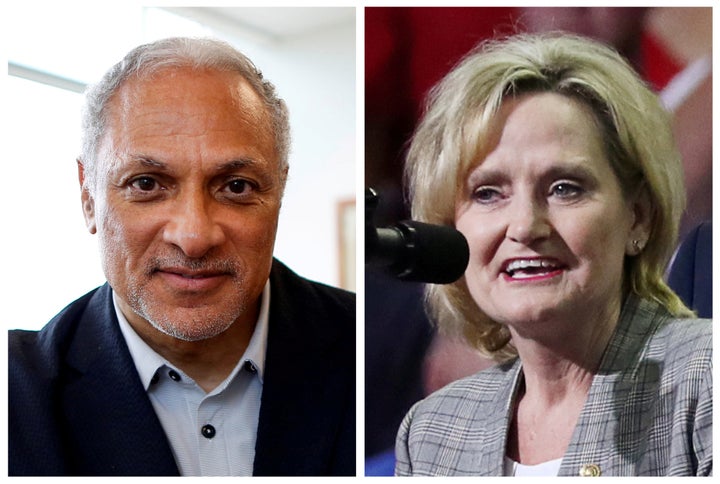 Why is there a runoff?
Hyde-Smith, appointed to Cochran's seat when he retired earlier this year, and Espy, a former congressman and agriculture secretary under President Bill Clinton, were the top two finishers in the Nov. 6 special election.
What did Hyde-Smith say?
In another incident, the senator suggested to a group of young voters that voter suppression would be "a great idea," which again carries particular weight in Mississippi, a state that has long disenfranchised black voters.
"There's a lot of liberal folks in those other schools who maybe we don't want to vote," she said. "Maybe we want to make it just a little more difficult. And I think that's a great idea."
How have people responded to her remarks?
Espy said Hyde-Smith's remarks on attending "a public hanging" were "reprehensible" and "show that she lacks the understanding and judgment to represent the people of our state." 
In response to the voter suppression comments, his campaign spokesman said: "For a state like Mississippi, where voting rights were obtained through sweat and blood, everyone should appreciate that this is not a laughing matter. Mississippians deserve a senator who represents our best qualities, not a walking stereotype who embarrasses our state."
A number of civil rights organizations have condemned Hyde-Smith's remarks, pointing to the state's history of racism.
Did Hyde-Smith apologize?
She and her campaign initially claimed both comments were just jokes.
"No one twisted your comments. They came out of your mouth. I don't know what's in your heart, but we all know what came out of your mouth," he said. He added that Hyde-Smith's remarks have "given our state another black eye that we don't need."
Several other racist incidents involving Hyde-Smith have emerged in the last week.
The Jackson Free-Press reported over the weekend that Hyde-Smith attended one of Mississippi's so-called segregation academies ― private schools established for white parents who didn't want their children to attend school with black children long after the Supreme Court's landmark Brown v. Board decision ordering the desegregation of public schools. Hyde-Smith sent her daughter to a similar school.
What other issues have come up in the campaign?
Hyde-Smith and Republicans have taken aim at Espy by focusing on his previous work as a lobbyist and accusations of corruption. Hyde-Smith released an ad suggesting that Espy lied about his lobbying work for an Ivory Coast despot now facing charges of war crimes, according to The Washington Post.
Espy's connection to Clinton has also become a line of attack, as well as corruption claims that forced him to resign as Clinton's agriculture secretary in 1994. Espy was later acquitted of the charges, which included taking improper gifts.
Trying to counter Hyde-Smith's labeling of him as "a liberal Democrat," Espy has portrayed himself as someone who can reach across the political aisle, highlighting his endorsement of the state's former governor, Republican Haley Barbour, and talking about how he will work with the GOP on issues like health care. 
Who are some big names that have gotten involved?
President Donald Trump, who has endorsed Hyde-Smith, campaigned with her on Monday. Hoping to shore up support from her conservative base, Hyde-Smith has been a staunch Trump ally.
If I'm in Mississippi, can I still register to vote?
When do polls open and close?
Polls are open from 7 a.m. to 7 p.m. CST on Tuesday. Absentee ballots were due at 5 p.m. Monday. 
Calling all HuffPost superfans!
Sign up for membership to become a founding member and help shape HuffPost's next chapter