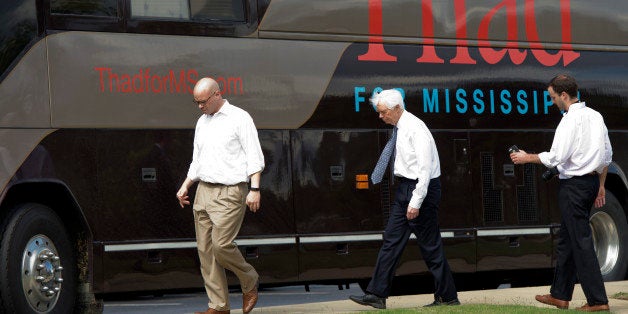 MERIDIAN, Miss. -– Sen. Thad Cochran (R-Miss.) and his supporters argued Monday that his Republican primary challenger, state Sen. Chris McDaniel, would embarrass the Magnolia State on the national stage, is being supported by outsiders who don't represent the state's interests, and could endanger Republican chances of winning the U.S. Senate majority.
At rallies here and in the capital city of Jackson, the 76-year old Cochran was greeted by cheering supporters a day before voters go to the polls in what has become one of the most hotly contested elections this midterm cycle -- and certainly the nastiest. The show of strength could not mask that the aging lawmaker is in real danger of losing his seat to an upstart tea party challenger, and that his operation knows it.
"This thing is real close. I drove around Meridian and I do not see the number of Cochran signs up that I see of McDaniel's," said Cochran supporter Tommy Williams, 76, at the mid-morning Cochran rally. Even in a city like Meridian, with a strong base of support for Cochran because of a nearby naval station that has fought to stay open during the military's base realignment and closure process, Williams' comment conveyed unease about Cochran's prospects.
"People are nervous," an influential Cochran supporter said.
That's despite McDaniel's stumbles just over a week ago, when his campaign was roiled by the arrest of a supporter for gaining access to a nursing home where Cochran's wife has spent the last 13 years with dementia. McDaniel was never connected to the affair, but he had been photographed with the 28-year old supporter who invaded Cochran's wife's privacy, and with the tea party activists who put him up to it. Cochran's campaign and a super PAC supporting Cochran pounced, blanketing the airwaves with TV and radio ads linking the 41-year old state senator with the actions of his supporters. McDaniel's numbers took a dive, but recovered.
On Monday, Rep. Gregg Harper (R-Miss.) from the state's 3rd Congressional District, who has been a constant presence at Cochran's side in the closing weeks of the primary campaign, warmed up crowds for Cochran by suggesting that if voters were to send McDaniel to the Senate, it would make the state a laughing stock.
"This has been a tough, tough race," Harper said in Meridian. "In fact, some of it has been an embarrassment. I believe some of the stuff that we've seen, it's been a shame to see some of the campaign stuff that we've had to endure. But I can tell you one person that will always stand strong for the state of Mississippi and he'll never embarrass us. He does nothing but make us proud, and that's our United States senator, Thad Cochran."
Cochran stood to the side of the stage at the outdoor park in the center of the aging downtown. He wore gray suit slacks, and a white dress shirt and tie. He held his arms behind his back, standing with his feet close together, slightly hunched over. His shirt looked two sizes too big.
Meanwhile, Gov. Phil Bryant mocked the endorsement of McDaniel by former Sen. Rick Santorum (R-Pa.), who came to the state over the weekend, a day after former Alaska Gov. Sarah Palin campaigned with McDaniel.
"We've got a lot of folks coming in from out of state telling you how to vote. Ya'll heard about that?" Bryan told the crowd of about 100. "I'm just telling you, we are conservatives here. And so I've got some guy from Pennsylvania coming in a couple weeks ago, maybe last week, telling Mississippians how to vote. Now, we'll work with you any way we can. You need our help, we're the first ones to get our jack out and change that flat … But we're not good at being told what to do."
The outsider card is one that Cochran supporters have mentioned repeatedly in conversations over the past few days, insisting that McDaniel's late endorsements from national tea party figures, along with roughly $5 million in TV ads from Washington-based conservative groups attacking Cochran, will alienate some voters. They stress Cochran's work in the Senate protecting the state's financial interests, and that if Republicans retake the Senate, Cochran will likely chair the powerful appropriations committee.
Cochran gave brief remarks at both rallies. In Meridian, his speech was more rambling, with tributes to former lawmakers with roots in the area. Cochran said he had "learned a lot about decorum" from former congressman Gillespie "Sonny" Montgomery, who was born in Meridian and died there in 2006. "I hope that by my service in the Senate, I'll carry on those traditions of Sonny Montgomery and [former Mississippi Republican politician] Gil Carmichael and others." Tradition is an ideal for Cochran, and for many Mississippians. But it's become part of what insurgent and tea party supporters of McDaniel find repugnant about the establishment GOP.
The governor acknowledged McDaniel is benefitting from anger all over the state with the federal government.
"I think it's a general anger with the entire system in Washington. People are just frustrated with Washington, D.C.," Bryant told HuffPost in an interview. "They're angry about any number of issues, from international issues to the monetary system and the debt. They look at this and say, 'Well somebody's to blame.' so it's quite natural that they get angry sometimes, and frustrated."
In Jackson, in contrast to his Meridian speech, Cochran read from a piece of paper, inside an agricultural museum hall that resembled a large barn, surrounded by around 250 or 300 loud and rambunctious supporters. His remarks sounded like the kind of broad strokes that might have been written by Mississippi native Stuart Stevens, one of the top advisers on Mitt Romney's presidential campaign, who has done Cochran's TV ads, has been traveling with Cochran on his recent bus tour, and was with the senator Monday.
"Today is about Mississippi's tomorrow. It is about what all of us can do for Mississippi. We've come a long way in Mississippi, and with a Republican majority together we can make this Mississippi's moment," Cochran said to the crowd, many of them young men holding "Thad" signs and stomping the wooden floor inside the poorly lit box of a room. Cochran followed up his gauzy, feel-good rhetoric with the kind of red meat that McDaniel specializes in.
"President Obama has taken us down some wrong paths, but starting tomorrow we can get America back on the right path. And that starts with repealing Obamacare," Cochran said. The crowd went nuts. The rest of Cochran's short speech focused on how "the best way to really change Washington is to elect a Republican majority in November." It was a nod to talk that if McDaniel wins the primary on Tuesday, likely Democratic nominee Travis Childers, a former congressman, would have a real shot at winning the Senate seat, therefore endangering the GOP's shot at taking the upper chamber in Washington.
A McDaniel spokesman declined to comment when asked about the comments by Cochran and his supporters.
After the Jackson rally, Cochran walked outside the museum building and found himself facing a media crush unlike anything he may have ever encountered as an elected official. Cochran took questions about whether he has contributed to the national debt, whether he supports efforts by a group supporting him to ask black Democrats to vote in the open primary for him, and whether the U.S. government should have traded five Guantanamo Bay detainees to Qatar in exchange for the release by the Taliban of U.S. Army Sgt. Bowe Bergdahl.
Cochran parried adequately with the press, though he did so mostly with vagueness rather than specifics. He said he couldn't speak to the issue with Bergdahl, and said quite sensibly regarding Democratic voters that he was "not going to tell people how to vote or when to vote or what primary to choose."
On the question of the national debt, he was less impressive.
"Well, we've been hard-pressed to make ends meet in terms of balancing the budget at the federal level, and that continues to deserve our attention and our best efforts," he said. "But at the same time, we have obligations too for protecting our security, for protecting the rights of American workers as they compete in the international marketplace. There are a lot of important issues that we'll continue to work on when we go back to Washington after winning this election."
Earlier in Meridian, HuffPost asked Cochran during a short interview what he would do to reduce the national debt, and he responded with similar rhetoric. HuffPost also asked him if he thought he had waited too long to start building a political organization. Cochran supporters admit that if turnout is low, the senator's chances are not good. But Cochran did not start building a campaign team until the end of last year, even after national Republicans in Washington asked him to get started last summer. He has had very little in the way of a ground game.
"I think we did it just right," Cochran said with a smile.
If Cochran loses, it will be in part because he did not react quickly enough to a challenge from a younger, more energetic rival. After the Meridian rally, Cochran, the governor and their entourage traveled a few blocks to Jean's Restaurant, where they made a quick tour of the diner. Cochran followed Bryant and Harper, hands at his side, smiling and nodding to locals eating their lunch. They were in and out in less than 10 minutes.
Behind the counter, there was a framed picture of the restaurant's owner, Diane Trammell, and her 32-year old son, Jamie Johnson, with McDaniel, who had been in the restaurant late last week. A second portrait next to it –- printed, framed and hung in just the last few days just like the other -- showed McDaniel and Johnson without Trammell. Johnson told HuffPost he was not supporting either McDaniel or Cochran, having moved from a Republican point of view to one more in line with libertarian views. Johnson said she was undecided.
Trammell and Johnson had wanted photos with Cochran too, they said. "But they were in too much of a hurry," Johnson said of the senator and his entourage.
Trammell said that wouldn't affect her vote. "I know he's busy. That has nothing to do with the way in going to vote," she said. But when HuffPost asked what was influencing her decision as she weighed who to support, she mentioned McDaniel's visit to her business.
"He did come in here and sit and talk, for an hour," she said.

REAL LIFE. REAL NEWS. REAL VOICES.
Help us tell more of the stories that matter from voices that too often remain unheard.
BEFORE YOU GO
PHOTO GALLERY
Senate Seats Up For Grabs In 2014