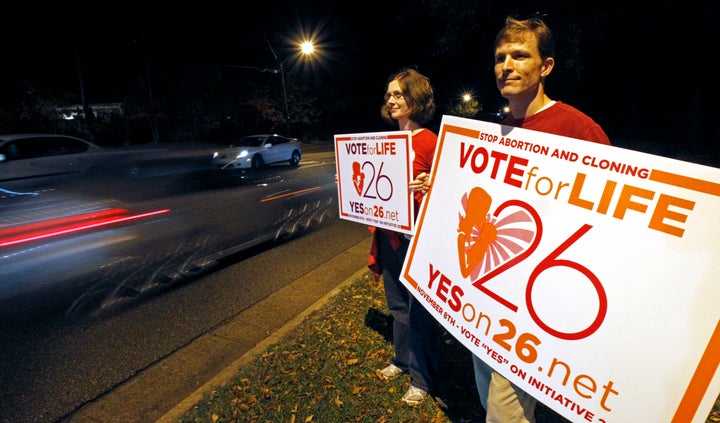 An extreme measure that would have given legal "personhood" status to undeveloped zygotes failed among ultra-conservative Mississippi voters Tuesday night, after a history of being rejected twice in Colorado and a struggle to even get on ballots in nine other states. But Personhood USA fully blames the Mississippi loss on Planned Parenthood.
"It's not because the people are not pro-life," Keith Mason, a co-founder of Personhood USA, said on Tuesday. "It's because Planned Parenthood put a lot of misconceptions and lies in front of folks and created a lot of confusion."
"We're not discouraged," Bryan Longworth, director of Personhood Florida, told HuffPost after the vote. "It shows that the arguments that are being raised by Planned Parenthood, the scare tactics, and the second-guessing of Governor Haley Barbour did play a role."
Ultimately, the pro-choice groups helped defeat the Personhood campaign in a three-month-long information war. The official "no" campaign, Mississippians for Healthy Families, joined forces with the American Civil Liberties Union and Planned Parenthood to warn Mississippi voters about the potentially dangerous consequences of the amendment for contraception, in vitro fertilization, life-threatening pregnancy complications and stem cell research.
"The issue is complex, but at end of day it limits the way families can plan for pregnancies by banning birth control and in vitro fertilization," Leola Reis, vice president of external affairs at Planned Parenthood Southeast and a spokesperson for the "No on 26" campaign, said last week. "At the end of the day it's such a complex quagmire, it could have huge medical and legal ramifications, and it's going to cost a lot of money if left to the court to sort out."
The non-partisan American Congress of Obstetricians and Gynecologists took sides with Planned Parenthood in a statement on Tuesday, urging voters to reject the amendment because of its potential to "impact access to women's health, including treatment for cancer, infertility treatment, birth control options and pregnancy termination."
But Personhood USA maintains that Planned Parenthood spread lies about the initiative's ramifications. It would not ban birth control or in vitro fertilization, the group says.
"It's just one sentence that says every human being is a person," Jennifer Mason, spokesperson for Personhood USA, told HuffPost on Tuesday. "We're out combating the lies and getting the truth out, so we'll see what happens."
Mississippi Governor Haley Barbour (R) delivered a major blow to the Personhood campaign last week when he echoed some of Planned Parenthood's concerns in a Wednesday interview with MSNBC's Chuck Todd.
"I am concerned about some of the ramifications on in vitro fertilization and [ectopic] pregnancies where pregnancies [occur] outside the uterus and [in] the fallopian tubes," Barbour said. "That concerns me, I have to just say it."
Planned Parenthood organized a mass robocall with Barbour's comments Wednesday night. Barbour ended up voting for the personhood initiative in an absentee ballot the following day, but the damage had already been done among Mississippi voters.
"A pro-abortion group has called people's homes and deceived voters into thinking I'm opposed to Initiative 26, the Personhood Amendment," Barbour said in a statement. "As I've previously stated, I voted for the Personhood Amendment. These misleading calls were made without my knowledge, without my permission and against my wishes. I have demanded this deception be stopped, and those responsible have assured me that no more calls will be made."
The Planned Parenthood Federation of America said on Tuesday night that voters rejected the personhood amendment because the "no" campaign was able to educate voters on the measure's far-reaching consequences.
"The more voters learned about the many dangerous and extreme consequences of the initiative, the more they opposed it," PPFA said in a statement. "Polling showed that in the final days leading up to the vote, when voters were given information about the so-called 'personhood' amendment, support for it dropped below 50 percent."
Despite the crushing loss in Mississippi, Personhood USA says it is not discouraged and will continue to press on in nine other states across the country. Personhood Florida, which has gathered 20,000 signatures so far toward getting a personhood measure on the ballot in 2014, views the fight for the rights of zygotes as a historically significant civil rights struggle on par with the fight against slavery.
"Where do you go to buy a good slave today?" Longworth told HuffPost. "You can't get one. Why? Because people now see slavery as abhorrent, and one day people will see abortion as equally abhorrent, if not more abhorrent."

Popular in the Community