 The retiring police chief in Missoula, Mont., said he's leaving his department in good shape.
But in the last years of Chief Mark Muir's 22-year career, Missoula, home to the University of Montana, was unflatteringly nicknamed the rape capital of America. A federal investigation concluded in May that police didn't adequately respond to reports of sexual assault, failing to seek timely interviews with both victims and suspects. And the chief himself was accused of telling a sexual assault victim that half of rape reports are false.
"I never told her that," Muir told The Huffington Post, adding that it was "a pretty outrageous statement."
Muir, who has been chief for five years, retires Friday. His department has been roiled since 2011, when University of Montana student Kerry Barrett spoke out about the police handled her sexual assault case -- and how the chief defended his department.
The night she was sexually assaulted in September 2011, Barrett said she was asked by a Missoula police officer if she had a boyfriend.
"I said, 'No, but why does that matter?'" recalled Barrett. "He responded, 'Some girls cheat on their boyfriend and regret it and blame it on rape.'"
The years since that remark turned Barrett into an activist who brought national attention to the town, stirring the U.S. departments of Justice and Education to investigate the police and the university for mishandling sexual assault reports. And they spurred Muir to institute reforms. A civilian review panel has begun examining the department's handling of sexual assault investigations, for example. Muir said the panel looked at nine cases this week.
Muir said he now wants to be sure sexual assault victims don't get "the feeling of being disbelieved." He said he believes new training for his officers is paying off, with police now communicating better with victims.
"We now can look at it and say, 'We get it,'" Muir said. "Women feel judged by society. Similarly, they also feel judged by the cops, the investigators. We're trying to distance ourselves from the societal biases that most of the people in the country have grown up with."
That's a long way from the night a cop asked a sexual assault victim about her boyfriend.
Barrett said a Missoula detective later apologized to her for the officer's comment. But then the detective warned that nothing was likely to come of an investigation, because it was a he-said, she-said situation.
Two months later, police interviewed the man Barrett had identified as her assailant. The detective later told Barrett that the man had cried and insisted the sex had been consensual.
Barrett said she learned in November 2011 that police considered her case inactive. She and a friend, who had similar experiences with Missoula police, met with Muir, who addressed his officers' comments.
"I apologized for the fact that she felt that the detective was more sympathetic to the perpetrator," Muir said. "That was simply a matter of her perception."
The conversation was cordial, the chief and the women agreed, until the topic of false rape reports arose.
Barrett said that she insisted no more than 6 percent of rape reports are bogus, citing a 2009 study that originated with End Violence Against Women International. She and her friend, who asked not to be named, said Muir disagreed, saying that some studies show a majority of rape reports are false.
Muir said he "disputed that it's not disputable" that a small number of reports are false.
"I explained to her I don't believe those numbers that are on the high end," Muir said. "But I just wanted to be perfectly clear that there are studies that have been done. Not everyone supports them, but that [false reports] may be as high as 40 to 50 percent."
A couple of days after their meeting, Muir sent Barrett an email, telling her he had found a study to support his claim. He also assured Barrett he would speak again to the officer who conducted the initial interview.
Since then, Barrett said she has had no contact with the police and nothing ever happened with her case.
"All they're doing is taking the rapists' word and not doing any more," Barrett told HuffPost.
She decided to speak out, first to local media and then at city council meetings, which Muir cited as reason for the national attention.
The police department's "failure to adequately respond to reports of sexual assault has an unjustified disparate impact on women and thus violates the Safe Streets Act," wrote Thomas E. Perez, then an assistant attorney general, and Michael W. Cotter, a U.S. attorney for the District of Montana.
One case cited in the report echoed Barrett's experience. A police summary said an assault victim "has made out with other males while she has had a boyfriend." The Justice Department interpreted that to mean that "officers were asking questions about the woman's sexual history," rather than making inquiries relevant to the assault. Statements by police officials reflected "assumptions that women reporting non-stranger sexual assault are lying, and that such assaults are less severe" than other serious crimes, the report said.
Scott Berkowitz, president of the Rape, Abuse & Incest National Network, said it's a serious problem when officers appear skeptical of women reporting sexual assault. Such skepticism may be due to a "misunderstanding or a belief that false reports are more common than they actually are," he said.
Muir cautioned it will take time for police to fix everything. And it will take time for Missoula to escape its "rape capital" moniker.
But even Barrett said she doesn't fully agree with the slur.
"Missoula has a problem, but so does every other college town in this country," Barrett said. "They're just unlucky enough to get the attention."
Before You Go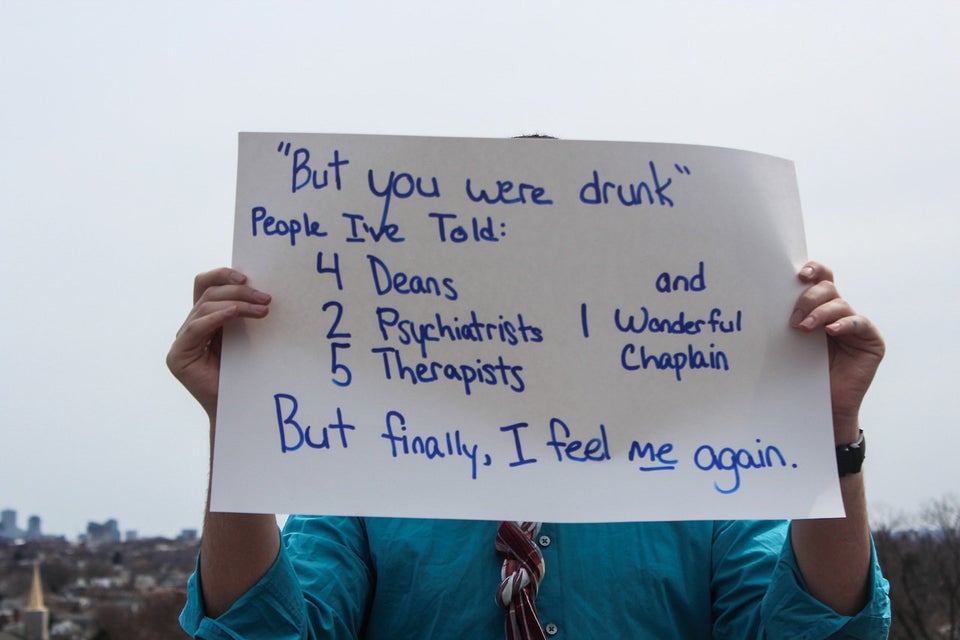 Surviving In Numbers: Stories Of Sexual Assault Survivors
Popular in the Community