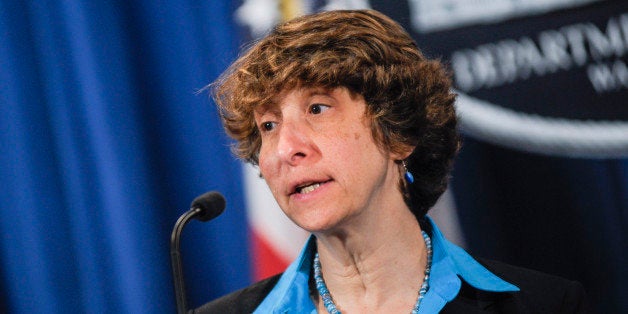 The Justice Department has reached an agreement with a highly criticized Montana prosecutor's office to overhaul how the local agency handles sexual assault cases.
The resolution completes an expansive, yearslong investigation by DOJ's Civil Rights Division into the sexual assault responses of the University of Montana and the criminal justice system of the city of Missoula. Federal officials have called it a "first-of-its-kind agreement."
The University of Montana reached a resolution agreement with federal authorities in May 2013, but Missoula County Attorney Fred Van Valkenburg fought against efforts by the feds to change policies and practices in his office. Van Valkenburg filed a federal lawsuit in February claiming the agency had no right to investigate his office. He accused federal authorities of trying to "bully" him into enacting sexual assault reforms earlier this year, and said they "just attack people and they don't really care whether they're being truthful or not."
In a statement to reporters Tuesday, Van Valkenburg struck a more conciliatory tone, saying that while he would have "preferred to have a federal judge require the DOJ to prove that it has the legal authority to interfere in the way a locally elected prosecutor runs his or her office," he decided it was best to bring the case to an end.
"I want to make it very clear that my support for the agreement is primarily the result of my respect for the work Montana Attorney General Tim Fox did to bring us to [the] point where we are today," said Van Valkenburg.
Jocelyn Samuels, acting assistant attorney general for the DOJ's Civil Rights Division, told reporters during a conference call that her office is "confident in our legal jurisdiction and confident in the merit of our factual findings," adding that they are "delighted we were able to reach a voluntary resolution."
The Justice Department declared in February that there was a significant gender bias in the Missoula County prosecutor's office. The office did not develop evidence in support of sexual assault prosecutions, the DOJ said, and female victims of acquaintance rape were often treated with disrespect and retraumatized by the process of reporting their assaults.
Under the agreement, Missoula county prosecutors will be required to take steps to improve the treatment of individuals who report sexual assault, including conducting more in-person interviews, supervising cases more closely and hiring an in-house victim coordinator.
"This historic agreement will fundamentally transform the way in which the Missoula County Attorney's Office responds to sexual assault allegations," Attorney General Eric Holder said in a statement Tuesday. "It is my hope that these remedies can serve as a model for the resolution of other cases moving forward."
Samuels repeatedly affirmed to reporters that the resolutions the DOJ authored with the Missoula County Attorney, the city's police department and the University of Montana are "templates" for how sexual assault cases should be handled nationwide.
After reviewing more than 350 cases, the DOJ investigation concluded that the county prosecutors, the school and the police had all erred in their handling of sexual assault cases.
In one case, a University of Montana student reported in October 2011 that a male student she had only recently met followed her into her dorm, got into her room and sexually assaulted her, according to people familiar with the case. The student reported the assault to campus and local authorities within a week of the attack, and police visited her dorm to take her bloody underwear, shorts and bedding as evidence. The alleged assailant had also stolen the reported victim's pants.
Missoula authorities declined to press charges, and then-Chief Deputy County Attorney Kirsten Pabst attended a campus adjudication without invitation in December 2011 to defend the student, according to Kerry Barrett, a former UM student and outspoken critic of the Missoula criminal justice process.
At one city council meeting, Barrett recalled Pabst entering a students' hearing to defend an accused rapist. Van Valkenburg approached her after the meeting, Barrett said, and told her Pabst had come because she felt she had a "moral obligation" to participate on behalf of the accused. Pabst, however, downplays her role in the campus proceedings.
"The reality is that we cannot prosecute every reported crime and sometimes have to make very difficult decisions about which cases to take forward," Pabst told HuffPost. "I did not testify on anyone's behalf. The student was ultimately expelled -- as he should have been. The victim was traumatized. My involvement is really is not much of a story."
Van Valkenburg told HuffPost on Tuesday that he and Pabst were not at the hearing to defend the alleged student rapist. He said he told Barrett that Pabst "felt that she had a moral duty to go to the University disciplinary proceeding and explain the basis for her decision to decline prosecution." Pabst knew that the man was unaware of the basis for her decision not to prosecute, said Van Valkenburg.
Barrett says her own sexual assault case was closed after investigators told her it was "he said, she said" and that nothing would come of it. She also says that one officer told her, "Some girls cheat on their boyfriend and regret it and blame it on rape."
In February, Van Valkenburg told The Huffington Post that certain cases in Missoula County were not being prosecuted due to a lack of cooperation on the victims' part.
"[Victims] do not want to be subjected to cross-examination by defense attorneys, to public humiliation or whatever, because they made some mistake in their life about who they went out with, and who they had sex with and stuff like that," Van Valkenburg said.
Montana Attorney General Tim Fox will be in charge of monitoring the reforms, and will examine cases the prosecutor has declined to take to court in order to confirm that was the right decision, DOJ officials said Tuesday.
The DOJ lauded the city of Missoula, the University of Montana and the Missoula Police Department for taking steps to improve their responses to sexual violence.
"Missoula is a safer and more just community as a result of the efforts that have been undertaken," Samuels said.
This story was updated to reflect additional comment by Kirsten Pabst.
Calling all HuffPost superfans!
Sign up for membership to become a founding member and help shape HuffPost's next chapter
BEFORE YOU GO
PHOTO GALLERY
U.S. State Capitol Buildings