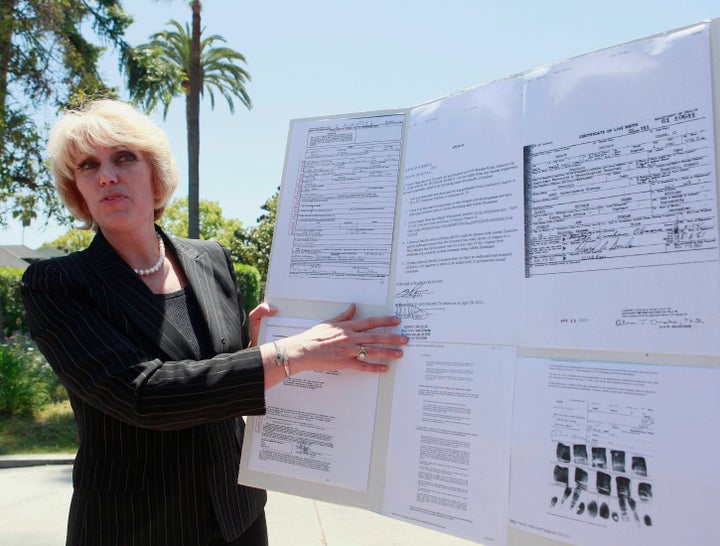 On a voice vote, the Republican-controlled Missouri House of Representatives gave preliminary approval Wednesday to a bill requiring presidential and vice presidential candidates to produce a birth certificate that would appear on the state's ballot.
The bill passed following an emotional debate on the House floor during which Republicans denied charges of racism and refuted accusations that the legislation targeted President Barack Obama. The bill -- which would take effect in time for the 2016 presidential election -- is headed for a final vote Wednesday. Under House rules, a preliminary voice vote is taken followed by a roll call vote. But the Missouri Senate is unlikely to hear the bill in the time remaining in the legislative session, and Gov. Jay Nixon (D) has indicated he'd veto it.
The bill's main sponsor, Rep. Lyle Rowland (R-Cedarcreek), said he was sponsoring the bill in order to provide verification to the state's secretary of state of candidates' eligibility. The measure is needed to provide another level of verification, Rowland said during questioning from Democrats.
"I have not been a representative that long. If I was a representative in the 1930s and 1940s, I would have brought (the bill) to the U.S. at that time," he said. "We have a flawed process."
Rowland, a cattle farmer first elected in 2010, also explained that he wants the nation to progress in its election system. "Early man ate with their hands, now we eat with a fork. We have come a long, long way, we have progressed," Rowland said.
Rep. Jacob Hummel (D-St. Louis) directly asked Rowland if Obama was a U.S. citizen, but other Republicans objected and House Speaker Steve Tilley (R-Perryville) immediately ruled Hummel's question out of order, saying that it did not relate to the bill since the bill does not cover the 2012 election.
Rep. Denny Hoskins (R-Warrenburg) questioned Hummel about why he was asking about Obama.
"There is a large amount of people out there who don't think our president if a U.S. citizen," Hummel responded. "I think that is where this bill is coming from. That is why I am not supporting this legislation."
Rowland said he developed the bill after one constituent approached him about a U.S. Senate candidate. Under questioning from Hummel, Rowland said he thinks Obama may have come up in the conversation but was not sure. Rowland also said that 300 people emailed him over the issue, but noted he has not met most of them.
"We're going to pass a state law on 300 emails?" Rep. Sylvester Taylor (D-St. Louis) said in response to Rowland.
Democrats stuck to the racism argument.
"It is difficult for me to stand and speak on this bill, I am so offended," Rep. Karla May (D-St. Louis) said. "It seems to me that we in this state want to continue to perpetuate a class of racism. This piece of legislation that started outside the state of Missouri is evil and hatred."
Several Republicans leaped to Rowland and the GOP's defense before debate was cut off. Rep. Dwight Scharnhorst (R-St. Louis) said he wants to see not only the president's birth certificate, but also Obama's college transcripts, saying they are needed for "confidence and security."
"I have heard our side of the aisle called racist and xenophobic, I am tired of it," Rep. Wanda Brown (R-Lincoln) said. "There is nothing wrong with asking the president of the United States for his birth certificate. I am tired of being called racist."
Popular in the Community