Kim Staton expected police officers to behave with dignity and respect when they were called to her son's side in August.
Instead, a Missouri TV station obtained a photo that appears to show one of the responding officers flashing a smile and giving a thumbs-up sign to a forensic camera while posing with the lifeless body of 28-year-old Omar Rahman.
"She's very disturbed. I guess the best words to describe her are she's very saddened," the family's attorney, Antonio Romanucci, told The Huffington Post about Staton on Monday.
Staton's son died at a St. Louis County home on Aug. 8 from what was ruled an accidental drug overdose, KMOV-TV reported. The North County Police Cooperative responded to the home.
Staton said she did not think the officers' behavior could be justified.
"Because when they come to a call, they're supposed to be there to help and protect, not doing what he was doing with thumbs up and a smirk on his face," she told KMOV.
Romanucci also called the officers' actions inexcusable.
"I've been doing this a long, long time," he said. "I've seen thousands and thousands of forensic videos and forensic photographs, and I've never seen anything as disgusting as this. Really, I have not."
"There are racial undertones, there are implications [that] no training has been provided in sensitivity," he added. "Clearly there are implications here that these officers have been doing this on more than one occasion … and it's just shocking that this is the cooperative where Ferguson happened, less than two years ago," he said referencing the riots that followed a white police officer fatally shooting Michael Brown, a black man.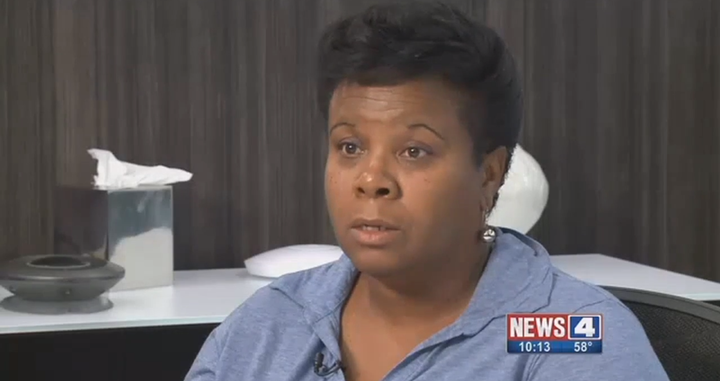 The police cooperative has threatened to sue KMOV-TV for not returning the photo, the station reported. It first broke the story after obtaining the picture from a law enforcement source.
The North County Cooperative did not respond to HuffPost's requests for comment.
"Clearly there are implications here that these officers have been doing this on more than one occasion."
Romanucci said he is leaning toward taking legal action against the police group.
"I've been making an attempt to obtain records from the North County Cooperative for about four weeks, under [the Freedom of Information Act]. They have not been cooperative," he told HuffPost. "I don't especially now anticipate that I will get anything. If I do, it will be miraculous."
Romanucci has requested to see a list of everyone who has accessed the forensic camera in the last two years, and wants the camera to be preserved.
He also wants to see all of the photos that were taken from the forensic camera, "to see whether or not there is a custom or practice that is going on in the North County Cooperative that is clearly nefarious and unconstitutional."
Popular in the Community