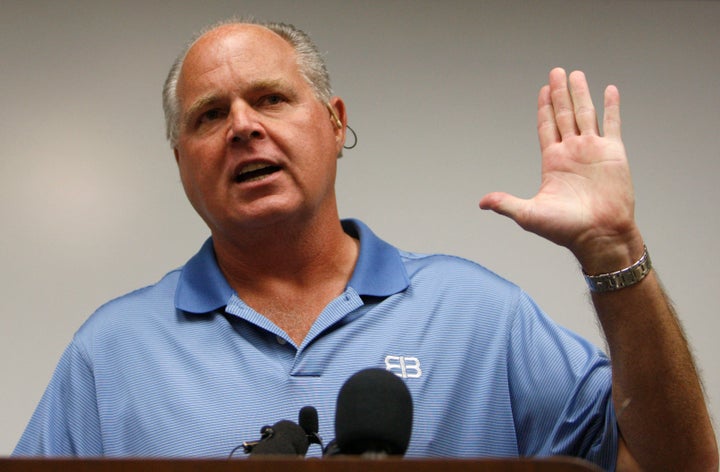 Democrats in Missouri are proposing new selection criteria for the state's Hall of Famous Missourians in response to the choice of Rush Limbaugh for induction.
Under the new requirements, selections would require bipartisan approval from state leaders, rather than being left to the discretion of the Missouri House speaker, AP reported Thursday:
Inductions would need three votes from among the House speaker, Senate president pro tem and both chambers' minority leaders. The number of new selections also would be capped at two people every two years. Currently, inductees are chosen by the speaker of the Missouri House.

Inductees would need to have been born in Missouri or lived and worked in the state for a significant part of their lives. Excellence in art, literature, science, government, politics, sports, commerce, religion, entertainment and military affairs would qualify someone for the honor.
Limbaugh was chosen as one of three Missourians to be honored this year with a bust in the State Capitol, The Huffington Post reported. The other two are Dred Scott and baseball player Buck O'Neil. All busts are paid for by private donations.
Limbaugh's selection is opposed by Sen. Claire McCaskill (D-Mo.) and Missouri Gov. Jay Nixon (D). A letter signed by 48 state Democrats also calls on House Speaker Steven Tilley to reconsider in light of Limbaugh's controversial remarks toward law student Sandra Fluke.
Tilley has defended honoring Limbaugh, telling The Southeast Missourian, "Keep this in mind: It's not called the Hall of Universally Loved Missourians. We've inducted people like John Ashcroft, Warren Hearnes and Harry Truman. They certainly had their detractors."
Limbaugh is currently expected to be inducted at the end of the May legislative session.
Calling all HuffPost superfans!
Sign up for membership to become a founding member and help shape HuffPost's next chapter
BEFORE YOU GO