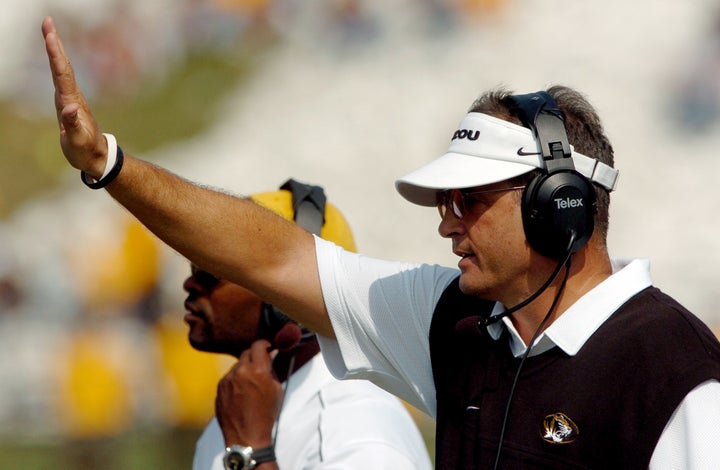 University of Missouri football coach Gary Pinkel on Tuesday distanced himself from student activists whose protests led to the ouster of top university leaders, even though he appeared to support them two days earlier. 
Speaking on a Kansas City sports radio station, Pinkel refused to comment on Monday's resignations of university President Tim Wolfe and Chancellor R. Bowen Loftin. Instead, Pinkel said he had only acted to support his team, which had pledged to boycott team events until Wolfe resigned.
"This was strictly about me supporting my players and nothing else," Pinkel told WHB's Kevin Kietzman.  
 "Athletes of color" on the Missouri Tigers football announced on Saturday that they would skip their upcoming game and all team activities unless Wolfe resigned. The players joined mounting criticism of Wolfe's tepid response to racial incidents on campus. Student group Concerned Student 1950 was at the center of the protests, as was black graduate student Jonathan Butler, who embarked on a hunger strike and threatened to starve himself to death if Wolfe retained his position. 
A tweet from Pinkel on Sunday showing the football team locking arms suggested he was supportive of the student protest group, because it included the hashtag ConcernedStudent1950. 
But Pinkel told Kietzman that the hashtag was wrongly inserted by an assistant who helps manage his Twitter account. 
"That person should not have put that in," Pinkel said. 
Earlier, Kietzman asked if Pinkel supported Concerned Student 1950, which is an allusion to the year that Mizzou admitted its first black student. 
"No, not at all. That had nothing to do with it. It was about a young man that was really struggling and that what it is about," Pinkel said. "That organization can do what they want to. That's not a judgment on them at all."
(Listen to the interview here.)
That "young man" appeared to be a reference to Butler, who started his hunger strike on Nov. 2 following incidents in which the student body president, an African-American man, reported hearing racial slurs and someone drew a swastika in human excrement on a dormitory wall. 
Pinkel said he wasn't trying to tip the scales against Wolfe and Loftin when he sent his now-famous tweet. 
"That's something the university did. It certainly wasn't my intention. It was secondary to me supporting my players." 
Pinkel has been unwavering in his support for his players. 
"I did the right thing and I would do it again," he said on Monday. 
REAL LIFE. REAL NEWS. REAL VOICES.
Help us tell more of the stories that matter from voices that too often remain unheard.