University of Missouri president Tim Wolfe has issued a response to the movement seeking his resignation, saying in part, "My administration has been meeting around the clock and has been doing a tremendous amount of reflection on how to address these complex matters." The statement does not address the issue of his resignation.
In an apparent show of support for the strike, Tigers head coach Gary Pinkel posted a tweet with a photo of the entire team linking arms to demonstrate unity against racism on Missouri's campus.
The athletes of color on the University of Missouri football team will not be participating in football-related activities until university president Tim Wolfe is fired or resigns, they announced Saturday night.
Defensive back Anthony Sherrils posted this message on Twitter with a picture of over 30 black players standing together and linking arms in solidarity:
The statement reads: "The athletes of color on the University of Missouri football team truly believe 'Injustice Anywhere is a threat to Justice Everywhere' We will no longer participate in any football related activities until President Tim Wolfe resigns or is removed due to his negligence toward marginalized students' experience. WE ARE UNITED!!!!!"
Their protest stems from ongoing racial tension on the University of Missouri campus. The racially charged incidents have been taking place since September, according to a timeline by The Missourian.
Earlier in the week, graduate student Jonathan Butler announced he would go on a hunger strike until Wolfe stepped down. This was after a swastika drawn from human feces appeared on a dorm wall, according to The Washington Post.
"My body feels like it's on fire," Butler told The Post Thursday night. "I have pain all over. I'm exhausted. Of course, I'm hungry. I've got an ongoing headache."
The decision by the team's black players happened after video surfaced of Tim Wolfe described what he thought "systematic oppression" was.
"Systematic oppression is because you don't believe that you have an equal opportunity of success," he said in the video.
The response met with backlash from students who were upset with his answer.
On Friday, the university president issued a statement on the issue of racism on campus.
"Racism does exist at our university and it is unacceptable. It is a long-standing, systemic problem which daily affects our family of students, faculty and staff," Wolfe said. "I am sorry this is the case. I truly want all members of our university community to feel included, valued and safe."
Missouri spokesman Chad Moller issued this statement in regard to the football team's protest to Columbia Daily Tribune reporter David Morrison:
About half the team's football players are black, according to The Missourian.
Missouri's team is currently 4-5 on the season and their next scheduled game is against Brigham Young University on Nov. 14.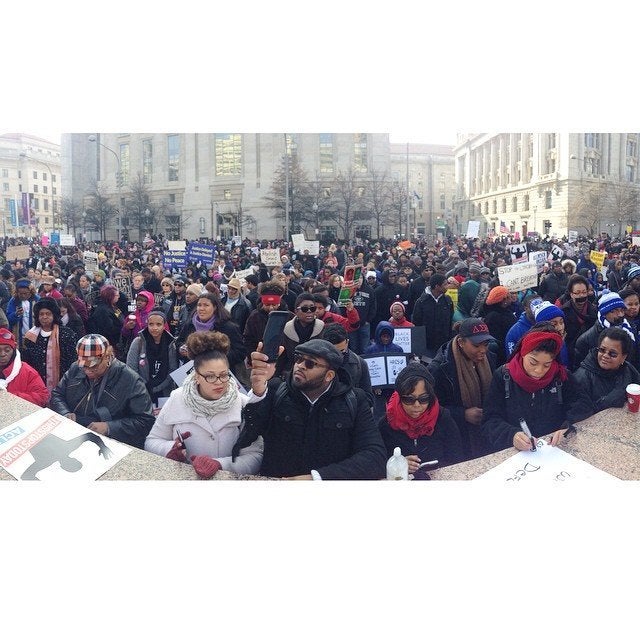 Powerful Black Lives Matter March In Washington
Related
Popular in the Community