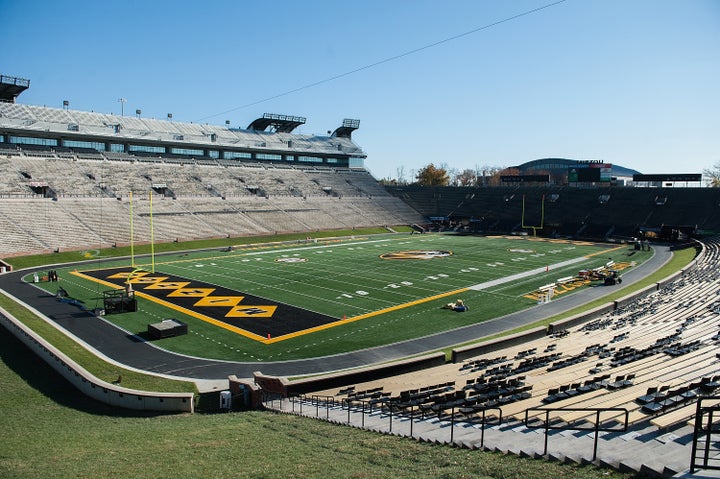 Joseph Williams felt dizzy, tired and disoriented, but most of all, he was hungry. 
The safety on University of Virginia's football team hadn't eaten in nine days; not since he and about 20 other students -- none of them his teammates -- launched a hunger strike to demand better wages and benefits for service workers on the university's campus.
It's been three years now since Williams' own protest ended. Over the weekend, though, roughly 30 members of the University of Missouri football team tweeted that they would boycott practice, and maybe even a game, to support Jonathan Butler, a Mizzou graduate student who was hunger striking to protest the school president's handling of racist incidents on that campus. 
The boycott brought back a flood of memories for Williams. He'd joined the hunger strike at UVA because his experience with homelessness and struggle made him sympathetic to low-wage workers.
"I mean, you definitely feel it," Williams said of not eating during the strike. "Your body gets really weak and tired. Everyday things become extremely difficult. It affects your mind as well. You become hazy and confused and frustrated."
On Sunday, Mizzou head coach Gary Pinkel and the rest of the football team joined the players' protest. By Monday, Mizzou president Tim Wolfe had resigned and Butler had ended his fast.
It was the kind of solidarity Williams and other UVA students wanted to express on their own campus, and hoped to inspire in others when the story made national headlines.
"The support they got from their coaching staff -- it was great to see all of those people coming together for a cause that is important to them," Williams said by phone on Wednesday. 
There were key differences between the two protests, the parallels of football and a hunger strike notwithstanding. Williams didn't threaten to sit out games, since it was winter when he went on hunger strike and the season had already ended. It also might not have mattered if he did, given that he was a non-scholarship, walk-on athlete who had played in just two games for the Cavaliers at the time. 
Yet he understands the risks that college athletes are taking when they challenge a university, and the thoughts that might go through their mind before they take a stand. 
Williams' own experience, he said, "was kind of isolating." No teammates joined him -- some, he said, were skeptical. His coaches and athletic administrators didn't publicly support him, beyond issuing a general statement. He said then he was willing to lose his place on the team to take a stand. 
The first football players who spoke out at Mizzou risked similar isolation, or even anger, from their teammates and coaches for causing a distraction or potentially canceling a game -- until Pinkel sided with them. 
If fewer players had participated or if Pinkel had rejected them, as coaches have in the past, it could have been different. The importance of how college athletes are publicly perceived and the power dynamics of college sports -- in which coaches control playing time and, potentially, scholarship renewals -- can create very real dangers for athletes who want to weigh in on contentious issues, Williams said. 
"It's kind of similar to workers who are afraid to go on strike because they are afraid of losing their jobs," he said. "Sometimes, athletes may have a desire to speak out, but ... it definitely is a risk."
"When it comes to actually making real change, that's what's often times necessary -- to take real risks," he continued. "That's why it was great to see the whole team supporting them, because that helps ease some of those pressures."
Williams returned to the football team the season after his protest. He later left on his own accord to pursue a master's degree, he said.
His hunger strike wasn't as successful as he'd hoped. Though Virginia pledged to review some of its labor practices, it didn't meet all of the protesters' demands. (At the time, UVA President Teresa Sullivan touted the university's efforts to improve workers' wages and conditions independent of the hunger strike.)
Still, it taught Williams a lesson that others have echoed in recent days: As a football player, even one few fans had heard of, he had a special power to raise awareness about an issue he cared about. After he posted a personal essay about the hunger strike online, his story spread quickly, covered by outlets like ESPN.com and The Washington Post. 
"One of the craziest things for me is that I didn't really realize how much of a platform there was until I was involved with my own hunger strike," Williams said. "I didn't go in with the thought that my involvement with the football team would matter at all. But just the fact that I was on the football team brought so much attention. It made me realize just how big that platform is."
There are signs that more college athletes are starting to take notice of that platform -- both for issues that affect them personally and those that matter more broadly. In 2013, Grambling State University football players boycotted practice and one game to protest problems they saw in their program. A year later, Northwestern quarterback Kain Colter launched a movement to form the first collegiate players union. And in March, football players at the University of Oklahoma walked out of spring practice after students in one of the school's fraternities appeared on video chanting racial slurs.
"I hope more athletes see this and say, 'We have power. We have power to make change in our communities and power to make the world a better place,'" Williams said. 
The football players didn't start the Mizzou protests, originally launched by the Concerned Student 1950 movement to challenge the way the school's administration handled racist incidents. But the football players helped draw more attention to the issue. Williams noted that athletes like Muhammad Ali, John Carlos and Tommie Smith have put their athletic careers on the line to support movements for social change.
"I hope these don't die off as isolated incidents," said Williams, who is now working as a campus organizer in California. "I hope they spark a prominent and larger trend so athletes can get back to the tradition that was left to us by some of the greatest American athletes ever, who put their careers on the line to stand up for something they believed in."
PHOTO GALLERY
College Football Traditions
REAL LIFE. REAL NEWS. REAL VOICES.
Help us tell more of the stories that matter from voices that too often remain unheard.