 The Republican-controlled Missouri state Senate defeated an effort to nullify federal gun laws in the state by one vote Wednesday night.
During a contentious session, state senators failed to override Gov. Jay Nixon's (D) veto of a bill passed earlier this year that said federal gun laws that the state deemed to be in conflict with Second Amendment rights couldn't be enforced in Missouri. The bill would also have made federal agents enforcing such laws subject to arrest in the state, and would have prohibited the publication of the names of gun owners.
The Senate voted 22-12 to override the veto, but fell one vote short of the 23 needed. The Republican-controlled state House of Representatives voted earlier Wednesday to override Nixon's veto.
State Senate Majority Whip Brian Nieves (R-Washington), the bill's sponsor, blamed state Attorney General Chris Koster (D) for the bill's defeat. Earlier this week, Koster, a likely 2016 gubernatorial candidate, wrote to lawmakers calling for Nixon's veto to be sustained, saying that the bill was unconstitutional and that it would damage the relationship between local law enforcement and the federal government. In his veto, Nixon questioned the constitutionality of the state nullifying federal law.
In his letter, Koster wrote that state and local law enforcement officers in Missouri would need to remove themselves from joint task forces with federal agents -- or they would potentially be in violation of the bill if they attempted to enforce gun laws.
On Wednesday, Nieves called the Koster "the most anti-Second Amendment person in this state" for writing the letter.
Nieves questioned Koster's legal reasoning, saying the bill was constitutional. He also questioned the timing of Koster' letter, asking why Koster waited to long to raise his concerns.
In the Senate debate over the veto, Sen. Maria Chappelle-Nadal (D-University City) rose to tell Nieves that while she does not agree with the bill, she thought Nieves was working to address crime and gun issues. She repeatedly attacked her Democratic colleagues, calling several state House members "elitist progressives" who did not want to address inner-city crime.
"I am sick and tired. I am not going to shut up, and I am not going to calm down," Chappelle-Nadal said. "No one should live in fear. I am a senator who cannot even sleep at night because a gang member lives two doors down and a drug dealer who lives across the street."
During the state House debate, Rep. Doug Funderburk (R-St. Peters), the bill's sponsor, said he believes states have the right to nullify unconstitutional federal laws. The bill would help reduce crime in the state, Funderburk argued.
"In the U.S., we rank third in the world in murders. That is not only a travesty but an injustice," Funderburk said. "If you take out Chicago, Detroit, Washington and New Orleans, the U.S. goes down to fourth from the bottom in murders. What is significant about this, in each of those cities, have been the most gun-controlled cities in this nation. So even this bill was not intended to be about gun control. The fallacies about trying to control guns is apparent in these statistics."
While U.S. Attorney General Eric Holder has threatened to sue Kansas over a similar bill and a federal appeals court has overturned a similar law in Montana, Nieves said in his speech Wednesday that the federal government would likely let the Missouri law stand if it passed. He cited the Obama administration's decision to let marijuana laws stand in Colorado and Washington.
"The federal government is that dog barking at the end of its chain, that upon closer inspection has no teeth," he said. "They are smoking it up in Colorado right now, and I don't see any storm troopers. The federal government blinks every time."
Before You Go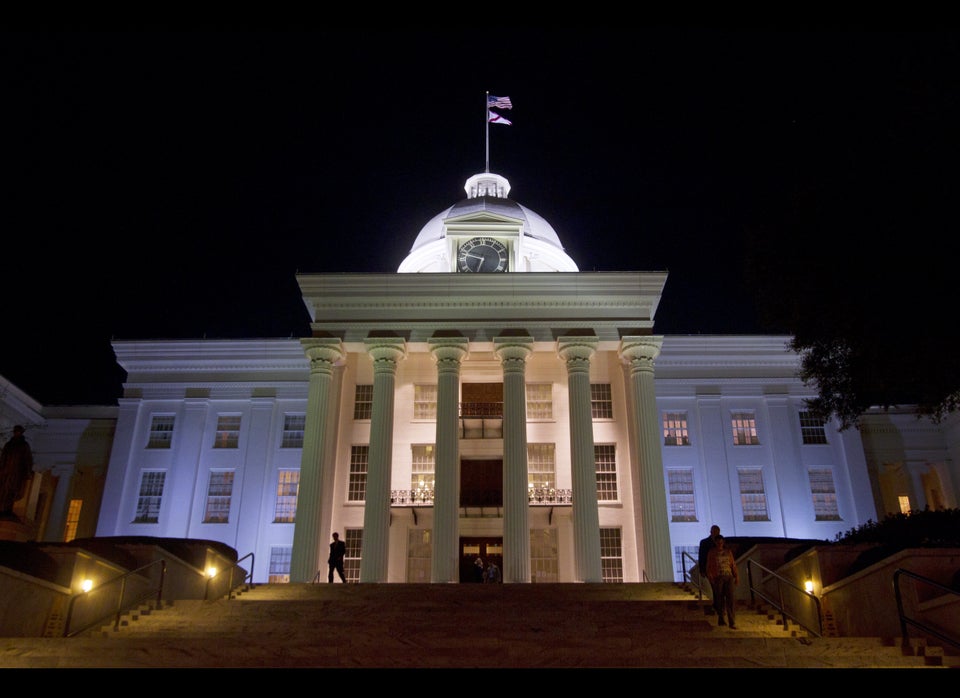 U.S. State Capitol Buildings
Popular in the Community