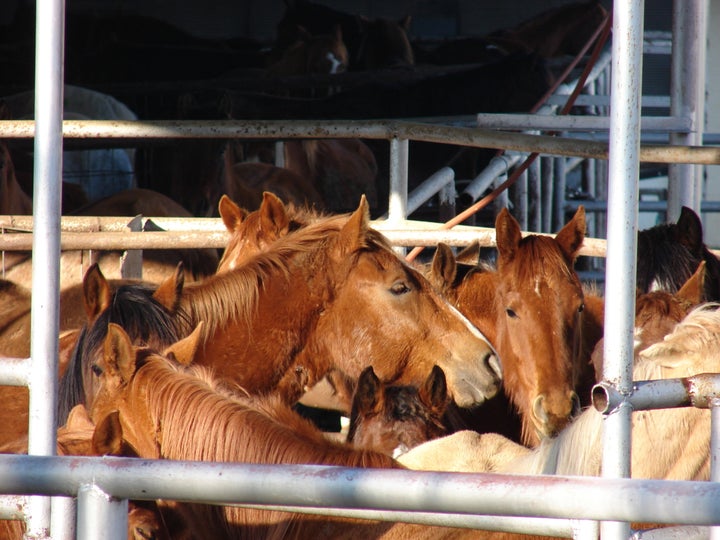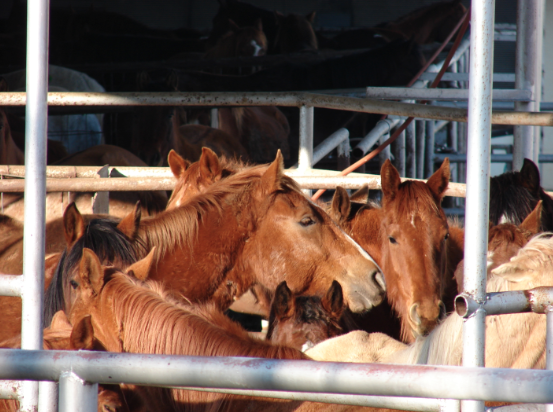 Photo by Julie Caramante
The proposed slaughterhouse brought hope to the struggling rural town of Rockville, MO.
Widely publicized as the first U.S. facility to slaughter horses after a five-year ban on inspections ended last year, the plant would provide 50 jobs according to its chief proponent, Wyoming state representative and horse-slaughter lobbyist, Sue Wallis.
"It will open by summer's end," Ms. Wallis has declared in dozens of news reports over the last month.
For starters, neither Sue Wallis nor her business partner has filed for the required permits with the Missouri Department of Natural Resources or with the Missouri Department of Agriculture.
You can't operate a slaughter plant without them and they can take months to process. Further, with the U.S. Congress once again considering a ban on funding USDA inspections of horse meat in 2013, inspections at the Rockville plant -- or any horse slaughter plant, for that matter -- are highly uncertain.
Perhaps a bigger obstacle, though is that Ms. Wallis and her business partner -- Missouri attorney, Dan Erdel -- do not own the plant she claims to be retrofitting for a September opening. Nor are they capable of purchasing it legally, thanks to civil and criminal charges arising out of a questionable deed of trust issued through a shell company named Six Bears and its owners and operators, Canadian Vincent Paletta and his wife Diana.

Paletta had already been charged with two counts of felony stealing by deception when Wallis' announcement brought the plant to the attention of Mountain Grove attorney Cynthia MacPherson. It was MacPherson who uncovered the elaborate plan by the Palettas to protect the plant from creditors. (A comprehensive report on MacPherson's findings has been issued by The Equine Welfare Alliance).
On behalf of one creditor, Elvin's Refrigeration, MacPherson has sued the Palettas, asking the court to block all transfers of the property until the ownership can be determined and creditors protected. The petition claims the Palettas violated MUFTA (the Missouri Uniform Financial Transactions Act).
Elvin's has also filed a Nonconsensual Common Law Lien against the plant's owner charging that the Palettas fraudulently used bogus deeds of trust and even sued themselves through their shell companies to protect their assets from creditors.
Sue Wallis and Dan Erdel -- along with the two companies they formed to ostensibly own and operate the Rockville plant -- are unlikely to do either.
This would be Wallis' second failed attempt to slaughter horses in Missouri. Her previous proposal to the citizens of Mountain Grove (where MacPherson has her law practice) ended badly. Word has it they ran Wallis out of town.
Undeterred, Ms. Wallis has already proclaimed Oklahoma as the next place she will attempt to slaughter horses--despite a state law making it illegal to sell horse meat or possess horse meat for sale.
Perhaps someone should alert the media before they report that, too. So far, it's been slow to recognize Wallis' habit of counting chickens -- and slaughter plants -- she cannot hatch.
Vickery Eckhoff's writing has appeared in The New York Times, The Wall Street Journal, The New Yorker and Forbes. Her 11-part series for Forbes.com exposes predatory practices in horse racing and the U.S. horse industry, with a focus on the political, food-safety, humane, environmental and economic impact of horse slaughter.
Related