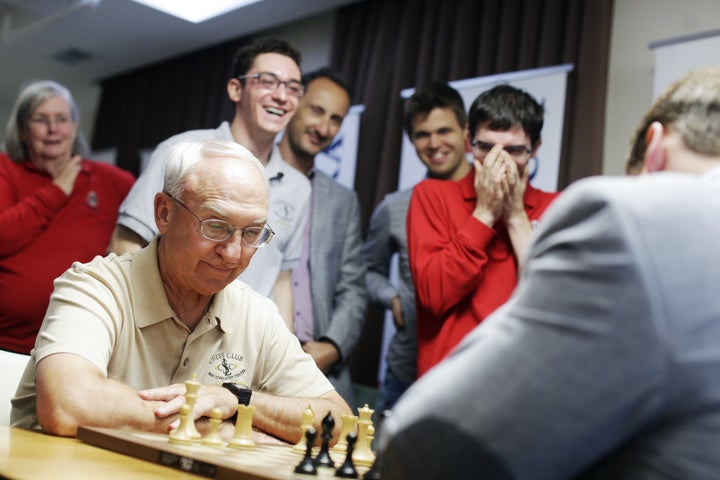 WASHINGTON -- Amid troubles back home over how to close a $765 million deficit, Kansas Gov. Sam Brownback traveled across the border earlier this year to Missouri, where he touted the very tax cuts that led to the budget crisis before the conservative Show-Me Institute.
The invitation to speak was extended by St. Louis billionaire Rex Sinquefield, the founder and chairman of the institute. Sinquefield has funded a nonprofit group to help promote Brownback's regressive tax cut policies in Kansas both before and after their passage.
Since 2008, Sinquefield has contributed at least $35 million to candidates, political parties, political action committees and ballot initiative campaigns, according to state campaign finance records.
Sinquefield's contributions to candidates and political action committees have helped to create an unprecedented Republican Party supermajority in the state assembly. His donations to ballot initiative campaigns have succeeded in putting significant restrictions on taxes at the local level. But with Democrat Jay Nixon in control of the governor's mansion, Sinquefield's main agenda items of eliminating the state's income tax, expanding charter schools and private school vouchers, and crushing labor union power by passing so-called right-to-work legislation have remained just out of reach.
All of that could change in 2016, with the Democrats occupying the offices of governor, attorney general, state treasurer and secretary of state all leaving office. Sinquefield will finally have the opportunity to push Missouri to embrace the same policies as those in states with unified Republican control over the past five years, such as Kansas, Michigan and Wisconsin.
To do so, he has already sunk $3.3 million into candidate campaigns -- more than all of his contributions to candidates since Missouri ended its contribution limits. His donations, the size of which Missouri has never seen before, have essentially created a Sinquefield slate running in the Republican primaries for statewide offices.
The billionaire donor has given $1 million to lieutenant governor candidate Bev Randles, 96 percent of her total fundraising. Catherine Hanaway, candidate for governor, has received $890,000 from Sinquefield and another $100,000 from his Missouri Club for Growth -- 49 percent of her total. Attorney General candidate Kurt Schaefer has received $750,000, or 41 percent of his total. And the $100,000 given to secretary of state candidate Will Kraus accounts for 21 percent of his fundraising.
Hanaway has already stated her support for repealing the state's income tax, as Sinquefield desires. Randles worked for Sinquefield's Missouri Club for Growth as chairman of the board until she stepped down earlier this year.
A representative for Sinquefield did not reply to HuffPost's request for comment.
Labor unions know how high the stakes are with the governor's mansion up for grabs. They are putting their money behind Democratic candidate Chris Koster -- who has in the past received support from Sinquefield -- in an effort to maintain veto power to block right-to-work.
Right-to-work laws prohibit labor unions from entering contracts with employers that require employees to join and pay dues or "agency fees" to the union to maintain employment. This type of legislation is opposed by unions as it makes it significantly more difficult to raise the funds necessary for a functioning organization and creates a free rider problem whereby employees can seek union protections without paying dues.
"All of labor knows that if Koster does not win that seat then we will be right-to-work shortly after," said Mark Dalton of the St. Louis-Kansas City Carpenters Regional Council.
But it is unlikely that labor can match the spending of Sinquefield or the other mega-donors supporting Republicans. Since Missouri ended its contribution limits in 2008, all labor unions have contributed a combined $24 million in the state. That is $11 million less than the amount contributed by Sinquefield.
"We don't have as much money as these mega-donors," Dalton said. "We'll never match that."
Sinquefield's singular position atop Missouri's political scene is enabled by the recent change to the state's campaign finance laws.
Missouri first adopted campaign contribution limits in the 1990s under public pressure. When Sinquefield retired from his California investment business to St. Louis in 2005, the most a single donor could give was a $1,275 donation to a statewide candidate. To get around this limit, Sinquefield created 100 different committees to direct his contributions to the candidates of his choice. The legislature, supposedly in response to this effort to circumvent the rules, eliminated contribution limits in 2006 and then, after courts struck down that bill on procedural grounds, did so again in 2008.
Supporters of ending the contribution limits stated that the policy increases transparency by making it less likely that donors would circumvent limits by giving their money to party committees or PACs. At the same time, the system of unlimited campaign contributions has greatly empowered the wealthiest residents and powerful interests in the state.
"Ever since then the ante has gone up," said Chuck Hatfield, the lawyer who successfully challenged the first attempt to repeal contribution limits.
And where the amount of money candidates ask for has risen, the lack of limits on giving to those candidates has not deterred wealthy donors from putting their money in independent groups to further their political goals.
Sinquefield operates his own political machine through independent groups like the Missouri Club for Growth, Grow Missouri and Missourians for Excellence in Government that make both direct contributions to candidates and independent expenditures in an effort to pull the Missouri Republican Party -- and the state -- further to the right.
In recent elections, Sinquefield's money has been used to target primary Republicans who have strayed from his anti-tax, anti-labor line.
After voting to sustain Nixon's veto of legislation slashing the state's income tax, Republican state Rep. Nate Walker told the Kansas City Star in 2014: "They said last year that if I didn't vote the way they wanted, that they would spend money to get rid of me. And that's what they're doing." Walker later defeated his Sinquefield-backed primary challenger.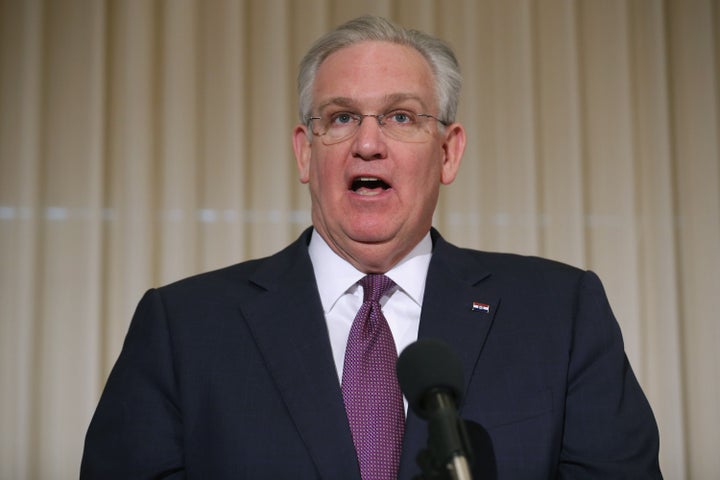 While unsuccessful in recent elections at unseating Republicans in primaries, Sinquefield's committees and contributions have boosted more conservative candidates to victory in open-seat primaries. Both the tactics and outcomes mimic those of national conservative groups like the Club for Growth and Senate Conservatives Fund that challenge and -- more often than not -- lose against incumbent Republicans in primaries, but succeed in nominating their candidate in open-seat primaries. These outcomes still have the effect of dragging the party further right.
Hatfield said that mega-donors have not "gotten whatever they wanted," but that they have "changed some of the discussion" because their money gives them "instant credibility" to legislators.
"Somebody making $30,000 a year might come up with the best idea in the world, but they don't have that instant credibility," Hatfield said.
Sinquefield may be the leading mega-donor in the state, but he isn't the only one with an open pocketbook.
The state's other major conservative political donor, David Humphreys, CEO of Joplin, Missouri, roofing product company Tamko Building Products Inc., and his sister Sarah Humphreys Atkins put $1 million into their own Committee for Accountable Government in Missouri in 2015. The group is expected to target some of the 20 Republicans in the legislature who voted to sustain Nixon's veto of right-to-work legislation.
The Humphreys clan of David, his wife, Debra, his mother, Ethelmae, and his sister Sarah constitute the second-largest donor in Missouri's era of unlimited contributions. Since limits ended, Humphreys and family have donated $6.7 million to candidates, parties, PACs and ballot initiatives. A request for comment from Humphreys was not returned.
With the possibility of total Republican dominance in the state possible in the 2016 elections, the Humphreys and Sinquefield find themselves on opposite sides in a number of major primary elections.
Where Sinquefield is backing Schaefer for attorney general, the Humphreys have donated $500,000 to Republican Josh Hawley's campaign. In the race for secretary of state, Sinquefield backs Kraus while the Humphreys back Jay Ashcroft, son of former Attorney General John Ashcroft, with a $100,000 donation.
Humphreys also donated more than $100,000 to the gubernatorial campaign of state auditor Tom Schweich, but Schweich died by suicide just one month after announcing his campaign amid an alleged whisper campaign against him.
Eric Greitens, an ex-Navy SEAL and head of the nonprofit The Mission Continues, is also seeking the Republican gubernatorial nomination and is pulling in money from big out-of-state donors in the financial sector. He's received $500,000 from Silicon Valley venture capitalist Michael Goguen, $300,000 from the Michigan investment firm McKinley Financial Partnership and $100,000 each from ex-Celgene CEO Sol Barer and hedge fund manager Steve Cohen.
Few of the Republican gubernatorial candidates -- which also include businessman John Brunner, Lt. Gov. Peter Kinder and state Sen. Bob Dixon -- and other statewide candidates have been as reliant on a single donor as those funded by Sinquefield. That is why, before his suicide, Schweich launched his campaign with an attack on Sinquefield's massive contributions.
"It's corrupt, and there's a lot more corruption going on in that camp that we'll be talking about in the days to come," Schweich said.
Both Republicans and Democrats have raised concerns about the increasing influence afforded to billionaires willing to convert their finances into political power.
Scott Rupp, a former Republican state senator, told St. Louis Public Radio that he regretted voting to repeal contribution limits. "I think it's hurt the system when you can have a handful of individuals that can pretty much underwrite one candidate," Rupp said.
U.S. Sen. Claire McCaskill, a Democrat, has stated her opposition to Missouri's politics being dictated by one man.
"The amount of money that's being passed around from [Sinquefield], through a variety of sources, is stunning and unprecedented," McCaskill told USA Today.
She backs efforts to put an initiative reimposing contribution limits on the ballot. Previous efforts touted by Nixon and other Democrats, however, have fallen short of the necessary signatures needed to qualify for a referendum.
Rob Schaaf, a Republican state senator, has proposed a legislative package of campaign contribution limits with lobbying and ethics reforms. Like Rupp, Schaaf voted against the contribution limits back in 2008, but now regrets it.
"It's not that the people running our government had bad or selfish intentions," Schaaf told the Missouri Times when announcing his legislation. "People run for office because they have ideas about how to make our state work better and they want to put those ideas into practice. But as soon as they run for office they realize that they depend not just on the voters, but also on the special interest that fund political campaigns."
David Donnelly, head of the campaign finance reform group Every Voice, sees the push to reinstate campaign contribution limits in Missouri as a "long-term" project. His group is in contact with other groups in the state to work on solutions.
The 2016 elections, though, will remain in the hands of the state's mega-donors.
CORRECTION : A previous version of this story incorrectly stated Bev Randles was employed as the former executive director of the Missouri Club for Growth. Rather, she served as chairman of the board of that group.
Popular in the Community