Some advocates for college athletes say Tim Wolfe's announcement on Monday that he would resign from his position as the University of Missouri system president indicates how powerful student-athletes can be in affecting change.
The football players, who were joined Sunday by the rest of their team and head coach Gary Pinkel, were hardly the only ones speaking out. The Concerned Student 1950 movement and the Legion of Black Collegians, the school's black student association, had confronted the president at a Homecoming parade last month and protested on campus. Some faculty members walked out of classes last week, and Jonathan Butler, a Mizzou graduate student, launched a hunger strike to protest Wolfe.
Kain Colter, the former Northwestern University quarterback who in 2014 launched an ultimately unsuccessful effort to form the first collegiate players union, says the fact that Mizzou's players threatened to skip practices and games as part of their protest highlighted the power college athletes have today at universities.
"It takes a lot of courage to boycott, or to even threaten to boycott, a game you love. But they stood up," Colter said. "I hope every athlete realizes the leverage they have to put pressure on the system."
The threat of a football boycott no doubt exacerbated the pressure on Wolfe and Missouri chancellor R. Bowen Loftin, who announced Monday that he would resign at the end of the year. A boycott would have had significant economic ramifications for the university -- for instance, Mizzou would have owed Brigham Young University $1 million if it had had to cancel Saturday's game in Kansas City because players refused to show up.
"You see a lot of power because [athletes] do have a lot of value to these universities," Colter said. "It's universities' biggest marketing arm. If they bring it up, they can affect real change. All of it boils down to athletes standing up. It's where a lot of their leverage lies."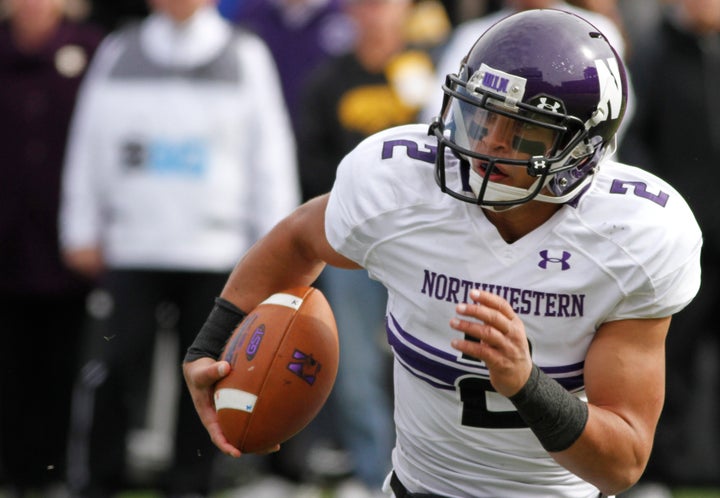 Missouri's players are only the latest to wield that power against their own universities or the collegiate athletic system. In 2013, Grambling State University football players staged a strike and forfeited a game against Jackson State to protest facility conditions and other problems within the program. The University of Oklahoma's football team walked out of spring practice in March after members of the school's Sigma Alpha Epsilon fraternity were caught on video singing racial slurs.
And there was also Colter's union movement, which, while primarily focused on college athletes and the NCAA, also asked the National Labor Relations Board to review previous decisions on bargaining rights for graduate students at private universities.
That power has already caused changes in college sports, where the NCAA and its conferences in recent years have made small steps to address issues related to health and safety and scholarship costs that Colter's union effort and other athletes have raised. It has caught the attention, too, of administrators like Big XII Conference commissioner Bob Bowlsby, who said in September that he would not be surprised if college athletes decide to strike in the near future.
But Missouri's players, like those at Oklahoma, also demonstrated athletes' abilities to influence broader campus issues -- a dynamic the Tiger football players referenced when they announced they would return to practice after the end of Butler's hunger strike.
"We just wanted to use our platform to take a stance as fellow concerned students on an issue that has special meaning as a fellow black man's life was on the line," Mizzou safety Ian Simon said Monday while speaking at a demonstration.
"Let this be a testament to all of the athletes across the country that you do have power," defensive end Charles Harris added.
Given their outsized role on university campuses, it's likely athletes across the country will continue to wield that voice, Colter said.
"The more athletes stand up and use that power, the more they'll realize how much value they have," he said. "And college presidents and administrators, athletic directors, they have to listen." 
Calling all HuffPost superfans!
Sign up for membership to become a founding member and help shape HuffPost's next chapter