 Before stepping into her own classroom, Allison Brown wanted to be prepared for everything that becoming a teacher would throw at her.
Planning and teaching a lesson. The best way to help students who are ahead, as well as those struggling. Handling a phone call from a concerned parent. Helping those with problems outside the classroom.
"I wanted to make sure I was going to be good at it for (the students)," said Brown, as she walked with the third-graders she co-taught at Valley Park Elementary earlier this month. "And that I was going to be happy doing this for the rest of my life."
Brown sought a university program with lengthy classroom experience built into its requirements. As a student co-teacher this past semester, she's participating in a movement to revamp teacher preparation programs in Missouri and across the country.
Just recently, the American Federation of Teachers proposed that all prospective teachers in the country take a rigorous bar exam to gauge how well they master a subject and demonstrate the ability to teach it.
But already, Missouri's Board of Education is moving forward with increased standards for the profession. The state recently adopted evaluations that will assess some teachers, in part, on how well students fare on state exams.
Now the state is going further.
Under a plan approved last month, the state will zero in on the effectiveness of teacher colleges.
The plan includes more frequent report cards on the colleges' performance, a more uniform evaluation of student teachers, and higher grade-point average requirements for those in the program.
"What we're looking to build is a way to capture that performance and score whether or not that teacher is doing a good job in the classroom before they get into their own," said Hap Hairston, director of educator preparation for the Missouri Department of Elementary and Secondary Education. "Are we getting the right people to go into teaching, and are you developing them with what they need to teach?"
The tests teachers currently take to get into the profession have been criticized as not being rigorous enough. Cut scores are low, and prospective teachers can take the test as many times as they need to until they pass, critics say.
Missouri certified 5,615 teachers in 2009-10, an increase of about 8.5 percent from 2007-08 in those who complete traditional programs. The state also allows alternative routes to teaching, which have doubled in popularity in the past few years. A 2008 law allows anyone with a bachelor's degree and a 2.5 grade-point average to earn teacher certification through a combination of online courses and 60 hours of teaching.
Statewide, there are 39 preparation programs at four-year institutions, and all have different ways of evaluating how student teachers perform in front of classrooms.
For Brown, who is graduating from Maryville University, it was the edTPA, an initiative developed by educators and researchers at Stanford University that several states are trying out.
The teacher performance assessment was one of the most challenging parts of her program, Brown said. It required her to film and critique her teaching, and judge herself based on what the students learned from her lesson.
"Seeing yourself in front of the class is a totally different experience," Brown said. "It forced you to see if the students reached that goal, and if they didn't, reflect on what I can do better."
Experts praise the edTPA model for making student teachers accountable for their own performance.
Sam Hausfather is dean of the School of Education at Maryville University, where student teachers such as Brown have been using the edTPA for the past three years. He said he would have liked the program to be used statewide.
Instead, Missouri has hired Educational Testing Service and Evaluation Systems to develop its own educator certification assessment for Missouri.
The new system will become standard at all of the educator prep programs in the state so everyone is evaluated on the same measures that will be used to determine whether they should become teachers.
Even so, Hausfather said, the state is moving in the right direction by raising the bar for teacher preparation.
"We've been very happy with how much it is pushing our programs to rise up to national standards," he said. "To really expect a lot out of a student teachers is to really focus on student learning."
Nationally, critics say, teachers colleges have not been subject to tough scrutiny from state regulators.
Out of more than 2,000 teacher prep programs in the country, only 38 programs were identified in 2010 as at risk of losing accreditation, according to a 2011 report by the U.S. Department of Education. Missouri identified at-risk programs in just three of the last eight years.
Now, Missouri has approved a new annual report card for teacher prep programs to review their accreditation status more frequently than in the past. Instead of examining those programs every seven years, state officials will look at them yearly and with a more clear and concise metric system that is still being hammered out.
Missouri's data system also allows the state to compare whether graduates of some teaching colleges do better than others in raising student standardized exam scores. Those findings will factor in to both evaluations of teaching colleges.
In addition, the state will now require future teachers to maintain a 2.75 grade-point average, up from 2.5. And for those seeking a particular certification, such as math, the required GPA will rise to 3.0.
The new standards for the educator preparation programs will be in place in March. The state is still working on its plan to tie teacher evaluations to student performance.
As a co-teacher, Brown was more of a second teacher than someone watching from the back of the classroom.
The cooperating teacher at Valley Park Elementary, Dawn Fenwick, gradually built in more responsibilities for Brown. Fenwick believes that approach holds the most value for the student teachers.
If parents had questions about a lesson she taught, she asked Brown to talk with them. But Fenwick was always available for support, even answering late-night texts as they prepared together for the next day or helping Brown determine how to reteach something.
"From day one, you're with me, in the trenches," Fenwick said. "You either fail or you flourish. I do think it makes or breaks a lot of student teachers." ___
(c)2012 the St. Louis Post-Dispatch
Distributed by MCT Information Services
Related
Before You Go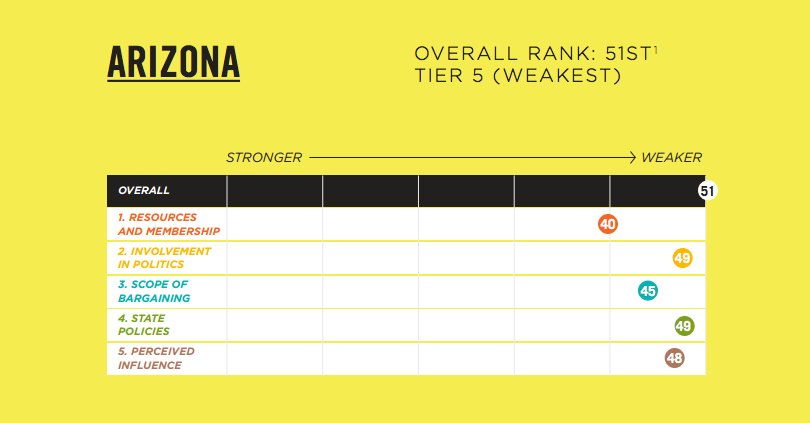 How Strong Are U.S. Teacher Unions? Fordham's State-By-State Comparison
Popular in the Community