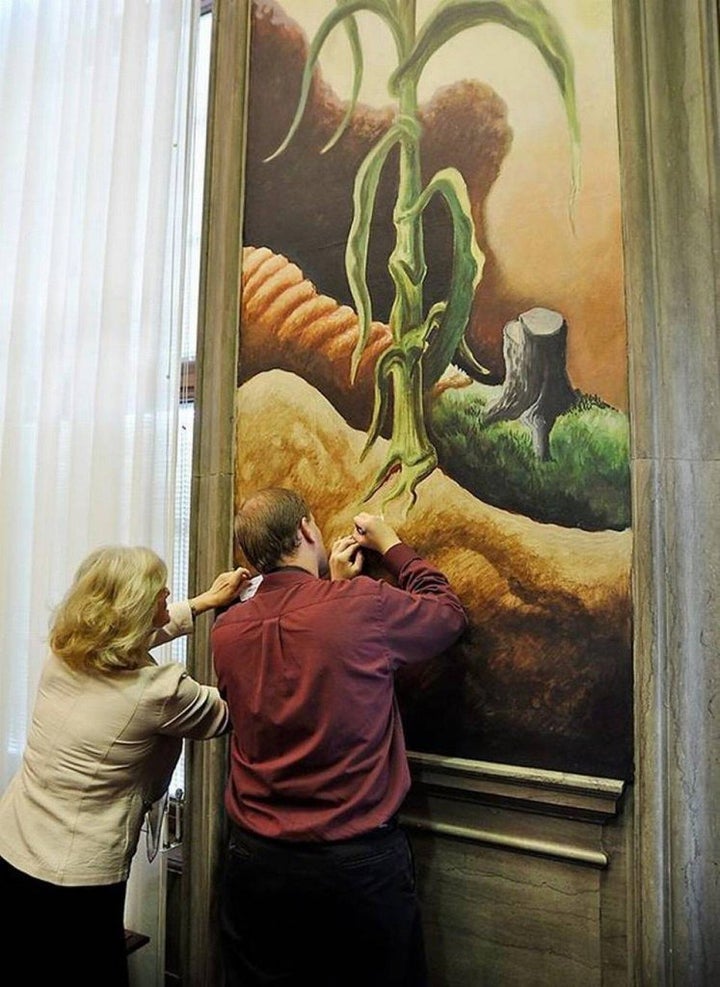 The official, Valinda Freed, has apologized for her "thoughtless act," according to the Kansas City Star. A photograph by area journalist Dave Marner went viral on Facebook over the weekend. A "right to work" rally, featuring several Republican gubernatorial candidates, was the occasion for the exchange of phone numbers between Freed and the unidentified man.
"I offer my sincere apology for my completely unplanned and thoughtless act," vice chairwoman Valinda Freed wrote in a statement to the Star. "The Thomas Hart Benton mural, and all the magnificent artwork in the Capitol, are (sic) state and national treasures."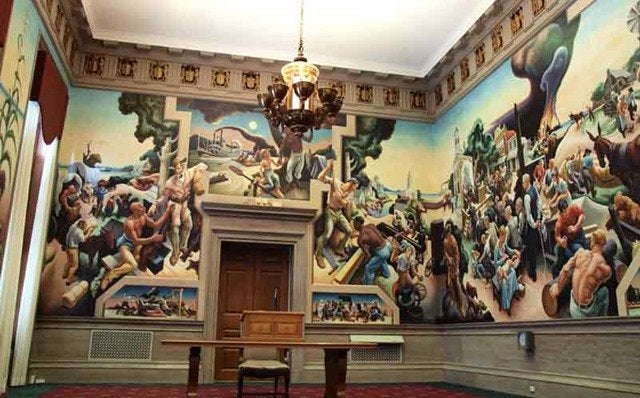 The mural, A Social History of the State of Missouri, resides in the Missouri State Capitol and was commissioned in 1936. According to an essay on Truman State University's website, Benton traveled the state, speaking to "everyone from educated art critics to Ozark hillbillies," to get an understanding of Missouri's character.
The paintings show log cabins, turkey shoots, and French settlers trading with Osage Indians, along with darker subjects like a slave auction, a lynched slave, and the tarring and feathering of a naked Mormon.
Freed is also, according to her LinkedIn page, director of the Christian Patriots Arise Assembly, "an organization calling Christian Patriots to renew their commitment to Christ" and "to become involved in all matters involving public policy that effect (sic) their families and their FREEDOM."
PHOTO GALLERY
30 Artist Names You Are Probably Pronouncing Wrong
Calling all HuffPost superfans!
Sign up for membership to become a founding member and help shape HuffPost's next chapter