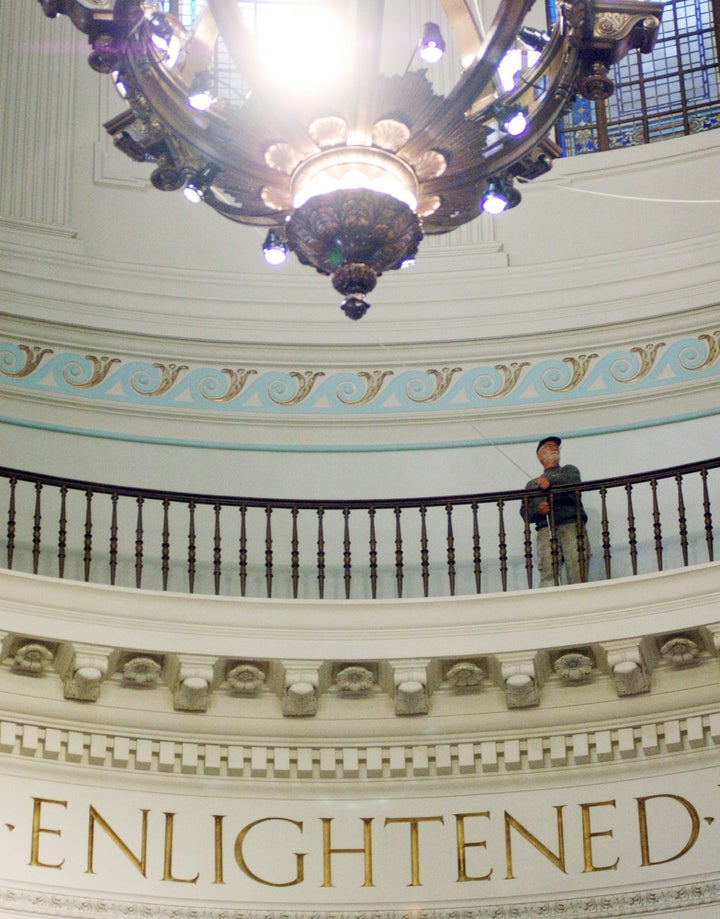 WASHINGTON -- Earlier this year, Missouri business leaders presented lawmakers with a six-point plan they said would bring jobs to the state during tough economic times. Since then, state Republicans have aggressively pushed the agenda and added their own legislative tweaks. Critics say the business-friendly platform is currently one of the most aggressive attacks on low-wage workers.
Backed by the Missouri Chamber of Commerce and other trade groups, the "Fix the Six" plan includes a few of the business community's perennial gripes -- tort reform, workers' compensation reform, and corporate tax reform -- but it also pushes two reforms that have infuriated progressives and labor groups: capping the minimum wage and making it more difficult for employees to sue for discrimination.
In 2006, Missourians voted to add a cost-of-living adjustment to the state's minimum wage so that it would keep pace with inflation. The minimum wage has since risen from $5.15 an hour to $7.25, where it matches the federal rate, and has remained there since 2009.
A bill that has passed the Republican-controlled state House of Representatives would eliminate any future cost-of-living boosts. In explaining the bill in a committee hearing earlier this month, state Rep. Jerry Nolte (R) said, "By putting more pressure on the people who are doing the hiring, my concern is we'll continue to work our way into a jobless recovery and lose more jobs."
In a brief provided to The Huffington Post, the state chamber argues that the cost-of-living adjustment makes it hard for businesses to keep employees on their payrolls, "particularly affecting entry-level workers."
Opponents of the reform point out that three-quarters of Missourians voted for the original cost-of-living increase in 2006, and the initiative passed in every county in the state. Lew Prince, a small business owner who testified against the current bill, told HuffPost that he believes a capped minimum wage would do nothing to bring business to the state.
"All they're doing is taking an extra buck out of Missouri, which comes out of our economy," said Prince, who owns the Vintage Vinyl record shop in St. Louis and starts his workers at $8.50 an hour. "It's morally wrong and it's economically stupid."
A bill currently in the Missouri Senate would also scale back the state's employee discrimination laws. Right now, discrimination only has to be a "contributing factor" in an employee's termination for a worker to be eligible for compensation, whereas the new law would require it to be the "motivating factor." The bill would also cap damages in discrimination lawsuits by putting them on a sliding scale according to the size of the business. In a statement this week, Gov. Jay Nixon (D) called the bill "unacceptable" and said it undermined the Missouri Human Rights Act.
"This bill would make it harder to prove discrimination in the workplace and would throw new hurdles in the path of those whose rights have been violated," Nixon said.
Lara Granich, director of Missouri Jobs with Justice, a coalition of labor and community groups, said she believes the "Fix the Six" platform is part of the broader anti-labor atmosphere seen in states like Wisconsin, Ohio and Maine this year.
"I think [the bills] are all part of this dynamic happening in our state where the business interests smell blood in the water," said Granich. "They're doing everything to roll back the progress working people have made in the state in the last decade."
With regard to both the proposed changes to minimum wage and employment discrimination law, Missouri Sen. Claire McCaskill (D) recently tweeted, "Ugh."
But arguably the biggest change to Missouri employment law isn't found in a "Fix the Six" proposal -- it's in a budget amendment added by House Speaker Steven Tilley (R) that would effectively end all investigations by the state labor department. By eliminating all nine of the state's labor investigators and cutting $379,000 from the department's budget, the amendment would render Missouri incapable of enforcing child labor legislation or addressing wage theft claims.
Tilley told the Columbia Daily Tribune earlier this month that his amendment was aimed at ending the enforcement of "prevailing wage" law in Missouri. State law requires that certain minimum wages be paid on publicly funded construction projects; the wages vary county by county. Tilly told the Daily Tribune that he'd heard labor investigators were "harassing and picking on non-union contractors" in prevailing-wage cases. Tilley did not respond to requests for comment from HuffPost.
State Rep. Jacob Hummel (D) spoke against the amendment on the House floor. He told HuffPost it was "a back-door attempt to stop all prevailing-wage investigations.
"There's currently an attack on the prevailing wage in this state right now," he said. "I guess it's easier to get rid of the investigators than to change the law."
Even if the intended target of the budget amendment is prevailing-wage enforcement, there would be collateral damage if it passed, according to the Missouri labor department.
"If budget cuts removed the Department's Division of Labor Standards investigators, there would be no entity to enforce the state's wage and hour laws or the child labor laws," a department spokesperson said in a statement. "There would be no protection for workers who are underpaid or for children in the workplace."
In 2010, Missouri's labor department collected $200,000 in restitution for minimum-wage violations and another $500,000 for prevailing-wage violations. In 2009 and 2010, the department issued 1,714 citations for child-labor violations and levied $31,000 in fines. Among the worst violations in recent years: one child had his legs crushed in a meat processing plant, and another had his hand mutilated in a meat-tenderizer at the restaurant where he worked.
Popular in the Community