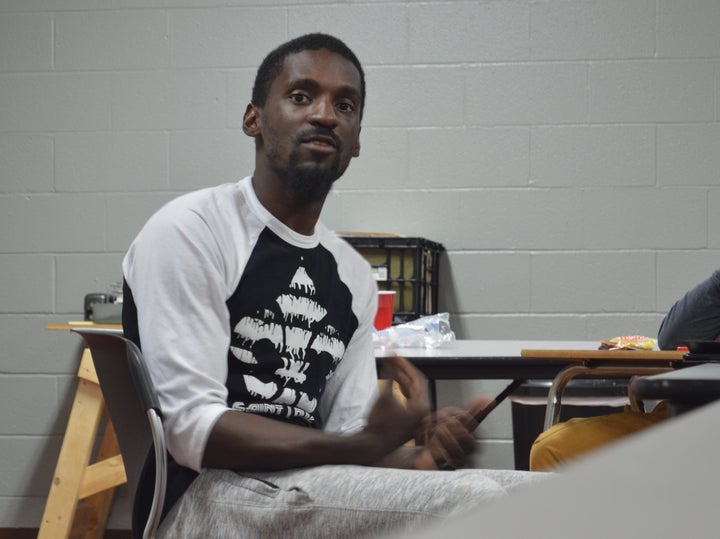 ST. LOUIS ― Missouri State Rep.-elect Bruce Franks Jr. was robbed at gunpoint Monday night in St. Louis, police said.
Franks was sitting in his car in the parking lot of a popular St. Louis brewery and restaurant about 7:20 p.m. when two men robbed him, police said. Franks was unharmed, but his car, two cell phones and a handgun were among the items stolen, according to the St. Louis Post-Dispatch.
Franks wrote a statement on Facebook that offered little detail about the incident but said he was glad to be alive.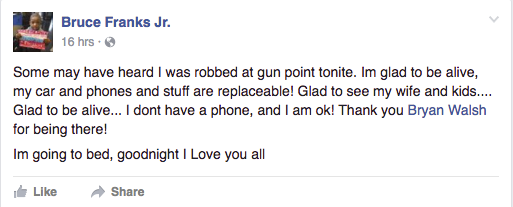 Franks, a Ferguson, Missouri, activist, is a 32-year-old business owner, father and former battle rapper who conducts community outreach with his organization 28-to-Life, which focuses on youth empowerment and police relations with communities.
The political newcomer won a seat in Missouri's House of Representatives in a September special election after he challenged voter irregularities in St. Louis' 78th District during the August Democratic primary. A St. Louis circuit court judge found that the St. Louis Board of Election Commissioners collected over 100 invalid absentee mail-in votes.
Last month, The Huffington Post sat down with Franks to talk about his organization and the struggles within impoverished black communities.
"We talk about conditions in our neighborhoods and how we don't have choices in our neighborhoods," Franks said in the November interview. "Yeah, they robbing and killing ― which I don't condone at all ― but look at what's their choice on survival. How do they survive?"
"And the only right thing in the 'hood is surviving. No, they didn't have a choice, and they had to go through this," Franks continued. "A lot of times people who aren't from the 'hood never really understood that. They don't get that. They don't get what it's like to not have a choice."
During a campaign rally for former presidential hopeful Sen. Bernie Sanders (I-Vt.) in March, Franks spoke about how gun violence had touched his life. In 1991, Franks' brother, Christopher Harris, 9, was fatally shot.
"He was used as a human shield," Franks said at the campaign rally.
With his new political role, Franks hopes to help put an end to gun violence and hold criminals accountable by "addressing the problem from its root causes, which is lack of resources, education, job opportunities," Franks told the St. Louis Post-Dispatch.
Unfortunately, Franks is not the only Missouri politician affected by gun violence this month. On Dec. 5, Missouri Gov.-elect Eric Greitens' wife, Sheena Greitens, was robbed at gunpoint while sitting in her car outside a St. Louis cafe. Three teenagers were later arrested in the case.
Popular in the Community