A teenage girl in Maryville, Mo., claims she has been repeatedly threatened and harassed after she said she was raped last year by a classmate from a well-connected family.
Over the course of several months, the harassment became so severe that her family was forced to leave town, the girl, now 16, says.
The Huffington Post generally does not identify rape victims. However, the family confirmed that they wanted to go public with the information.
The Star explains the family's claims of the January 2012 incident:
A high school senior had sex with Coleman's 14-year-old daughter, another boy did the same with her daughter's 13-year-old friend, and a third student video-recorded one of the bedding scenes. Interviews and evidence initially supported the felony and misdemeanor charges that followed.
Daisy Coleman was then left on her front lawn, nearly unconscious in the freezing cold.
Nodaway County Sheriff Darren White told the Huffington Post his department presented a "strong case" to prosecutors that then 17-year-old Matthew Barnett raped Coleman's daughter.
He said charges were dropped when Daisy Coleman declined to cooperate with prosecutors.
Melinda Coleman told CNN's Erin Burnett on Monday that White's claims are "absolutely not true," and said the police report from the incident proves it.
"The victims decided they no longer wanted to participate in the case," White told HuffPost. "They gave no deposition or statement and invoked their Fifth Amendment right not to incriminate themselves. The charges being dismissed had everything to do with the victims not wanting to assist in their case."
Prosecutor Robert Rice eventually dropped all charges against Barnett, who said the sex was consensual.
In an interview with the Star, Rice dismissed any suggestion the decision had to do with Barnett's grandfather, a former lawman and four-term state representative in the Missouri legislature. White also insisted to HuffPost that politics played no role in the decision not to prosecute.
Melinda Coleman told the Daily Mail that, after the allegations came to light, her family was continually threatened by residents in the town of 12,000. Her daughter suffered from depression and even attempted suicide.
Daisy Coleman told KCUR, "I just felt like if I'm this ugly on the inside, I might as well look it on the outside," she said. "You're the s-word, you're the w-word…b-word. Just, after a while, you start to believe it."
Melinda Coleman eventually decided to move the family back to Albany, Mo. The family had lived in Maryville for three years.
"Basically I was terrified, I wanted to protect my children, I wanted to get them out of there," Coleman told the Daily Mail.
Coleman moved in August 2012. Eight months later, her house in Maryville, which was still on the market, burned down under mysterious circumstances, detailed further in the Star's report.
"On one hand, it would almost be a comfort to think it was an electrical problem that caused the fire," Coleman told the Mail. "But on the other hand, there's a part of me that really thinks that the fire could be part of all this."
Gawker reports that the accused teen is currently attending the University of Central Missouri and "apparently having a great time" based on a now seemingly deleted retweet:
"If her name begins with A B C D E F G H I J K L M N O P Q R S T U V W X Y Z, she wants the D."
"Why was a suspect, who confessed to a crime, released with no charges?" a post from the group said. "If Maryville won't defend these young girls, if the police are too cowardly or corrupt to do their jobs, if [the] justice system has abandoned them, then we will have to stand for them. Mayor Jim Fall, your hands are dirty. Maryville, expect us."
Related
Before You Go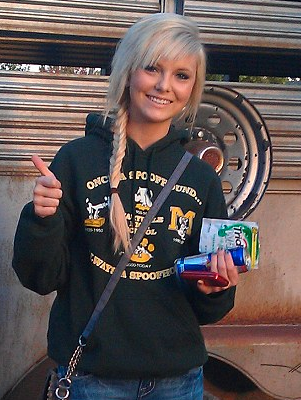 Daisy Coleman
Popular in the Community