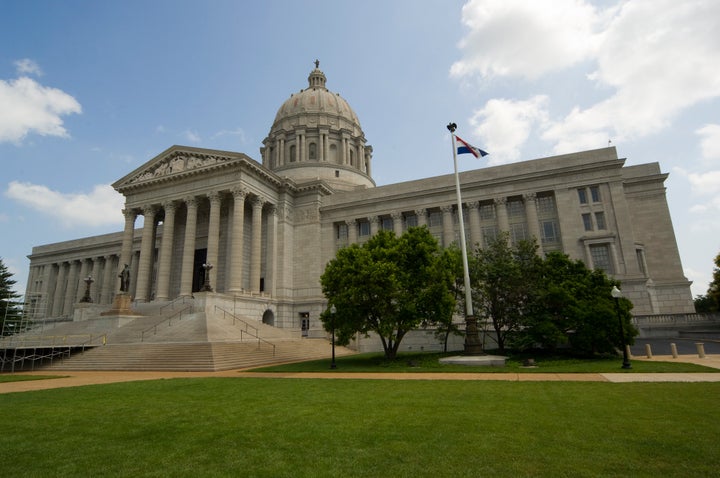 A Missouri judge upheld most of the state's voter ID law on Tuesday, but struck down one provision that required voters to sign a sworn affidavit if they wanted to vote but did not have one of the favored forms of photo identification.
Under the state law, which went into effect in 2017, people must show a Missouri driver's or nondriver's license, a passport or a military identification card ― all of which have photos ― before they can cast their ballot. If they don't have any of those, they can show a number of other prescribed forms of identification that may not have photos. Under the problematic provision, the latter voters also had to sign a document swearing that they didn't have "a form of identification approved for voting." If they lied on the form, they could face criminal prosecution.
In his ruling, Senior Judge Richard Callahan of the Cole County Circuit Court blocked the state from requiring the affidavit because he said it was confusing.
"The affidavit plainly requires the voter to swear that they do not possess a form of personal identification approved for voting while simultaneously presenting to the election authority a form of personal identification that is approved," he wrote. "All of this occurs in an affidavit in which the first line informs the voter that they are required to 'solemnly swear or affirm,' and lest they forget, reminds them in the last line that a false swearing subjects them to criminal prosecution."
Critics of voter ID laws say they unfairly discriminate against minority voters, who are less likely to possess the kinds of photo IDs that states tend to require.
Callahan's decision comes in the final weeks of a closely watched Senate race between Democratic Sen. Claire McCaskill and her challenger, Missouri Attorney General Josh Hawley. The suit was filed by Priorities USA, a Democratic group, on behalf of a Missouri voter in her 70s.
The law also directed the Missouri secretary of state to advertise the voter ID requirements to the public. But Callahan said Secretary of State Jay Ashcroft (R) had incorrectly suggested in those ads that a photo ID was required to vote. The judge blocked the state from issuing any further materials making that suggestion.
"As the state concedes, a photo identification card is not a requirement for voting; however, the print message promulgated by the State could clearly lead voters to believe that they would be unable to cast a ballot without presenting a photo identification card. Certainly, several local election authorities were led to so believe, as evidenced by their web sites and training materials," the judge wrote.
Ashcroft's office did not immediately respond to a request for comment.
Overall, Callahan said, the voter ID law was "within [the state legislature's] constitutional prerogative under the Missouri Constitution." He also upheld a provision of the law that allowed state officials to throw out someone's ballot if that person did not have any acceptable form of ID and their signature did not match the one on file.
Voters in Missouri approved a constitutional amendment mandating voter ID in 2016. It is one of 34 states that require people to show identification at the polls, though the kind of identification and the process if someone lacks ID vary from state to state.