When Missouri voters approved a voter ID measure last year, lawmakers in the state promised to pay for costs associated with implementing the policy and educating residents about it. Now that they're faced with a budget shortfall, however, Republicans are looking for ways to curb such spending. 
Republicans in Missouri championed voter ID law for years before voters approved a ballot measure to require people to display identification at the polls. The measure came with the caveat that the state would provide free identification and documentation to anyone who needed it. Several other states with voter ID laws have made similar promises.
Democrat Jason Kander, who was serving as Missouri's secretary of state at the time, estimated last year that implementing the policy and educating people about it would cost $5.2 million. The law goes into effect on June 1.
Kander told The Huffington Post that he shared that figure with his successor, Secretary of State Jay Ashcroft (R), and that Ashcroft didn't raise any objections. But Ashcroft drastically cut his funding request for the law to $1.4 million as state lawmakers debated how to fill a budget shortfall of $456 million. Missouri Gov. Eric Greitens (R) requested just $300,000 for it.
Ashcroft has said he plans to save money by cutting television ads and direct mailings to registered voters in the state, the St. Louis Post-Dispatch reported. He has chosen to rely on personal interactions with voters and partnerships with community groups. 
However, Democrats and other critics of the voter ID requirement say the law will likely generate enormous amounts of confusion. They argue that the Republicans' current plan is inadequate and doesn't show a real commitment to making sure every valid voter can make their voice heard. 
They're not gonna get anything in the mail. They're not gonna see any information on TV. What we've seen in other states is that that is a recipe for disaster.

Denise Lieberman, senior attorney at The Advancement Project
"I think that it's absolutely ridiculous that politicians ― who, when they run campaigns either locally or statewide, spend insane amounts of money on direct mail and TV advertising ― say, 'Well, we don't need those things to reach voters,'" said state Rep. Peter Meredith (D). He recently tried to add $3 million to funding for the law, but the move was blocked.
Even states that have invested in extensive outreach efforts have seen considerable confusion among voters and DMV workers, said Denise Lieberman, a senior attorney in the voter protection program at The Advancement Project. The organization has challenged photo ID laws in other states.
"In North Carolina, they sent three direct mailings to every single voter and we argued in court that that was not enough," she said. "Jay Ashcroft's budget doesn't even allow for television advertising of the new law. At best, the most education voters are gonna receive is seeing a poster when they walk into some place. They're not gonna get anything in the mail. They're not gonna see any information on TV. What we've seen in other states is that that is a recipe for disaster." 
Such laws disproportionally hurt people of color, young people, low-income voters, seniors and voters with disabilities, she said. 
Missouri isn't the only state where Republicans insist that they can implement voter ID at a low cost. Iowa Secretary of State Paul Pate (R) has said he won't request any additional money to implement a voter ID law if it is approved by the legislature. Pate has estimated that it will cost $1 million to implement the law, provide as many free IDs as necessary and educate the public. Democrats and critics of the proposal, however, have accused Pate of underestimating how much funding he'll really need to roll out the program.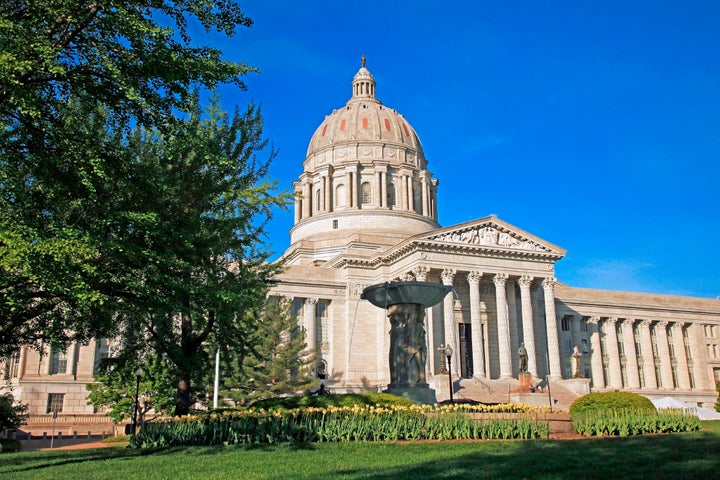 Kander estimated that 224,000 registered voters lacked acceptable voter identification in 2014. Republicans have accused him of inflating this number to make the law look bad, according to the Post-Dispatch. 
"We stand by our numbers, and [Republicans] have provided no facts to dispute them. They just say that they don't think they're right," Kander said. "Now, all of a sudden that they have to actually do it, suddenly they've come up with different math, although it's interesting that they won't really show their work."
"This is the whole playbook of voter suppression, which is you create obstacles to voting and then you create obstacles to the obstacles. That's what they're doing here," he added. "Now these folks in Jefferson City are just making up numbers now to try and fit within a budget. And that's just not how this is supposed to work. Their legislation was that they were promising that they were gonna meet to making sure everybody knew how to navigate the process and they're not doing that."
In-person voter fraud in the United States is extremely rare. Still, Republicans in a number of states have adopted voter ID laws and argued that they're necessary to fight perceptions of voter fraud. But in many cases, Republicans are the ones who have created that perception.
The negotiations over funding in Missouri indicate that Republicans have never been serious about making sure all eligible voters could vote, Lieberman said.
"This budget process demonstrates how disingenuous lawmakers have been in promoting this photo ID law and in making promises to take care of all voters to ensure they're not kept away from the polls," she said. "This budget makes it impossible for them to keep that promise and it reveals this law for what, members of the voter protection coalition and other voters knew all along is that this is a law that's designed and intended precisely to do what it's gonna do and that is keep voters from voting."
Even if the voter ID measure is adequately funded, some people will inevitably face obstacles in the process of obtaining required documentation. Many people, Lieberman said, may be discouraged from going to the polls simply because they won't be sure if they have the proper identification. 
"The result of all of this is that valid, eligible voters are going to have more difficulty being able to cast a ballot," Lieberman said. "The ultimate crime of this budgetary insufficiency is that valid voters are gonna pay the price for lawmakers' failure to fund this law."
Correction: An earlier version of this article incorrectly said when the voter ID law goes into effect. It is effective June 1.
REAL LIFE. REAL NEWS. REAL VOICES.
Help us tell more of the stories that matter from voices that too often remain unheard.
BEFORE YOU GO
PHOTO GALLERY
U.S. State Capitol Buildings