ST. LOUIS ― While President Donald Trump's voter fraud commission met publicly for the second time on Tuesday, a coalition of voting rights groups gathered outside the Missouri History Museum here to denounce the panel and warn that Trump's commission will likely lead to more voting restrictions.
Organizers selected that location for the news conference so that visitors departing the museum after viewing its exhibit on the civil rights movement could be reminded that civil rights battles are ongoing.
"We stand here today at the entrance to the Missouri History Museum because we know that the fight for the right to vote is grounded in our nation's history," said Denise Lieberman, a senior attorney in the Voter Protection Program at the Advancement Project. "We stand here on the shoulders of people who fought, bled and died for our right to have a voice. Fighting the very kinds of barriers to voting that we are starting to see again today here in Missouri and in this country." 
HuffPost is hitting the road this fall to interview people about their hopes, dreams, fears ― and what it means to be American today.
Kenny Murdock, a spokesman for the St. Louis County NAACP, referred to a story about a boy in New Hampshire who was reportedly nearly lynched. He said the commission is trying to do the same thing to voting rights.
"I noticed the commission is gonna meet to mock lynch our civil rights," Murdock said. "They want to stop you from doing the one enfranchisement that makes you equal with them on one day."
"Just as a lynching would rob you of your life, taking away your right to vote robs you of your citizenship slowly and methodically," Murdock said in an interview afterward.
The event in St. Louis was one of several held across the country as Trump's commission, formally called the Presidential Advisory Commission on Election Integrity, met. Activists are alarmed that the panel includes Kansas Secretary of State Kris Kobach (R) and other officials who have a history of pushing voting restrictions. The commission, they say, will weaken confidence in election laws and help justify more restrictive voting policies.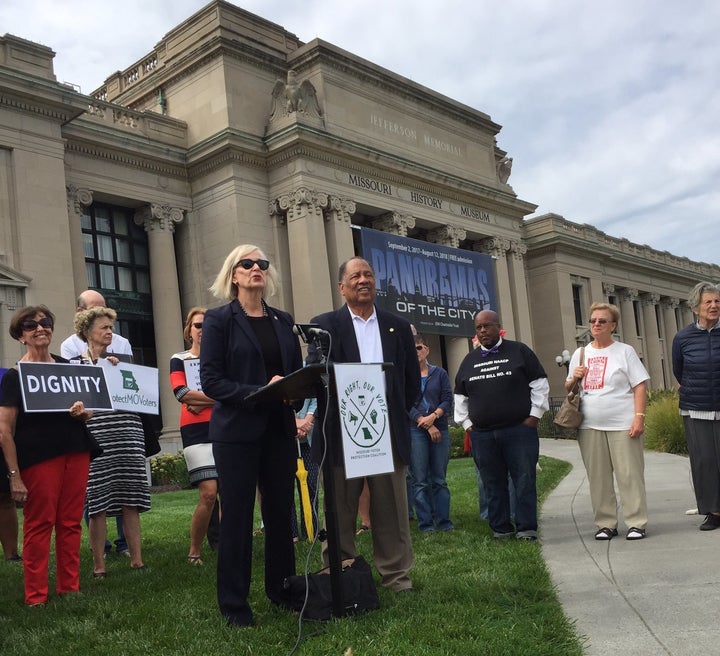 Missouri state Rep. Stacey Newman (D) warned the crowd on Tuesday that the commission is considering a proposal to impose criminal background checks on voting similar to the ones required for firearm purchases. She told HuffPost she expects Republican lawmakers in Missouri would seriously consider such a proposal.
"Let me remind you criminal background checks is not mandatory on every firearm sale, but yet they want to mandate those on every vote cast. I think you can see exactly where this is headed. This is about blocking access," she said at the news conference.
Missouri Gov. Eric Greitens (R) signed a new voter photo ID requirement into law earlier this year. Civil rights groups are challenging it in court, arguing the state isn't spending enough money nor making a good faith effort to provide the IDs required by the law.
Missouri Secretary of State Jay Ashcroft (R) agreed to comply with a request from the commission for voter information, even as many states outrightly refused to comply with the request and others said they were barred by state law from turning over the information. Lieberman said Ashcroft had no reason to submit the information.
"Our secretary of state has been bending over backward to assist Kris Kobach," she told HuffPost. "He says he's not divulging information that is prohibited under Missouri's privacy laws. But he should say no to the whole thing. There's absolutely no reason for people to have people's private information."
Calling all HuffPost superfans!
Sign up for membership to become a founding member and help shape HuffPost's next chapter
BEFORE YOU GO
PHOTO GALLERY
U.S. State Capitol Buildings