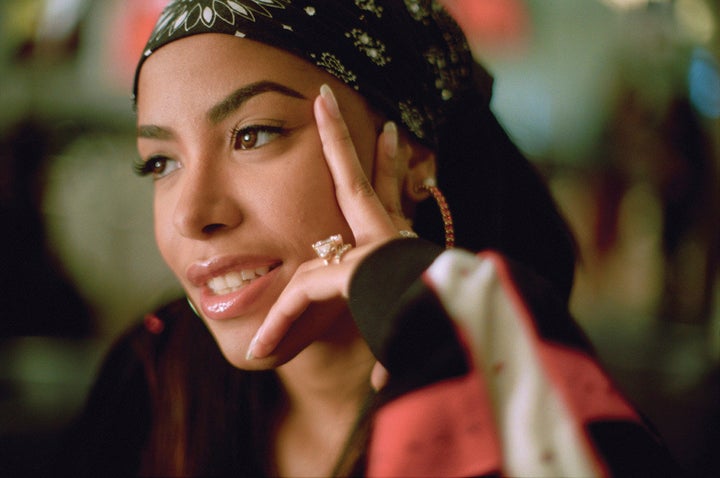 Missy Elliott and Timbaland are finally willing to talk Drake. Specifically, Drake's producing a posthumous Aaliyah album without contacting either of the hip-hop artists.
Elliott and Timbaland stopped by Hot 97 to sit down with host Angie Martinez. The duo first debuted two new songs, "9th Inning" and "Triple Threat," reported Complex magazine, then started talking Aaliyah.
The two hip-hop heavyweights were professionally and personally close with the late singer, who died tragically in a plane crash in 2001. When news first spread of Drake releasing a posthumous Aaliyah album, fans thought Elliott and Timbaland would be in. However, neither has been contacted about or involved in the process.
When asked about Drake's Aaliyah album, Timbaland said, "I don't even know if it's an album, I don't think that's in the works. I don't know, I think it's blown out of proportion. I haven't spoken to Drake yet. I have a hard time just hearing her music."
Adding Elliot, "No call has been made to me. I have to respect her family, and until they come and say they're ready to do an Aaliyah album then I don't really want to get into that because it's very sensitive. It's not records that already done came out, we're talking about unfinished music. And we don't know what her reasoning for not putting those records out. Maybe she didn't feel like they were her best work. We just don't want to tap into that, just spiritually something else you know ... very very touchy. Unless her parents came in and conducted that."
Timbaland told Martinez that he had not heard the song in full and, when the Hot 97 host offered to play it for him, he declined.
Drake first hinted at an upcoming Aaliyah project during an interview with Tim Westwood in March. "I have some great Aaliyah news coming soon," Drake told Westwood, adding, "You know it's hard for me to ride around to a female singer because at the end of the day, you're a man, but she always kept it so G with the writing and the melodies. It was something to ride to, especially when it was chopped and screwed. That's when I used to love."
Elliott and Timbaland were asked about Drake's infatuation with Aaliyah during the Hot 97 interview.
"To me ... the tattoo part, did that man come in here and show ya'll. Like lift up his shirt, I mean they said pictures are online," said Timbaland.
"I think that the tattoo is real, I did see a picture of it," added Elliot. "You know what, let me be quiet ... you know what it is, because he's a human being too. A lot of people may not have met Michael Jackson, but feel they have a connection with him."
"I'm kinda feelin' some kinda a way about the fact that you been commissioned, that you been blessed, you've been given the opportunity to do the Aaliyah album yet you don't include anybody that she worked with personally," he said during an MTV Interview. "How do you disregard what this woman did? What this beautiful angel did and say, 'Oh OK, I'm gonna take it for myself because I'm hot right now and I'm feelin' myself. How do you just go there with it? Your balls ain't that big, son."