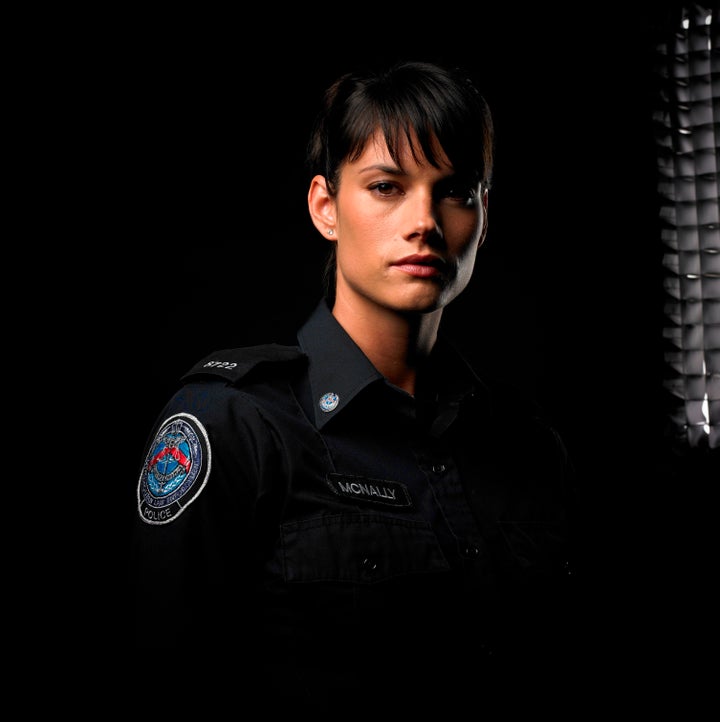 Missy Peregrym, who plays the idealist Officer Andy McNally on the hit show "Rookie Blue," is joking around with her co-star Matt Gordon (Oliver Shaw) on a rare day off. The cast of everybody's favorite summer cop drama is so tight-knit, they actually want to hang out together when they're not shooting.
This season, the affable cast welcomes a new rookie into its fold: Peter Mooney ("Camelot"), who plays Nick Collins, a newly-minted cop with an army background. Nick isn't the only new cast member shaking up the group -- this season also marks the introduction of Andy's estranged mother (Barbara Williams) as well as a guest spot by William Shatner.
With Season 3 set to premiere this week, we grilled Peregrym about everything there is to know about the Sam (Ben Bass) & Andy saga, Andy's suspension and how the new rookie fits into everything. She was pretty tight-lipped, but we did manage to pry a few good nuggets out of her.
What's it like having a new rookie this season?
[Laughs] Sorry, I'm actually sitting with Matt Gordon right now and he's sabotaging me, so I'm going to move. He's putting all of his crumbs on me! OK, so yes, Peter Mooney is playing the new rookie, Nick, who has an army background. He was in -- where was he?
[Gordon shouts from afar: He was in Afghanistan!]
He was in Afghanistan. Matt said he was a pencil-pusher! That's not true. He joins our crew because Andy isn't technically back at the beginning of the season -- she was still suspended. So he fills in.
Will we still see you on the show during these episodes?
Yeah, yeah, yeah. Definitely. I come back in the first episode.
Will the new rookie have any love interests?
Yes. Absolutely. He knows one of the characters already. But I can't tell you any more.
Very mysterious! I know William Shatner guest stars this season, what was it like working with him?
It was really cool. I think we all had to keep our mouths shut and not try to make jokes and get him to say certain lines. He was awesome. For a guy his age he is such a badass. He's really tough. He was getting his ass kicked and kicking other people's asses. It was awesome.
He was kicking people's asses?
Yeah! He was great. He was really strong. In one of the scenes we're making eye contact and all I could think about was 'Oh my God, William Shatner is staring at me!' [Laughs]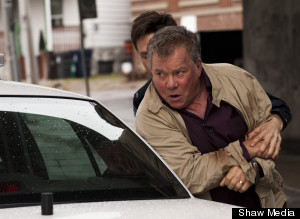 Did he travel with a big entourage?
No, just his wife!
Who's going to be playing your mom?
Barbara Williams. She's awesome, I like her so much! I was excited when I met her. She looks like my real mom, and she has a lot of the same features, which is pretty cool. And my mom came to set, and they were totally hanging out with each other, which is strange.
What was it like for you filming this new storyline with Andy's mom?
The way that she comes into my life again is pretty dramatic. Her job is family oriented. It's kind of a kick to me while I'm down because I'm sitting there going, 'You're fighting for other people's families and you abandoned me.' Y'know? There's a lot of things there that you would have no idea what to feel.
What else can we expect from Andy this season? Any more love triangles?
Sam and Andy are trying to work it out, but it's complicated. I think the theme this year is be careful what you wish for. There's obviously this connection with Sam, and then Luke kind of cheats on me and we break up, and at the end of the season last year me and Sam tried to be normal together and have a relationship, but the truth is, when I'm suspended I can't have any contact with him. I'm not supposed to see him. He gets to go back to work earlier than I do because of his position but I can't and I kind of take off. So we start the next season with us really starting over and trying to be together. So there's no love triangle! Andy would be a bit of a flake, I think, if all of a sudden someone else came in and she was like, hey, you, you're cute! [Laughs]
Well, whatever. She's young!
True, we'll blame it on that. And it's TV! [Laughs]
I know some fans feel pretty strongly about Andy's love life. Do people ever stop you on the streets and give you advice?
It's so strange. Yes! People have definitely pulled me aside and told me that I either need to be with Luke or Sam. It's funny because when people say Luke, I'm like -- he cheated on me! And they say 'No, it was just a mistake -- he really loves you!' It's so bizarre to have a conversation about a fake life and something that I have no control over because everything is written. It blows my mind. It's so bad. It's funny how even then there was still a 50-50 poll on who I should be with!
Does Peter change the dynamic as the new rookie?
Yes. Peter changes the dynamic in that Gail and Chris ... I have eight things I want to tell you right now! But I can't tell you because you'll know exactly who I'm talking about. There are a lot of advancements and also we lose somebody this year. I don't want to get in trouble for saying that. Whatever, it's true! And I'm not really telling you anything anyway!
Season 3 of "Rookie Blue" premieres on Global TV Thursday, May 24 at 10 p.m. ET/ PT. Season 3 is just about to get underway in the US on ABC.
Popular in the Community