Tom Berninger didn't set out to make a feature-length movie about his brother Matt's band, The National, nor did he set out to make a movie about depression and feeling overshadowed by that same brother's success. But when "Mistaken For Strangers" debuted as the opening film at the Tribeca Film Festival in 2013, critics and The National fans saw much more than a rock doc about an indie band on tour. Instead, they found a raw portrayal of self-doubt, a movie about the struggle to make a movie and what it's like to watch your brother's booming prosperity from the literal sidelines.
"When I first set out to do this thing, it was really just video content for the website," Tom Berninger told HuffPost Entertainment. "Matt gave me a job to go on tour to get me out of Cincinnati to revitalize my film reel. But over time, I got in trouble. I was filming when I was drunk. I messed things up." Tom, 34, is nine years younger than Matt and had been living in their parents' house before Matt asked him to be a roadie on the band's European tour. Tom brought along a camera to catalog the experience, which he did ... until he was fired.
When he returned home, Tom had over 200 hours of footage: Matt knocking over a clothing rack in rage, Tom missing the tour bus, revealing conversations with band members about Matt's temper. "If the intention was to have a movie, which it actually never was, I don't think people would have been as comfortable as we were with Tom in certain situations filming everything," Matt said. "We just thought Tom was making a tour diary that no one would ever see this stuff."
But what resulted, after rounds and rounds of editing was an honest portrayal of human struggle, much more than an extended tour diary. "It feels like more of an appropriate film about our band than any other journalistic profile would have been," Matt said. "I think that it's scrappy, flawed and full of things that are not just about a band on tour, it's about things that are much more interesting to me than that. He ended up using almost everything we told him not to. "
"Mistaken For Strangers" begins as a man's attempt to connect with this cool, older brother, to go crazy on tour and work along the way. But when Tom hears from Matt, "The only reason you are here is because you're my brother," the film becomes a meta version of what Tom had been living for years. "I wouldn't have made this movie if I knew how much stuff I would reveal in my own movie. I would've said no," he said. "I was lost about who I was and who I thought I should have been. Not just underneath Matt, my brother, but how would I express myself. Where am I in this world? There are a lot of people out there just like me. I hoped this movie would give them a sense that you don't know where to find yourself."
After the tour, Tom moved in with Matt, Matt's wife and the couple's daughter in Brooklyn to finish the movie. In one scene, Matt films Tom sitting in the back seat of an SUV. Tom describes what he eats (pizza and Chinese food), his depression ("I don't own dishes") and what it's like to try to turn a wall full of Post-It notes into a movie about yourself.
"The way he describes it is they made a movie out of the stuff that other documentaries might leave on the cutting room floor," Matt said. "That was the stuff that was always interesting to him. Not so much the really good answer to the really good question, more the awkward space in between the questions where you get to see people being people."
The Tom sitting in an office in Manhattan's SoHo neighborhood is different from the Tom on film, more confident and energized by the success. He's no longer the guy from The National's little brother. He's a filmmaker, one who called Robert DeNiro by his first name when they met at Tribeca's opening night last spring, responsible for a scary, honest look at brotherhood and music. "Two nights before it premiered I was eating ramen noodles and diet Mountain Dew and crossing my fingers I made a good movie."
"Mistaken For Strangers" is out in limited release and via on-demand services and iTunes on March 28.
Before You Go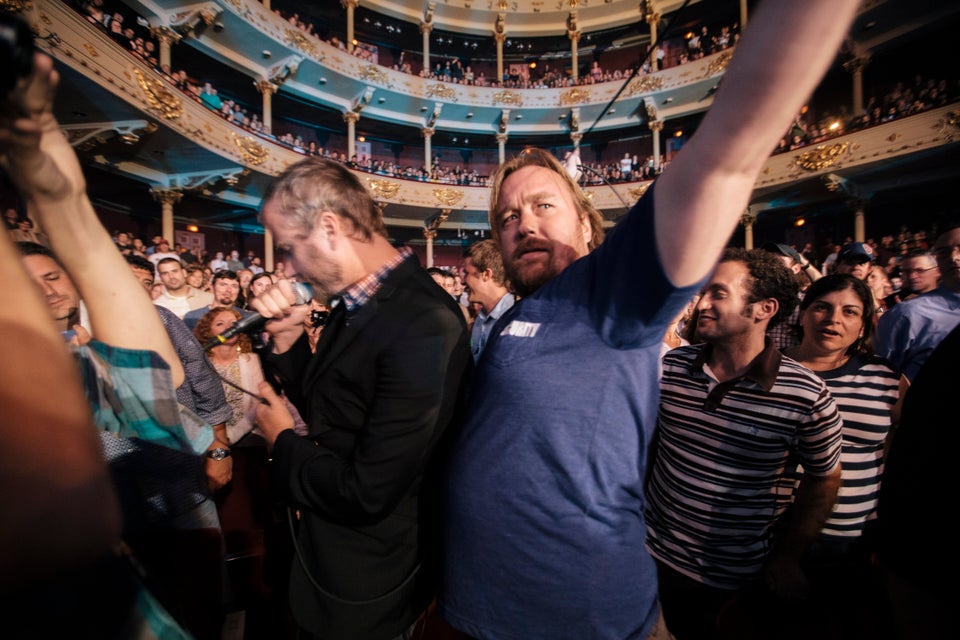 Mistaken For Strangers
Popular in the Community