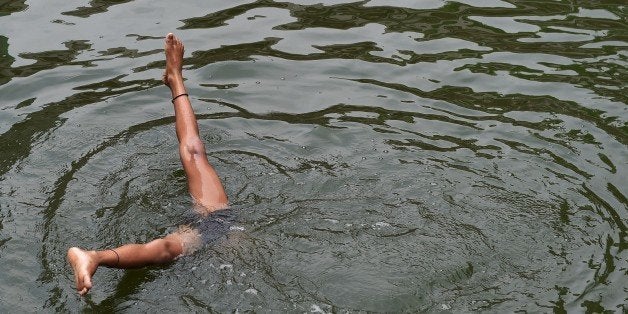 Summer is the season we romanticize about. It means freedom from school, a chance to travel, the ability to sleep late, and months during which dining al fresco is possible. But sometimes, we do summer all wrong. Here are five mistakes we are making:
1. We don't "vacate" on our summer vacations.
Take time off like you mean it. It's good for you.
2. We expose our bodies to the sun.
How can something so bad for us feel so damn good? Don't answer that. Sun damage to skin is real.
Most basal and squamous cell cancers develop on sun-exposed areas of the skin, like the face, ears, neck, lips, and the backs of the hands, says the American Cancer Society. Skin cancer is the most common of all cancers, with 3.5 million cases of basal and squamous cell skin cancer diagnosed in the U.S. each year. Melanoma, a more dangerous type of skin cancer, will account for more than 73,000 cases of skin cancer in 2015, says the ACS.
3. We don't embrace enough summer foods.
Summer is when we have the best and largest selection of fresh fruits and vegetables of the year. Avail yourself of the abundance. Get creative, buy a new summer foods cookbook; don't stick to the "if this is Monday, this must be meatloaf" routine.
4. We go on the bathing suit diet.
The desire to wear a bathing suit or the skimpier clothing that comes with summer generally brings about the semi-annual dieting effort. There is nothing like booking a vacation to St. Lucia to make that bag of potato chips suddenly seem less desirable. So let's start by talking about your New Year's resolutions? How'd those work out for you? For those committed to getting in better shape, you don't need January 1 or June 21 to roll up on the calendar. The real motivation shouldn't be the tropical beach and what you'll wear to it, but the commitment to live a healthier and longer life. And if that isn't enough to get you started, chances are that neither will a shopping trip for a bathing suit.
5. We don't move around enough.
The flip side of our joy over winter being over is that summer has its own imprisoning factors: Some days, it's just too hot to move outside the air-conditioning. That's why we have early mornings and dusk. There's also a reason why swimming is the perfect exercise come summer.
REAL LIFE. REAL NEWS. REAL VOICES.
Help us tell more of the stories that matter from voices that too often remain unheard.
BEFORE YOU GO
PHOTO GALLERY
11 Easy Ways To Shorten Your Life