Palm Springs, California, has evolved from Hollywood's desert playground to a top tourist destination for travelers from around the world ― and for good reason. The welcoming oasis boasts gorgeous vistas, great shopping and dining and a lot of fascinating history.
But visitors don't always experience Palm Springs and the surrounding area to the fullest. We asked locals to share some common errors they've observed from tourists.
From skimping on hydration to missing the best local treasures, here are 11 mistakes tourists often make while visiting Palm Springs ― and some advice for avoiding these errors during your travels.
Skimping On Hydration
"It's the desert, so you don't feel when you sweat. And while I highly recommend a margarita ― or three ― make sure you're drinking lots of water and getting your electrolytes too. Heat stroke is real ― be very careful and prepared when imbibing, hiking or even lounging by the pool." ― Kelly Lee, blogger at Kelly Golightly
Forgetting Sun Protection
"A mistake would be not packing a giant hat, sunglasses and sunscreen. The sun is wonderful but intense ― you don't want to burn to a crisp and look like a lizard." ― Lee
Missing The Local Businesses
"When tourists visit Palm Springs and surrounding areas, they don't capitalize on the small mom-and-pop locations. We have really great eateries, artisan shops, art galleries, etc. A lot of the time I see tourists run straight to the big-name shops and businesses, which I don't see there being a problem with, but in my opinion, they are not experiencing the real Palm Springs and surrounding areas. Palm Springs has a very rich and artist history, and the rate of growth is exceeding all expectations. So this means new small businesses are opening all the time and are waiting to be discovered!" ― Justin Snyder, private chef
Assuming It's Not Family Friendly
"Tourists might think Palm Springs is not family friendly, but there are many things to do for the entire family. There are beautiful hikes such as Tahquitz Canyon, delicious restaurants including Farm, which creates a cozy environment and dessert at Great Shakes, which is a definite blast to the past. Palm Springs is a gem. There is something here for everyone." ― Angela Yanez-Gaitan, lifestyle blogger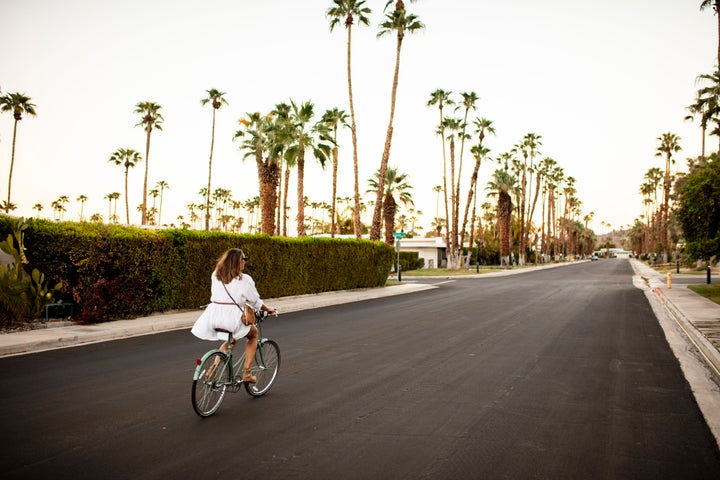 Staying At A Generic Hotel
"A mistake would be not staying at one of the incredible boutique hotels in the desert. From groovy midcentury design at The Parker to the green-and-white striped oasis of The Colony Palms to the pink paradise of The Sand, or blue-and-white prep of Holiday House, the hotels are so special, you could easily never leave yours and have a great trip." ― Lee
Not Leaving Time For Scenic Drives
"Another mistake would be not cruising around the neighborhoods on rental bikes or in a car (bonus if it's a convertible) to spy the iconic mid-century architecture and Instagrammable colorful doors." ― Lee
Overscheduling
"Don't schedule too much. The beauty of Palm Springs is that you can simply lay by the pool and do nothing but sip a fun drink, eat good food and take the occasional dip. Rinse, wash, repeat." ― Lee
"The biggest mistake I see first time tourists make is not taking their time to just be and enjoy the sights. Don't be in a rush. Chill, breathe and take it all in because the desert is beautiful, wonderful and magical place." ― Salvador Camarena, digital marketing professional
Assuming Everything To Do Is Downtown
"One mistake I notice first time tourists make is not going outside of the boundaries of Downtown Palm Springs. Yes, downtown is fabulous and has a lot to offer but going off the beaten path can be a wonderful and unique experience. For example, the natural hot springs in Desert Hot Springs are such a refreshing, reviving and rejuvenating experience." ― Camarena
"Don't assume all the great hotels, food, nightlife and things to do are in downtown areas such as Palm Canyon Drive. Don't get me wrong, there's some great stuff in that neighborhood, but some of my favorite hidden treasures in the desert are off the beaten tourist path. The Sands Hotel is a wonderful boutique hotel in Palm Desert, on Highway 111. There are great hikes off Highway 74 in Palm Desert ... Another favorite spot is Pioneertown, a historic town in the high desert with Western vibes and a great concert venue and eatery, Pappy & Harriet's. Chef Tanya's is, in my opinion, the best vegan restaurant in the area, but neither of their locations is on a 'main drag.'" ― Mere Abrams, co-founder of Urbody Functional Fashion
Not Taking Advantage Of The Open Houses
"A mistake would be not taking advantage of the incredible open houses on the weekends. Spy some of the best-designed homes and meticulous neighborhoods ― literally where the utopia from 'Don't Worry Darling' was filmed." ― Lee
Forgoing The Art Museum
"A common mistake people make is not visiting our fabulous Palm Springs Art Museum. We are known for our galleries and vintage shops, but the Art Museum has a vibrant collection, is right downtown and yet often overlooked. For design enthusiasts, like myself, the Palm Springs Art Museum has a separate Architecture & Design Center, which itself is housed in an incredible 1960 International Style building designed by architect E. Stewart Williams. It's not to be missed!" ― Christopher Kennedy, interior designer
"Tourists oftentimes believe Palm Springs is for retired people who enjoy golf. There is so much more to offer with the new Acrisure Arena, Palm Springs Museum and endless shops with one of a kind pieces." ― Yanez-Gaitan
Skipping The Vintage Shopping
"Be sure to take advantage of the incredible vintage shopping. Palm Springs is a mecca for vintage clothing, furniture and decor with The Frippery, The Fine Art of Design, Spaces, etc. If vintage shopping is your cardio, prepare to sweat!" ― Lee