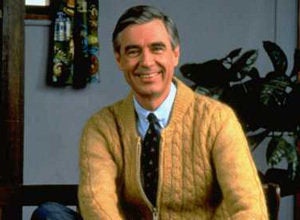 I went to a documentary Monday night titled Mister Rogers and Me made by an MTV producer (of all people) who says he received a profound message from Mister Rogers when the great man was actually the producer's neighbor in Nantucket.
"I feel so strongly," Mister Rogers told Ben Wagner that day, "that deep and simple is far more essential than complex."
As Wagner thought about it, Fred Rogers encouraged Wagner to spread the word. And now with this documentary, he has.
Like a lot of you, I hadn't thought a lot about Mister Rogers much since I was a kid but I did read a number of his obits when he died and realized then how much I had underestimated this guy who was simple yet very profound.
In an age of runaway commercialism and nasty backbiting, Rogers stood his ground and never caved in. As one of the film's participants says, you never see lunch boxes with his photo on them or King Friday puppets, do you? Nope.
The man himself lived simply but profoundly and I took from the documentary three of Mister Rogers stock rules to live by that would, if followed by all of us, make the world a better place:
1. "Anything that is mention-able is manageable"
Especially today, both Republicans and Democrats seem dug in and will not even engage with one another. Communication is the key fellas.

2. "Never demean anyone"
Mister Rogers says he entered television because he was tired of watching people get hit in the face with pies, and that was in the 1950s! Imagine what he would think of television today.
3. "I like you just the way you are"
That doesn't mean you're the best and there's no one better, it just means that you will always have someone to stand by you, and everyone needs that.
One of the documentary's high points is watching Fred Rogers disarm Congressman John Pastore who was holding hearings to determine if a $20 million grant to PBS should be cut in half. Pastore was a tough guy who began his questioning of Mister Rogers in his usual brusque way.
But Rogers wasn't there to engage Pastore in the usual way. The gentle man spoke to Pastore in a pointed, direct and very humble but real way that left Pastore, in his own words, with "goosebumps." The tough congressman wound up the questioning by telling Rogers, "You've just earned your $20 million."
We truly need a re-birth of some of Mister Rogers ideas.
Calling all HuffPost superfans!
Sign up for membership to become a founding member and help shape HuffPost's next chapter