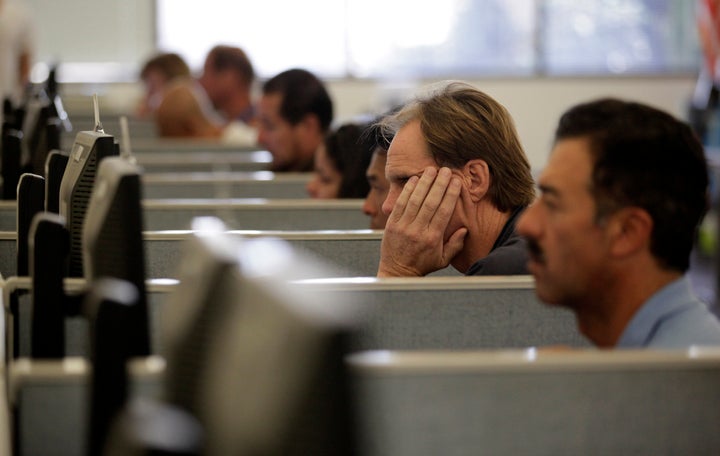 CHICAGO (Ann Saphir) - An unofficial gauge of human misery in the United States rose last month to a 28-year high as Americans struggled with rising inflation and high unemployment.
The misery index -- which is simply the sum of the country's inflation and unemployment rates -- rose to 13.0, pushed up by higher price data the government reported on Wednesday.
The data underscores the extent that Americans continue to suffer even two years after a deep recession ended, with a weak economic recovery imperiling President Barack Obama's hopes of winning reelection next year.
Inez Stallworth, an underwriting assistant for a financial services company, recently gave up her car, in part because of rising costs for gasoline and groceries.
"I can't fit it in," said the 27-year-old Chicago resident, who said most of her extended family was getting by "paycheck-to-paycheck."
Consumer prices rose 3.9 percent in the 12 months through September, the fastest pace in three years.
With gasoline prices high, consumers have less to spend on other things. Moreover, a rise in overall prices saps economic growth, which is typically measured in inflation-adjusted terms.
The last time the misery index was at current levels was in 1983. But in 1984 an improving economy probably helped President Ronald Reagan win reelection. This year, the index has risen more than 2 points.
While the misery index rose in September, many economists expect some respite in coming months, driven by softer inflation.
Wednesday's price data showed inflation outside food and energy rose at the slowest pace in six months in September.
Weakness in the jobs markets also accounts for some factors that could push inflation lower in coming months, economists say.
"With households facing weak wage growth and tight budgets, it is difficult to see a sustained, broad-based increase in prices," said Bank of America Merrill Lynch economist Neil Dutta.
He said Wednesday's data showed that businesses' ability to raise prices on clothing, movies and toys was "hitting a wall." Weak incomes also will make it harder for building owners to raise rents, further dampening inflation, Dutta said.
Indeed, inflation could slow to below 2 percent by mid-2012, said Capital Economics economist Paul Ashworth.
But a decline in the misery index declines due to softer inflation might not help Obama's reelection chances much.
"Any lowering of inflation isn't going to have much effect. People are just focused like a laser on unemployment," said independent political analyst Stuart Rothenberg.
Analysts polled by Reuters last week saw the jobless rate -- currently stuck at 9.1 percent -- barely ticking down to 8.9 percent by the end of next year. With the election in November 2012, the expected decline looks unlikely to help Obama's job prospects much.
Harold Archie, a bus driver with the Chicago Transit Authority, knows well the toll that unemployment is taking on Americans. Higher food and gasoline prices have compounded the strain on his finances since his son lost his job. Archie, 57, has been helping him financially.
Archie said his son might have a shot at getting his job back, but with a pay cut: "And he was only making $13 an hour to start with."
(Writing by Jason Lange; Editing by Leslie Adler)
Support HuffPost
The Stakes Have Never Been Higher
Related
Popular in the Community