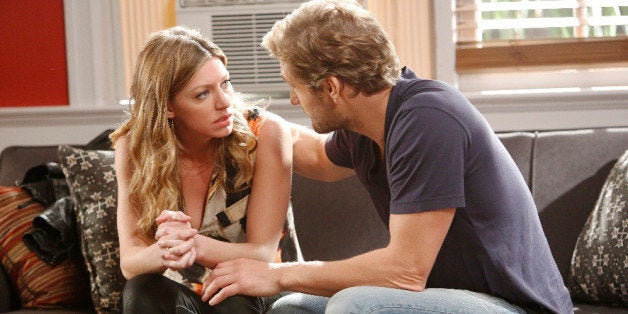 Most likely the biggest thing on viewers' minds is the relationship between Joss (Jes Macallan) and Harry (Brett Tucker) after their steamy hookup last season, which, might we add, took place while Joss was supposed to be marrying her fiancé, Scott (Justin Hartley). The 2-hour season premiere sort of left things up in the air: Will Joss and Harry give their romantic relationship a go or will the whole "former sister- and brother-in-law" thing get in the way? The Huffington Post sat down with Macallan and Tucker to get the scoop on what's to come for "Jossarry" this season.
"It ended as a, 'We got to take a breath here. We have to let the dust settle,'" Macallan told HuffPost of the Joss-Harry storyline following Thursday's premiere. "How many times in anyone's life have you been like, 'If only the timing would have worked out.' And then on top of that, their circumstances are terrible with the fact that she's in love with her brother-in-law," she added. "Everything is wrong, so it's like, 'Let's take a breath.'"
"There's a huge amount of baggage, but there's no denying how they feel about each other -- that's the only certainty," Tucker chimed in. "Other than that, there are so many obstacles to overcome, it's overwhelming. So, it's going to take awhile to work through that and see what comes out the other side -- we don't even know what's going to happen at the moment, but we do know it's not easy."
Still, "you won't be disappointed if you keep watching," Macallan insisted. Tucker, like some fans shipping the onscreen couple, would like to see the two try and work it out, but he knows that, on television, "love's not that easy."
As for Milano's departure, Savi is, sadly, out of the picture, but her presence is definitely still felt on the show. "She's not just gone; we do talk about her," Macallan said, adding that Milano will not make a physical appearance this season. (The actress decided to leave the series after the filming location moved from Los Angeles to Vancouver. "It's with a heavy heart that I have decided that I can't relocate," she said in a statement on Twitter last October. "I have two babies under 4. Being a mother and wife comes first and I just can not uproot my children and separate the family by moving away. I will miss this job desperately and wish everyone the absolute best.")
With Savi's storylines, everything is sort of swept under the rug, including the fact that she was about to tell her ex-husband Harry that she wanted to get back together. (You know, the same Harry she saw kissing her sister on the beach at the end of the Season 2 finale.) "He never finds out [that Savi wanted to be with him]," Tucker told us. "Joss finds out, but Harry doesn't find out."
"Obviously, you see how Savi's taken what she's seen. She bolts and leaves this massive void on a very vulnerable Joss and a very guilty Joss and a very self-loathing Joss," Macallan said. "There's this openness of 'Joss is going to fix it' for a bit, and then enters this smashingly interesting, mysterious character Calista Raines, who is played by Jennifer Esposito."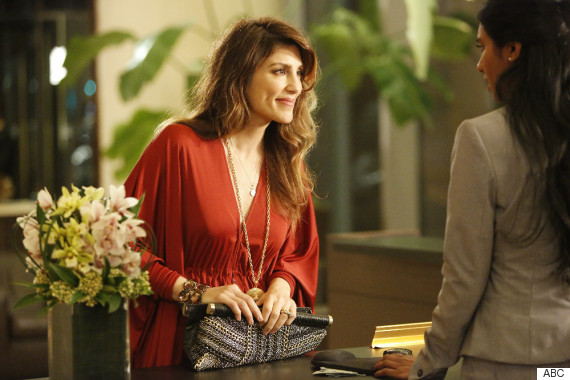 Both Macallan and Tucker said Esposito brings an exciting energy to the set, and will definitely fill the void left by Milano.
"I'm glad [the writers] built a whole new character with a whole new set of stuff. They went completely left field and they didn't try to bring in a cousin from somewhere else or a sister from another dad. It was cool that they built a whole other storyline, and that's going to be Joss giving her heart to Calista ... and it goes horribly wrong."
But what about April (Rochelle Aytes) and Karen (Yunjin Kim)? They have some twists and turns coming their way too, as per usual on "Mistresses."
"I was surprised by how fast new characters were coming in and what was going on. There are lots of little romances," Tucker said. "April and Karen both have their massive share of romances -- both kind of controversial, as well. [There's] the bit with the doc and Karen goes to a very interesting place. It's really ... yeah. I don't want to tell you! And April's got love interests coming out of her love interests! There's a lot of guys wooing her."
"And with the motherhood part of her storyline, once Lucy finds out about the lying, she's cold to April. So, she then wants help, and she feels she needs a man to help. And then it all goes wrong. I always end with that!"
Looks like we're in store for a very dramatic, and steamy, summer.
"Mistresses" airs Thursdays at 9 p.m. on ABC.
REAL LIFE. REAL NEWS. REAL VOICES.
Help us tell more of the stories that matter from voices that too often remain unheard.
BEFORE YOU GO