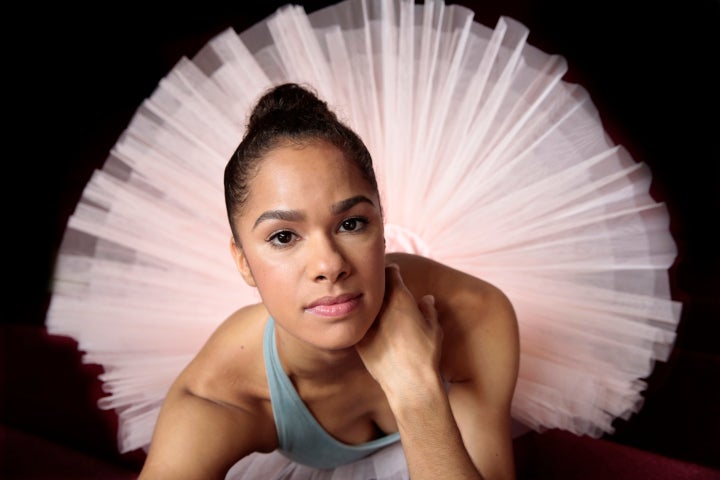 While one currently resides at the White House and the other can often be found rehearsing in the storied halls of the American Ballet Theatre, they've encountered similar setbacks and triumphs, whether they're talking about the body image ideals of classical ballet or the way social media is used by political activists today. 
Here are 11 of the best quotes from the interview: 
On the Power Of Athleticism
"As a father of two daughters, seeing how images of strong athletic accomplished women carry over, and encouraging them in sports and dance and how they move physically, it turns out that every study shows that young girls who are involved in sports, dance, athletics end up having more confidence generally." --Barack Obama
On Humility
"For all the blessings and privileges and responsibilities that I've gotten, I'm just representing a huge cross section of people who are talented and capable and supported me getting to where I came from." -- BO
On Race
"A lot of what I've experienced has not always been to my face, or it's been very subtle. But it's in a way that I know what's going on and I feel it deep inside of me. And I, being the only African American in almost every environment in terms of classical ballet, it weighs on you and it wears on you after a while [...] I think that being African American has definitely been a huge obstacle for me. But it's also allowed me to have this fire inside of me that I don't know if I would have or have had if I weren't in this field." -- Misty Copeland
On the Future of Ballet
"I think that being in this position and showing that I can execute and do all of these things, that it's possible to have any skin complexion, to have a healthy body image for the ballerina body. I think it's given me more of a voice. And it's I think forcing a lot of these top tier companies to address the lack of diversity and diversifying the bodies that we're seeing in classical ballet. It's really forcing that conversation to be had." -- MC
On Black Girl Magic
"To use social media to have a positive impact on our generation is huge [...] to have movements like Black Girl Magic, I think it couldn't be more positive for a young black girl to see that it's okay to be yourself, it's okay to not have to transform and look like what you may see on the cover of a lot of magazines. That you are beautiful, that it's possible to succeed in any field that you want to, looking the way that you do." -- MC
On Social Media
"Well social media obviously is the way in which young people are receiving information in general. So the power of young activists to help shape color and politics through things like Black Lives Matter, which I think is hugely important. And when I think about the journey I've traveled, there's no doubt that young African America, Latino, Asian, LGBT youth, they have more role models. They have more folks that they can immediately identify with." -- BO
On Mentorship
"I hope that there are young men of color who are looking at me and saying, I can aspire to be the president, or a senator, or a community organizer and make change in my neighborhoods. But if they are locked out of opportunity, and in neighborhoods where even if I'm on television, there are no men in their neighborhoods who've got jobs that are able to support a family, then you've still got problems." -- BO
On Opportunity
"You know, being the only African American at this level in American Ballet Theatre, I feel like people are looking at me, and it's my responsibility for me to do whatever I can to provide these opportunities in communities to be able to educate them. And if that means having a program just for black dancers to allow them to have the same opportunity that generations and generations of white dancers have had, it's necessary." -- MC
On Teaching Kids about Race
"You know, I mean I think about this now as a parent. Michelle and I are having a lot of conversations around the dinner table. And for me, what I always try to transmit to my kids is that issues of race, discrimination, tragic history of slavery and Jim Crow, all those things are real. And you have to understand them and you have to be knowledgeable about them. And recognize that they didn't stop overnight. Certainly not just when I was elected." -- BO
On Divisions
"Part of what I think successful social movements have involved is having a certain righteous anger about injustices being done to you, but also understanding that people who are on the other side of this, they've got their own history and their own circumstances. And you have to understand that, and you have to recognize that each of us has some good and some bad in is. And that's not an excuse, but what it does do is it gives us an opportunity then to have a conversation and to reach across the divide." -- BO
On Education
"Well, you know, I spend most of my time thinking about institutions. And there's no doubt, even though it's a cliché that the single biggest difference we can make is making sure that our kids get a good education. We can do a lot to keep the economy moving forward, we can do a lot to make sure that we're enforcing our nondiscrimination laws. We can do a lot more to open up people's perspective about who belongs where. And press to make sure that we have more women CEOs, and more African American film directors. And more Latino police officers. And all those things are important. But the foundation that all this depends is making sure that on the front end, when these little babies are born and start to get curious about the world and are like sponges, that we are giving them the kind of education and the nurturing that they need. So that they're off to a good start. And that involves an imaginative leap, a moral leap on the part of the society as a whole that says every kid should get a genuine opportunity and we're willing to put money behind it, and we're willing to invest in that to break cycles of poverty." --  BO
Calling all HuffPost superfans!
Sign up for membership to become a founding member and help shape HuffPost's next chapter
BEFORE YOU GO
PHOTO GALLERY
Ballet Dancers Changing the Landscape