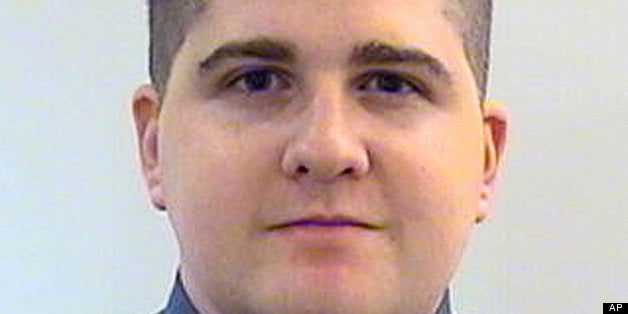 Sean Collier, the Massachusetts Institute of Technology police officer who was shot and killed during a confrontation with the two Boston Marathon bombing suspects, was a 26-year-old at the start of a law-enforcement career he considered a calling, according to police.
Collier had been with the campus police force for only 14 months when he was found shot near Vasser and Main streets in Cambridge Thursday night at 10:30 p.m., not long after the first reports of gunfire near campus. According to authorities, Collier was taken to Massachusetts General Hospital, where he was pronounced dead.
MIT Police Chief John DiFava praised Collier on Friday as a devoted cop early in a career that he seemed to love.
"Sean was one of these guys who really looked at police work as a calling," DiFava said through the university. "He was born to be a police officer."
For a campus cop, Collier took a keen interest in student life, even joining the MIT Outing Club, which goes on hiking, skiing and rock climbing jaunts. Collier's Facebook page, which was apparently taken down Friday morning, was full of such photos of the outdoors.
"In a very short period of time, it was remarkable how engaged he was with students, particularly graduate students," DiFava said.
DiFava's portrayal of a young and eager police officer was seconded by Lt. William Rymill of the Somerville Police Department. Before joining the MIT police force in January 2012, Collier, a native of Wilmington, Mass., had worked in the Somerville department's information technology division.
Collier helped develop and maintain the department's website and, judging from YouTube, apparently shot occasional video for the department, like that of an officer's funeral in 2010.
As a young civilian employee in Somerville, Collier also volunteered his time as an unpaid auxiliary police officer, getting called in to help when the department needed more boots on the ground -- a sure sign of someone devoted to law enforcement who aspired to a badge.
At MIT, he found that opportunity.
"He was an all-around great person," Rymill said. "He is going to be greatly, sorely missed."
Collier was a graduate of Salem State University, according to a statement posted on the school's Facebook page Friday morning. He'd earned a degree in criminal justice with honors in 2009.
The school's Facebook page quickly filled up with condolences and praise from Salem State students and graduates, who called their fellow alum a hero who ultimately helped nab one of the bombing suspects.
"We'll never know how many lives he may have saved. God bless you for your sacrifice," one poster wrote.
MIT Executive Vice President and Treasurer Israel Ruiz and Chancellor Eric Grimson posted a message of condolence to Collier on the MIT website on Thursday.
While the circumstances around the officer's death remain the subject of an active investigation, what is certain is that the officer gave his life to defend the peace of our campus. His sacrifice will never be forgotten by the Institute. We are thinking now of his family, and our hearts are heavy.
Popular in the Community