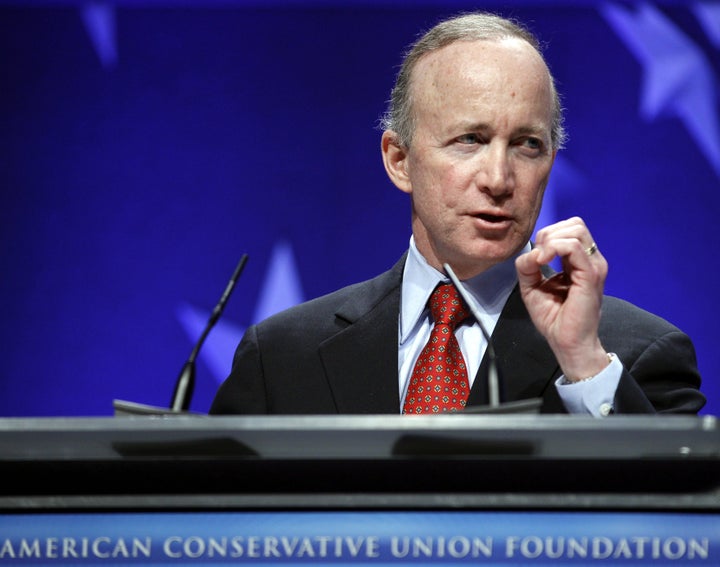 WASHINGTON -- Back to square one.
The Republican Party is once again in search of a candidate to unite it after Indiana Gov. Mitch Daniels dashed the hopes of many in the party by deciding not to run for president.
The fallout is two-fold: It will renew pressure on New Jersey Gov. Chris Christie and Wisconsin Rep. Paul Ryan to consider a run and could potentially lure others who were waiting on Daniels' decision into the race .
Second, it initiates a shift of GOP money and operatives toward either Minnesota Gov. Tim Pawlenty or former Ambassador to China Jon Huntsman, the current front-running alternatives to former Massachusetts Gov. Mitt Romney. Pawlenty advisers said they anticipated recruiting big money funders who might otherwise have supported Daniels.
But Daniels' withdrawal may help Romney more than anyone.
"It's important," one senior Romney adviser told The Huffington Post. "Obviously, we don't know if [Daniels] would have caught fire, but he certainly had the buzz going to make a big splash."
Another veteran GOP political operative, who is not affiliated with any candidate, said, "The nomination is now Romney's to lose."
But many in the GOP will not be satisfied with Romney as the de facto candidate, nor with Pawlenty or Huntsman as a second choice. So a renewed push for Christie or Ryan can be expected.
Yet both Christie and Ryan said they remained resolute Sunday that they have absolutely no intention of running.
"I assume the pressure will increase but the answer will not change," Bill Palatucci, a Republican National Committee member from New Jersey who is close to Christie, said in an e-mail.
Ryan appeared on NBC's "Meet the Press" Sunday morning and once again said flat out that he will not run.
"I'm not running for president. I'm not planning on running for president. If you're running for president, you've gotta do a lot of things to line up a candidacy. I have not done any of those things," he said.
"You never know what opportunities present themselves way down the road. I'm not talking about right now," he added.
But Bill Kristol, the conservative columnist and founder of the Weekly Standard magazine, told HuffPost that the campaign to draft Ryan into running is still "very much alive."
Kristol also floated the names of Texas Gov. Rick Perry and former Alaska Gov. Sarah Palin. Former Florida Gov. Jeb Bush's name will also be discussed, but the younger brother of former President George W. Bush appears even more determined than Christie or Ryan to avoid a run.
Daniels' decision to forgo the race -- as well as former Arkansas Gov. Mike Huckabee's withdrawal from consideration -- also opens the door further for Minnesota Rep. Michele Bachmann. Huckabee's decision freed up many conservative evangelical voters who could now consider voting for Bachmann, and Daniels' decision means the race is more wide open than ever.
With Daniels out of the race, the GOP is back in familiar territory, looking for a candidate who can lead the charge against President Obama, but increasingly despondent that such a candidate will ever materialize.
A House GOP leadership aide tried to put on a brave face.
"Governor Daniels has the sort of record Republicans are looking for: an effective, popular conservative reformer. So it's disappointing," the aide said of Daniels' decision. "But given the Obama Administration's anemic record on jobs, gas prices, and taxes, there's no doubt that one of the remaining serious GOP contenders will give the President a serious challenge."
Calling all HuffPost superfans!
Sign up for membership to become a founding member and help shape HuffPost's next chapter