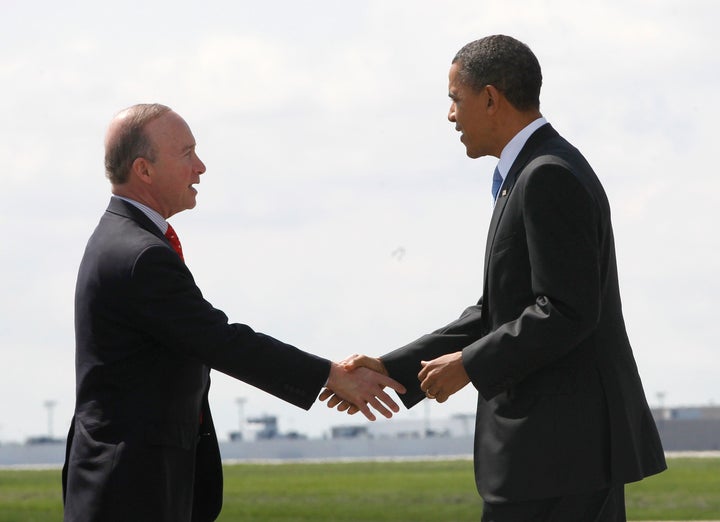 WASHINGTON -- A race to pre-define the prospective presidential candidacy of Republican Mitch Daniels took off in haste on Thursday, as Democrats heaped praise on the Indiana governor for his implementation of the president's health care law.
It's low-hanging fruit, as far as political attacks go. The Affordable Care Act is toxic among Republican voters -- something that those attacking Daniels are implicitly acknowledging. While the Indiana governor has called for ObamaCare's repeal, his acceptance of the ACA money does set him apart from some of his GOP colleagues.
It also underscores that extent to which Daniel is vulnerable on the health care front. Like nearly every other candidate in the GOP field, his record contains several potential points of friction among conservative voters. The most obvious one would be his previous support for the notion that the government could mandate individuals to purchase insurance. Below, for instance, is an October 23, 2003, South Bend Tribune article about Daniels on the gubernatorial campaign trail.
The candidate said he favors a universal health care system that would move away from employee-based health policies and make it mandatory for all Americans to have health insurance.

Daniels envisioned one scenario in which residents could certify their coverage when paying income taxes and receive a tax exemption that would cover the cost.

"We really have to have universal coverage," Daniels said.
Culled from a lengthy search of the governor's various statements on health care policy, that article was the one prominent instance in which Daniels appeared to endorse the type of mandate that Republicans now claim is unconstitutional.
Half-a-dozen attempts to follow up with someone from the governor's press office were not returned. Sellers Feinberg, a health care consulting firm that Daniels hired, said it could not discuss the work it had done with a current client.
Back in 2003, mandates were very much a conservative idea, making support for them by Daniels -- let alone fellow 2012 Republican presidential candidates Mitt Romney or Newt Gingrich -- either mundane or expected.
But there are other similarities between the health care policies Daniel's passed as governor and those that constitute President Obama's signature legislation. Both, for instance, require insurance companies to allow children to remain on their parents' accounts past traditional ages for college graduation -- Daniels allows dependent coverage up to age 24, Obama up to 26. Both required Medicaid programs to expand eligibility to individuals and families above the poverty level.
Like Obama, Daniels also put a premium on updating hospital records and information sharing. According to a February 21, 2005, Indianapolis Business Journal article, he "ordered the state Department of Health to come up with a regulation that requires every hospital to implement an error reporting system and provide data to the department, which will post it on the Internet." Separately, both Daniels and Obama increased taxes on cigarettes as a means of generating revenue for health care coverage elsewhere (and discouraging smoking).
"Of all the candidates on the Republican side of the aisle, who has the most interesting ideas in health care, I would put Romney number one, but Daniels number two," said Len Nichols an expert on health care economics at George Mason University.
Many conservatives would disagree. For these policy prescriptions and for his decision to accept the money offered under the ACA, Daniels has been accused of putting taxpayers on the hook for the health care of others, and crowding out private business from the health care marketplace.
Of course, not all of the health care reforms Daniels made so closely mirrored those in the ACA. Indiana was far from a canvass for Obama-like reform. There were plenty of policy proposals the governor backed that left Democrats enraged.
In the winter of 2005, Daniels pushed a bill that eliminating the requirements that insurance companies cover some pre-existing conditions for consumers purchasing individual policies. His logic was that pared down plans would be cheaper plans. And being able to purchase even modest insurance would be better then being unable to afford any insurance.
"The goal is to insure as many individuals as possible and to give as much choice as possible," Daniels said at the time. "It is far better to have some coverage than no coverage, which is the position of far too many Hoosiers today."
The most notably innovative, conservative approach Daniels took to health care reform, however, was the Healthy Indiana Program that he signed into law in 2007. The program, which required a waiver from the federal government and was paid for in part by the cigarette tax, created health savings accounts for low-income individuals. Medicaid funding was put into those accounts, and was supplemented by monthly payments from enrollees. Participants were kept to a $300,000 annual cap and $1 million lifetime limit. But a portion of the funding they didn't use was actually given back to them as a payment -- a financial incentive for individuals to be economical in their health care decisions.
"For folks like me -- I am an economist, but I am a Democrat -- this is like the most creative application of the conservative ideology, frankly, in 15 years," said Nichols.
The problem: It didn't really work. The benefits provided under the Healthy Indiana Plan were particularly skimpy and the costs were more expensive than expected.
"Enrollment was always much smaller" than the plan's supporters had expected, said Edwin Park, vice president for health policy at the Center for Budget and Policy Priorities. "150,000 was the estimate, enrollment was a third of that."

Popular in the Community