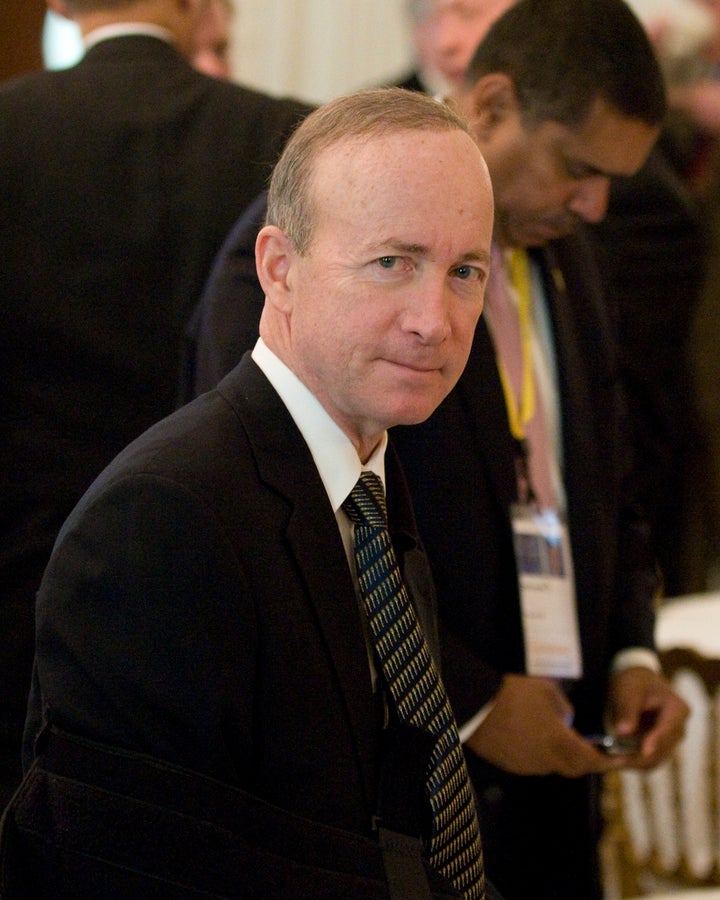 WASHINGTON – Indiana Gov. Mitch Daniels wants to run for president and is not in the process of convincing himself to do it, a close adviser said. The last hurdle remaining is ongoing discussions between him and his wife, Cheri Daniels, over whether she is ready to face questions about their past.
"I think he would like to do it," the Daniels adviser told The Huffington Post by phone. "I actually think he'd have a decent chance of getting the nomination."
The insight from a source close to the governor contradicts many of the reports that have focused on whether Daniels will run or not. Daniels has been portrayed -- and has in some ways portrayed himself -- as a reluctant potential candidate, someone who had hoped the GOP would find someone else to be their standard-bearer but is unimpressed with the candidates who have so far declared their intent to run.
The confirmation that the Daniels' marriage is the last hurdle in front of a bid for the White House highlights the delicate situation in which the Governor finds himself.
In 1993, Cheri Daniels left her husband with their four daughters and married another man in California. She returned a few years later, reconciled with Daniels, and the two were remarried in 1997. That is, in a nutshell, the story. The national press first picked up on it last year when it was buried at the bottom of an 8,600-word Weekly Standard profile.
But much is unknown. Why did she leave Daniels? Why did she come back? That she would be reluctant to publicly answer such delicate questions in front of the nation seems only natural.
A senior Republican official who worked in the Reagan White House said that "quite understandably, that's a difficult chapter in your life, and whether you'd want to talk about that, if only for a few times, it'd be something you'd have to talk about."
And of course, there is no more brutal kind of politics than a presidential race. Already in South Carolina -- home to down and dirty campaign smears such as the allegation in 2000 that Sen. John McCain's (R-Ariz.) adopted daughter from Bangladesh had actually been fathered out of wedlock with a black woman -- there are the beginnings of a whisper campaign sowing doubt about the current state of the Daniels' marriage.
Questions about the Daniels' marriage will likely be on the minds of those attending the Indiana Republican Party's spring dinner this Thursday, where Cheri Daniels is scheduled to speak.
There have been signs that Daniels is ready to declare his candidacy. Foremost among them was his robust and articulate "Red Menace" speech in February at the Conservative Political Action Conference in Washington. In it, he compared the nation's debt to the threat of the Soviet Union during the Cold War.
Katon Dawson, a former chairman of the South Carolina Republican party, told HuffPost that if Daniels were basing his decision on Thursday's debate among five Republican primary contenders in Greenville, S.C., it would be a no-brainer for him to launch a campaign.
"If I saw that debate I would," said Dawson. He is currently working for former House Speaker Newt Gingrich (R-Ga.), who is announcing his own candidacy this week.
But Daniels is not moving forward unless and until he is able to do so with the full support of his family. The Daniels adviser who spoke to HuffPost was frank in describing the current state of Daniel's nascent campaign effort.
"There's no campaign. There's no candidate," the adviser said. "There is no structure. There is no anything."
Nonetheless, Eric Holcomb, the Indiana State GOP chairman and a longtime Daniels aide, is in talks with potential campaign staffers and has them on standby. And fundraising would be much less of a challenge for Daniels –- plugged in as he is to the donor network that propelled George W. Bush to the White House, given that he was Bush's first budget director –- than for someone like former Minnesota Gov. Tim Pawlenty or some of the other candidates.
If Daniels does decide to run, he would be a formidable opponent. And he would present a challenge to top-tier candidates such as former Massachusetts Gov. Mitt Romney, given his potential to be competitive in or even win Iowa, which begins the primary process with its caucus early next year.
The conventional wisdom is that Iowa is so dominated by evangelical Christians that only a candidate like former Arkansas Gov. Mike Huckabee –- who won it in 2008 -– or Rep. Michelle Bachmann (R-Minn.) can win it. However, there are so many candidates currently competing for that vote - Bachmann, former Sen. Rick Santorum (R-Pa.), former Godfather's Pizza CEO Herman Cain, and maybe Huckabee - that they might fragment that vote. That would allow someone who is conservative but with a bit broader appeal outside the evangelical enclave to emerge victorious.
The evangelical vote is only about 30 percent of the vote anyway, said a senior Iowa Republican official who asked not to be identified so that he could asses the field more honestly.
"And there is the prospect of that 30 percent number being further diluted if the caucus electorate expands," the GOP official said. "For example, roughly 117,000 voted in [the] January 2008 GOP caucus, while nearly 220,000 voted in the GOP primary in June 2010."
"The candidate that can best motivate the recent primary voter to participate in the 2012 caucus will not only further dilute the influence of the 30 percent, but also become the breakout candidate," he added.
Henry Barbour, a Republican National Committee member who helped coordinate the presidential campaign exploratory phase for his uncle, Mississippi Gov. Haley Barbour, agreed: "The hardcore social conservative vote is about 25 to 30 percent of the caucus vote [in Iowa], so most of the votes are in play for a Daniels-type candidate."

Popular in the Community