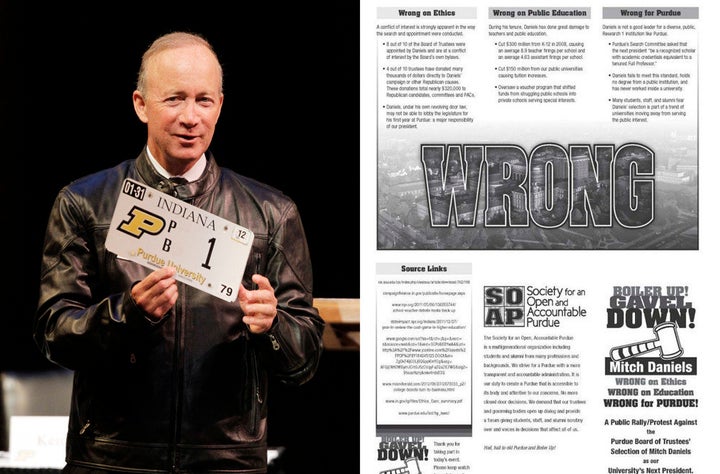 Having Indiana Gov. Mitch Daniels serve as Purdue University's next president is a "travesty," in Marilyn Haring's opinion.
Haring, the former dean of the College of Education at Purdue, recently withdrew a $1 million donation to the school after the board's decision to pick Daniels.
"It's a travesty for a nonacademic to head a great research university," Haring told WISH-TV.
Over the weekend, Haring joined a group of around 75 students, faculty and community members at the West Lafayette campus in a demonstration against Daniels.
Daniels is the current Republican governor and served in George W. Bush's administration. He was often discussed as a potential vice-presidential nominee after he declined to seek the GOP nomination in 2012. The Purdue trustees voted in favor of choosing Daniels, although several were appointed by Daniels.
Haring further explained her decision to withdraw the large donation:

"Let me begin by saying emphatically, Purdue is not broken and is not in need of a drastic and ill-advised political solution," Haring said. "... The appointment of a politician to head Purdue University is an affront — an insult — to the academic enterprise. On a larger scale than Purdue, we are speaking out on behalf of the academy.

"... Academic excellence cannot be measured in dollars, nor should it be. Students are not clients; they are learners. Faculty are not workers; they are academics."
For their part, students have started an organization called Students for an Open and Accountable Purdue in response to the pick. The Lafayette Journal & Courier reports they're critical of Daniels for cutting education funding repeatedly during his tenure as governor of Indiana, as well as some of this other policies and politics.
Keith Krach, chair of Purdue trustees, has defended their choice and said he believes it will significantly help with fundraising for the university.
"I can't even tell you how many people I am hearing from, including some very prominent people, Krach said last week. "With the governor coming in, I think it is going to be huge when it comes to development."
Related
Popular in the Community