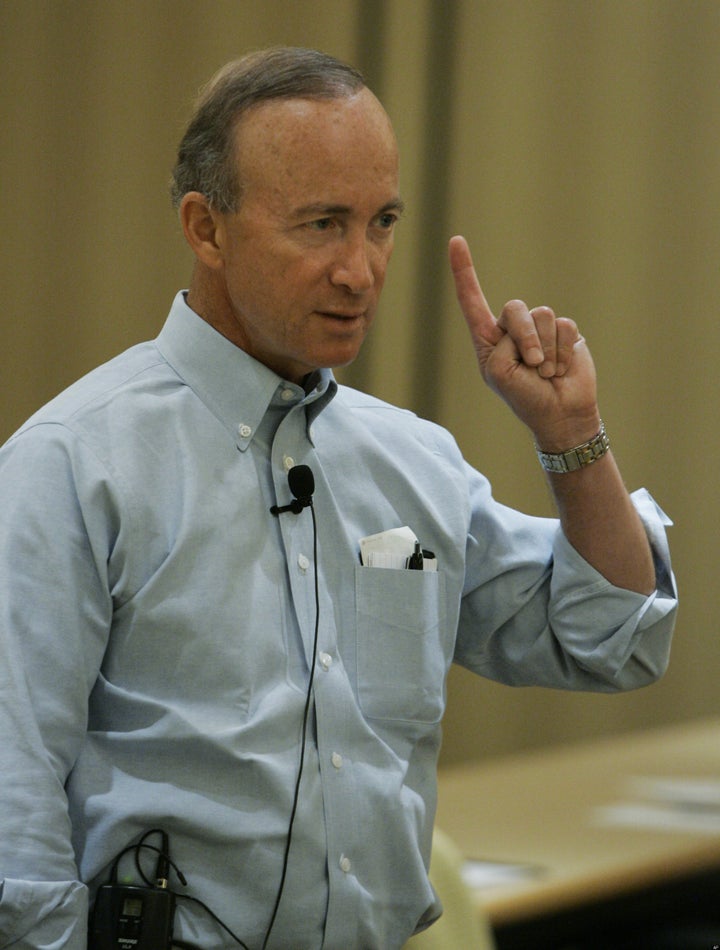 Gov. Mitch Daniels (R-Ind.) on Tuesday shot down speculation that he would make a presidential run in 2012, saying there are "100 reasons that no sane person would" run for that office.
But he did have some pointed advice for his GOP colleagues thinking about the White House during a breakfast meeting with reporters: tone down the rhetoric, stop concerning themselves with winning the debate, present a platform that can lead to effective governance and show a willingness to accept pared-down legislation.
"I think that, when the moment comes, when the time is right, when we actually have the next national campaign, I for one hope that the voice of our party, the tone of our party will be a friendly and, as I say, a unifying one," Daniels said, during a wide-ranging question-and-answer session at the Christian Science Monitor breakfast series. "[There is] no need to back down from important principles at all. But I say this because I'm sincerely concerned... for the future of the American spirit... [I]f we are actually going to do something about it, it won't be enough to win a debate trophy."
"I think we have to speak to America in a tone that is inviting and friendly," Daniels added. "And therefore gives you some chance of unifying people around some action. If it has to be, at the end of the day, the second or third or fourth best action, alright. Then you go advocate what you think is the very best way to do something."
Daniels, who has been mentioned as a long-shot presidential candidate, struck the pose of a ideologically pure, fiscal conservative. He praised the Bush tax cuts and called on the Obama administration to make them permanent. He criticized the president's health care proposal and the likely use of reconciliation to get it passed through Congress. Above all else, he demanded that a "serious" conversation take place over entitlement reform. Turning to a proposal put forth by Rep. Paul Ryan (R-Wisc.), which calls for the gradual privatization of Social Security and Medicare, Daniel's remarked: "You don't have to buy into everything Paul said. I happen to think he's gotten it about right."
But in making the case for a Republican agenda, Daniels hardly sounded like a red-blooded conservative. For starters, he declined to fully rule out the idea of raising taxes when discussing how to deal with the deficit (though he strongly felt it wasn't necessary). He even said he thought a deficit commission -- as rejected by Republicans in Congress -- was "worth a try" despite the deep criticism it has faced from fiscal conservatives.
"I don't know of a clearer way to say it. Something must be done about this," he said. "This can't be just about winning... folks who agree completely with me, we can win a debate trophy, as I said. But the only thing that I think can be ruled out is continuing in our present barrel right over Niagara."
These positions may make Daniels a pariah within the GOP -- ironically, he was once a part of the party's inner circle. The former chief of staff to Sen. Richard Lugar and the political director of the Reagan White House, he moved over to state governance in 2004. Since then, he's earned a reputation for conservative pragmatism and bipartisan willingness -- both of which were apparent during his Tuesday morning sit-down.
Daniels actually said he was saddened to see Democratic Senator Evan Bayh unexpectedly announce he would not seek re-election in 2012. "I thought he was providing and had the prospect of providing a lot more balance," he said. "But I think he finally decided it wasn't going to happen."
And while he stressed his opposition to Obama's stimulus package, as well as the bailout of the banks that was set up at the end of the Bush administration, Daniels rejected the opportunity to take swipes at the administration.
"You know, having served two sentences in White Houses, I'm inclined to be a little charitable to whoever is there because you operate under incredible pressure, the pressure of time and of too little information and these folks came in at a very difficult time," he said of Obama and his team. "I never have criticized, for instance, the idea of some effort to stabilize the financial markets. I didn't like the way they finally did it... but something had to be attempted. I didn't criticize the idea of some fiscal stimulus as an attempt to jump-start [the economy]. I think the way they did it turned out, I think, to be mediocre, just to be gentle about it."
Rhetorical moderation and nuance are not the typical traits of someone trying to motivate the conservative base behind a prospective presidential candidacy. And so, when Daniels denied that he was contemplating a White House run, it came off as sincere, at least for the time being.
"Can't you name 100 reasons that no sane person would do this?" Daniels remarked, when asked why he wouldn't run in 2012. "You know the savagery of our politics... I'll give you 100 reasons it wouldn't work out anyway, starting with John [Dickerson's] question about: how could any of [what I'm saying] sell in the primary? But the simple fact is, I don't plan to do it. I don't expect to do it, I really don't want to do it. I'm just very concerned about the condition and direction of the country and would like to have some input into a constructive Republican alternative that is presented in a way that has a chance of actually being enacted."
Popular in the Community