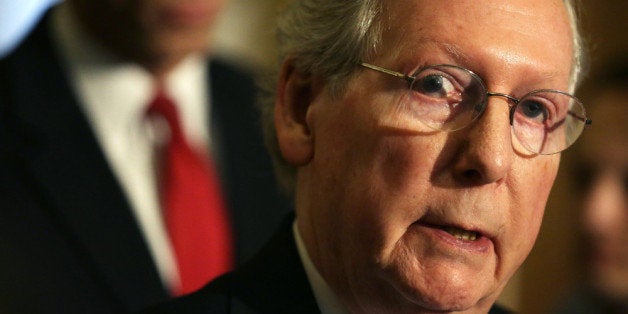 WASHINGTON -- Senate Minority Leader Mitch McConnell (R-Ky.) said Tuesday he wants the Senate to pass a bill that would ban abortions after 20 weeks of pregnancy.
"It is time for America to join the ranks of most other developed nations around the world and restrict abortion at least at the point at which science tells us that unborn babies are capable of feeling pain," McConnell said in a statement. "Let's take up this important pro-life legislation and send it to the President."
The Republican-led House of Representatives passed a 20-week abortion ban last summer, and Sen. Lindsey Graham (R-S.C.) introduced a companion bill in the Senate. The bill would limit when women can legally have abortions based on the scientifically disputed theory that fetuses can feel pain at 20 weeks.
Opponents argue that the small percentage of women who seek abortions after 20 weeks of pregnancy often do so because of severe medical complications, such as a grave fetal anomaly or health risk to the mother. The bill contains exceptions for rape, incest or the life of the mother, but none for cases in which a severe fetal anomaly or non-fatal health complication is discovered late in the pregnancy.
The 20-week ban is gaining popularity in states. Texas lawmakers passed such a measure last summer. The Democratic-controlled West Virginia legislature passed one last week. South Carolina's House passed one Wednesday afternoon.
McConnell timed his statement to coincide with the one-year anniversary of the Kermit Gosnell trial in Philadelphia. Gosnell was a rogue abortion provider convicted of murder after his gruesome, illegal abortions led to multiple deaths.
Anti-abortion lawmakers often point to Gosnell as evidence that safe and legal abortion care should be more heavily regulated.
"On this anniversary of the Gosnell trial, let's show the world that we remember those who have been victimized by people like Kermit Gosnell and unite in this positive and life-affirming effort to safeguard the most vulnerable among us," McConnell said.
Calling all HuffPost superfans!
Sign up for membership to become a founding member and help shape HuffPost's next chapter
BEFORE YOU GO
PHOTO GALLERY
War On Women