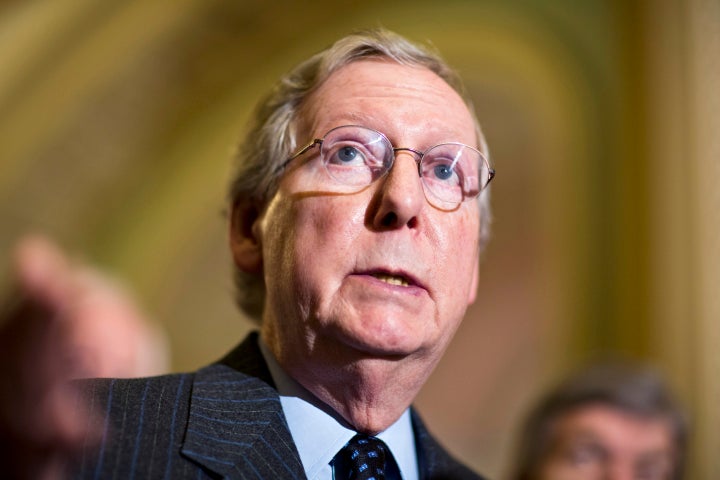 WASHINGTON -- A new poll finds Sen. Mitch McConnell (R-Ky.) facing pressure from voters of both parties, with few guaranteed supporters for his 2014 reelection and many Republicans unsure if they'll vote for him.
Do those findings portend electoral doom for the Senate minority leader? Not necessarily. While McConnell appears vulnerable to a primary challenge, a Huffington Post review of other incumbents that polled similarly poorly shows they went on to win reelection.
The unusual question on a new Courier-Journal/SurveyUSA Bluegrass poll released on Monday asked Kentucky voters if they would vote for or against McConnell "no matter who runs against him."
More than a third (34 percent) of the 609 registered voters surveyed said they would vote against McConnell, twice as many as the 17 percent who say he already has their vote. However, nearly half (44 percent) opted for a third choice: "I will need to see who runs against McConnell before I know how I will vote."
The former, taken in December, gave McConnell the worst favorable rating of any senator in the country, with more than half of voters disapproving. It also found that actress Ashley Judd, said to be exploring a run, would trail him by 4 points in a hypothetical matchup.
The internal poll, seemingly released in response to PPP, gave McConnell a far healthier 51 percent approval rating, but the same margin against Judd.
McConnell's spokesman, Jesse Benton, who earlier dismissed PPP's results, also blew off the Courier-Journal poll, telling The Hill, "Anyone with a kindergarten level of education in polling knows that asking voters to support an incumbent 'no matter who runs against him' is guaranteed to produce the most skewed number possible. This poll is nothing more than an irresponsible way to stir up cheap headlines."
Jay Leve, editor and founder of SurveyUSA, defended his poll, telling the Courier Journal that "the question is an excellent, broadly tested way to determine an incumbent's core level of support. We regret that the results, in this case, frighten the minority leader."
A review of previous SurveyUSA polls shows that whatever the merits of measuring core support, it has proven to be a poor predictor of an incumbent's electoral success. The incumbent with the lowest score -- former New York Governor David Patterson -- opted against running for a second term. However, the four other incumbents who sought reelection all went on to win with 50 percent of the vote or better, despite beginning with "vote for no matter who runs" percentages varying from 18 to 26 percent of the vote.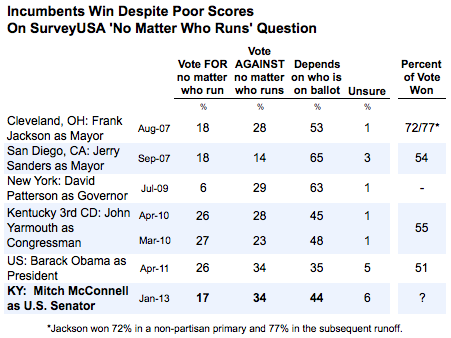 In fact, Cleveland Mayor Frank Jackson, who received the lowest score on this measure among incumbents who sought reelection -- just 18 percent of respondents said they would vote for him no matter who ran -- went on to win a non-partisan primary election with 72 percent support and a subsequent run-off election with with 77 percent.
What should concern McConnell is his especially lukewarm support among Kentucky Republicans. Just 34 percent said they would support him against any challenger, while roughly half said they would need to see who else is running and 10 percent said they plan to vote against him no matter what.
Before You Go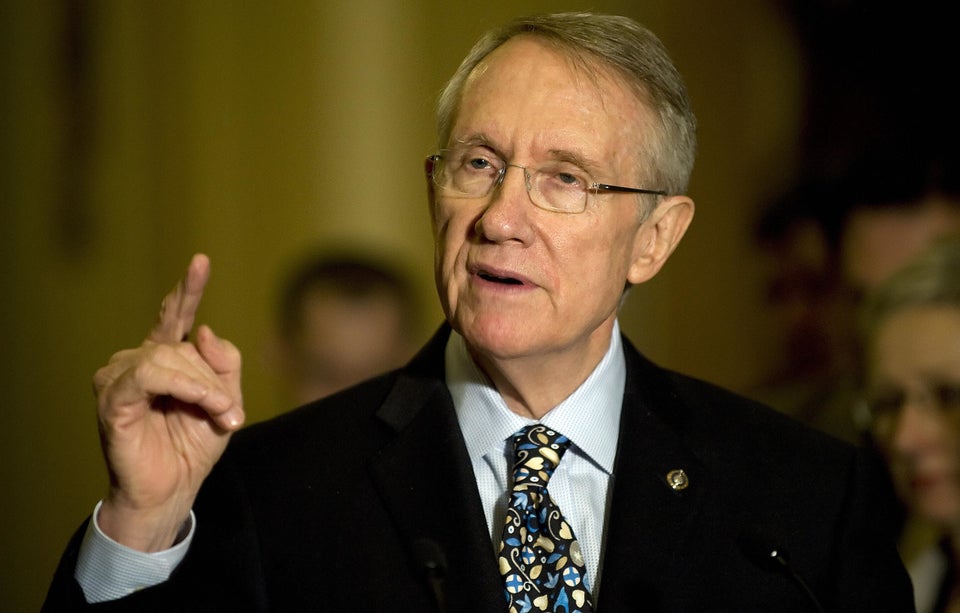 Senate Majority Leaders Through The Years
Popular in the Community