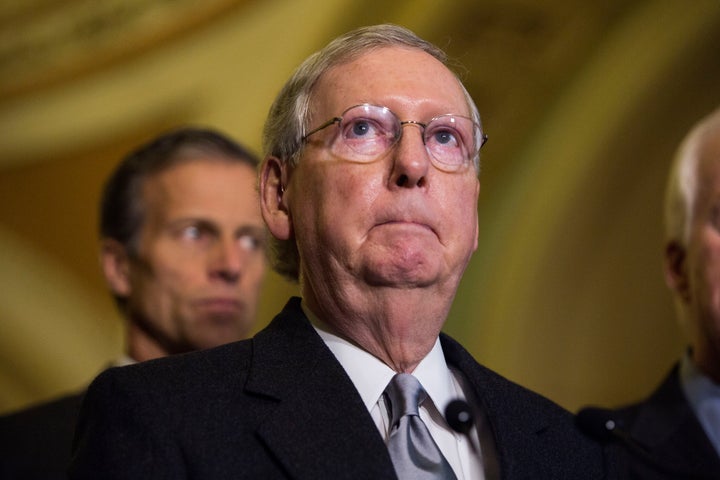 WASHINGTON -- Senate Majority Leader Mitch McConnell (R-Ky.) insists he will pass a new 9/11 health and compensation bill, but multiple sources told HuffPost Tuesday that he cut off a sure route for passing it by refusing to attach it to the five-year highway bill that is moving through Congress this week.
A spokesman for McConnell denied that he stood in the way of legislation to help ailing first responders, arguing that since a formal bill hadn't been offered up, there was nothing to block.
But multiple sources told HuffPost that committee leaders in the House and Speaker Paul Ryan (R-Wis.) had agreed on the bill's components, and all they needed was for McConnell to sign off.
He did not, and the proposed highway bill was released Tuesday without a 9/11 provision attached.
Portions of the James Zadroga 9/11 Health and Compensation Act, which provides important services for first responders and victims, began expiring this year. Sources said the new measure, which would have extended the health benefits and added five years to the Victim Compensation Fund, would have cost about $7 billion. House Judiciary Chairman Bob Goodlatte (R-Va.) had proposed paying for most of it with the proceeds from a forfeiture agreement with BNP Paribas SA.
Top Senate Democrats accused McConnell of using the 9/11 bill as leverage for future negotiations. Senate Minority Whip Dick Durbin (D-Ill.) described the strategy as "give us something, we'll give you help for the 9/11 rescue workers" in remarks to reporters.
Sens. Chuck Schumer (D-N.Y.) and Kirsten Gillibrand (D-N.Y.) "ticked off every box of every potential opponent -- Democrat, Republican, House and Senate," Durbin said. "It all came down to one box at the bottom: Mitch McConnell. He stopped it."
McConnell spokesman Don Stewart said in an email that Durbin's contention was "just not accurate."
"The bill is still being developed, both the duration and payfors are undecided," he said. "Once that's done, it can move forward."
Schumer said in a statement that it was "just plain wrong to play politics with the healthcare of these 9/11 heroes."
"These brave men and women rushed headfirst into the Towers to save the lives of others, which is why this bill has broad bipartisan support, a majority of both the House and the Senate, and needs to be passed right away," he said.
It's unclear when the 9/11 proposal will actually get a vote. Senate Minority Leader Harry Reid (D-Nev.) said at a press conference that he was "disappointed" it wasn't included in the highway bill and that he wasn't sure what Republicans were planning.
"I don't know what their 9/11 idea of the day is -- I should say the hour," Reid said.
If the measure doesn't get attached to the highway bill, another possible route is attaching it to the must-pass government funding bill that is due for a vote next week.
A separate standalone measure that would make the health care and compensation for first responders permanent has more than enough support to pass on its own, with a supermajority of senators and more than 250 members of the House backing it. But before it can pass, it needs to be brought up for a vote.
Goodlatte said in a statement Tuesday night that he was still optimistic a 9/11 bill would pass, including the part in his committee's jurisdiction, the compensation fund.
"I am pleased to announce that we are close to a final deal with the sponsors of the original Zadroga Act in order to provide a fully-funded five-year extension of the 9/11 VCF," Goodlatte said. "Most of the major issues have been resolved, but we are continuing our talks with all stakeholders in order to have a final bill completed by the end of the year."
We'll Never Forget These Heart-Wrenching Images Of 9/11
Support HuffPost
The Stakes Have Never Been Higher
Popular in the Community