Senate Minority Leader Mitch McConnell (R-Ky.) presumably meant to feature a clip of the University of Kentucky's basketball team in a new campaign spot released Tuesday, but the ad's release was instead ridiculed on Twitter for a brief shot of the Duke Blue Devils celebrating their 2010 NCAA Championship victory.
The ad, titled "Rebuild," comes as McConnell faces a primary challenge from tea party-backed businessman Matt Bevin.
"If I'm given the opportunity to lead the U.S. Senate next year, I won't let you down," McConnell says, as the ad pans across the senator giving speeches and talking with supporters.
The shot of Duke players Jon Scheyer and Lance Thomas jumping in celebration comes at 1:09 of the video.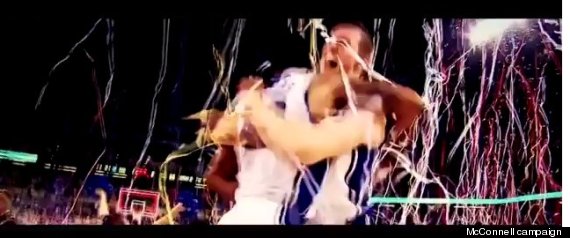 McConnell's campaign pulled the ad Tuesday morning and put up another with an image of Kentucky player Julius Randle.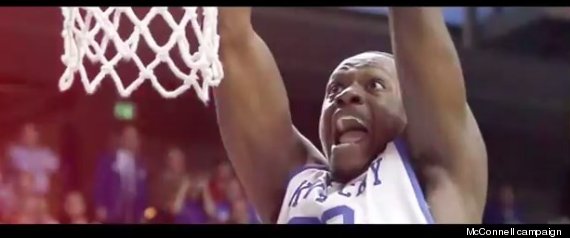 A McConnell spokesperson admitted the mistake after local reporter Joe Sonka noticed the error and posted the original ad on Youtube.
McConnell is a graduate of both the University of Louisville and Kentucky -- the former for undergrad and the latter for law school. He has previously avoided taking sides when the Wildcats and Cardinals have both done well in the NCAA tournament.
The state's two teams will go head-to-head Friday in the Sweet 16.
West Virginia Secretary of State Natalie Tennant (D), who is running to succeed retiring Sen. Jay Rockefeller (D-W.Va.), was caught making a similar mistake last year when her campaign featured a shot of the University of Pittsburgh, a rival of West Virginia University, in an ad announcing her candidacy.
McConnell's campaign spokeswoman, Allison Moore, said the error was made by a vendor and not the campaign itself.
"The ad was intended to highlight Kentucky's basketball dominance and obviously the web ad vendor has become so accustomed to watching national championship celebrations in the bluegrass state that they made a mistake with one of the images," Moore wrote in an email Tuesday to The Huffington Post. "Obviously we were horrified by the error and quickly changed it."
A spokeswoman for Kentucky Secretary of State Alison Lundergan Grimes, who is running on the Democratic side to unseat McConnell, sent out a press release linking the ad incident with McConnell's tenure in Washington, D.C.
"After 30 years in Washington, DC, Mitch McConnell has clearly lost touch with Kentucky," Grimes spokeswoman Charly Norton wrote in the release. "It turns out he has been in Washington so long he does not even know the difference between Kentucky and Duke basketball."
McConnell ducked the flub later, when a reporter asked him, "Can you clarify, are you a Louisville fan or a Duke fan?"
"You know, I didn't get this far in my line of work by answering questions like that," McConnell answered, pausing a second to muster a chuckle.
"That is the hottest issue in our state," he added, skipping over the Duke reference.
He preferred to focus the pending game Friday between Louisville and the University of Kentucky.
"I read an article the other day -- you'll get a kick out of it, since you asked about sports," McConnell said. "In the Louisville media market, which has only about a million people in it, if college basketball is on, there are more eyeballs watching basketball in the Louisville, Ky., media market than any other media market in the country. So it is a passion in our state, and we've got the two NCAA champions in the last two years running against each other Friday night. My law school classmate, the governor, has refused to take a position on this important game, and I think he's got it right."
While McConnell declined to discuss his campaign's misstep, his response at least indicates that he is aware of how big a deal college hoops are in his state and his reelection bid.
UPDATE -- 7:28 p.m.: McConnell spokeswoman Allison Moore released the following statement Tuesday evening:
Earlier today, issues related to the use of NCAA images in a web video created by an outside vendor for our campaign were brought to our attention.

The video was taken down immediately after questions were raised.

Since that time, we have received correspondence from the University of Kentucky, we have spoken with them, and the matter has been resolved.

To be clear, neither the University of Kentucky, the University of Louisville nor any student-athlete was aware of any image used in this video, and actions have been taken with the vendor to ensure this never happens again.

We have also reached out to the University of Louisville to make sure they are aware of the situation and offered our full cooperation to clear up any misunderstanding.

It was our intention to honor our great Kentucky basketball traditions. Our campaign apologizes for any inconvenience this may have caused.
Michael McAuliff contributed reporting.
Before You Go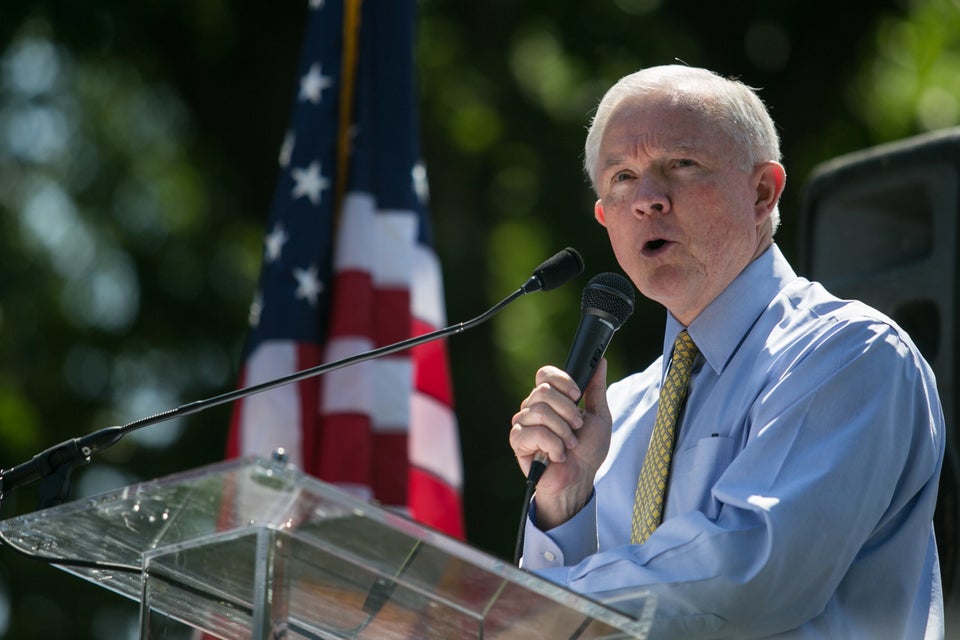 Senate Seats Up For Grabs In 2014
Popular in the Community