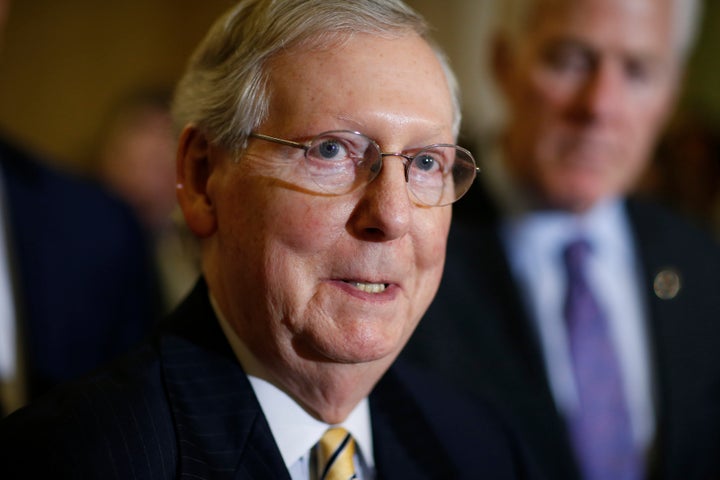 WASHINGTON ― Senate Majority Leader Mitch McConnell (R-Ky.) will continue to honor the blue slip rule ― an arcane but hugely consequential Senate tradition that lets lawmakers block a president's judicial nominees from their home states ― even though a news article suggested he would get rid of it, his spokesman said.
The Weekly Standard reported Wednesday that McConnell said in an interview that Democrats would no longer be allowed to use the rule to deny some of President Donald Trump's judicial nominees a committee hearing or a vote.
The Senate Judiciary Committee currently requires both home-state senators of a judicial nominee to turn in a blue slip ― literally, a blue piece of paper ― to signal support for moving forward with the nominee. Without blue slips from both senators, the nominee won't get a hearing and the nomination is effectively dead. Blue slips amount to giving a single senator veto power over a president's court pick.
In his interview, McConnell said that, from now on, Republicans will treat a blue slip "as simply notification of how you're going to vote, not as an opportunity to blackball."
The article's author, Fred Barnes, wrote that that means the blue slip rule now "won't be honored at all."
But McConnell spokesman Don Stewart said McConnell was talking about his own view on blue slips, and was not saying that Republicans won't uphold the rule anymore.
"No, he's been talking about HIS position on the matter for some time now," Stewart told HuffPost in an email. "If you mean he's not announcing a committee position, then yes, he's not announcing a committee position."
He mentioned a September article where McConnell said his personal view is that senators shouldn't be able to use blue slips to block appeals court nominees, but should be able to for the lower district court nominees.
Both parties have used blue slips to block a president's court picks. Sens. Al Franken (D-Minn.) and Ron Wyden (D-Ore.) have said they won't turn in blue slips for some of Trump's judicial nominees from their states. Republicans routinely used blue slips to block President Barack Obama's judicial nominees, even when it meant blocking people they had originally recommended to Obama (looking at you, Marco Rubio of Florida and Richard Burr of North Carolina).
It's ultimately up to Sen. Chuck Grassley (R-Iowa), the Judiciary Committee's chairman, to decide whether to honor blue slips as he schedules hearings for Trump's court picks. So far, he has, and Sen. Patrick Leahy (D-Vt.), the panel's former chairman, told HuffPost in June that Grassley gave him his word he would keep the rule.
"This should be, and has historically been, the decision of the chair, and Chuck Grassley has been trying to be as fair as possible," said Carl Tobias, a law professor at the University of Richmond who specializes in judicial nominations.
A Grassley spokeswoman did not respond to a request for comment on whether the senator had any plans to nix the blue slip rule.
McConnell is under tremendous pressure from conservative groups to do more to confirm Trump's judges. The right-leaning Judicial Crisis Network was planning to launch a $250,000 ad buy in Washington this week calling on the GOP leader to either change the Senate rules to force through judges or keep the chamber in session to wear down Democrats into confirming a spate of them. McConnell's aides contacted the group to defuse the situation, per Politico.
Another group, the Conservative Action Project, released a memo this week signed by more than 100 conservative activists demanding that McConnell "IMMEDIATELY schedule committee and floor action every Thursday and Friday for the foreseeable future" to confirm judges and other presidential nominees.
Trump has been nominating judges at lightning speed since taking office, outpacing both Obama and former President George W. Bush in the number of nominated by this point in their White House tenure. The White House has been working closely with the right-leaning Federalist Society to pick his appeals court nominees, many of whom have been young, conservative, and opposed to LGBTQ rights and abortion rights.
The Senate hasn't confirmed many of Trump's picks, though ― a total of six district and appeals court judges so far ― hence the pressure on McConnell to do more. That's due in part to the Senate's packed legislative schedule, as well as general chaos emanating from the White House and Democrats delaying or blocking action on nominees they oppose.
McConnell told The Weekly Standard that's going to change.
When nominees "come out of committee, I guarantee they will be dealt with," he said. "Regardless of what tactics are used by Democrats, the judges are going to be confirmed."
It should be relatively easy for Republicans to confirm judges. It only takes 51 votes to confirm a district or appeals court judge, and there are 52 GOP senators. It also only takes 51 votes to clear a filibuster for those nominees. That used to require 60 votes, but when Democrats controlled the chamber in 2013, they lowered the threshold after Republicans routinely used the filibuster to block Obama's nominees.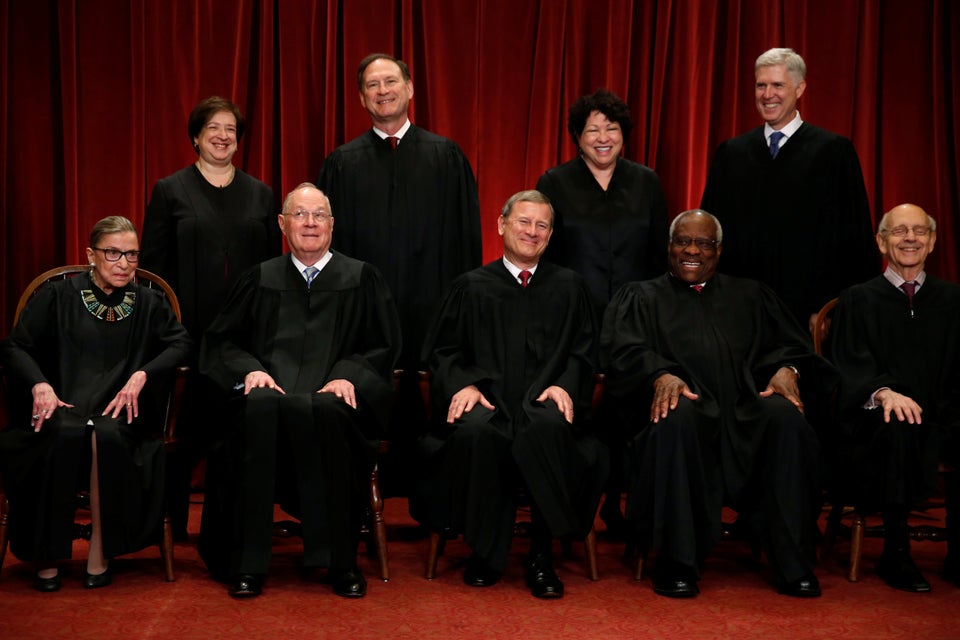 The Supreme Court's 'Family' Photos
Popular in the Community