WASHINGTON -- Senate Minority Leader Mitch McConnell (R-Ky.) ducked questions Tuesday about whether it was appropriate for his campaign to target Ashley Judd's mental health in a mysteriously recorded campaign strategy session, instead alleging that liberals bugged his office.
"As you know last month, my wife's ethnicity was attacked by a left-wing group in Kentucky, and then apparently they also bugged my headquarters -- so I think that sums up how the political left is operating in Kentucky," McConnell told reporters on Capitol Hill, referring to the group ProgressKY, a poorly funded liberal super PAC that sent a racist tweet about McConnell's wife, former Secretary of Labor Elaine Chao.
Chao subsequently appeared in an ad denouncing the attack. ProgressKY did not respond to a request for comment.
McConnell did not accuse the group directly, saying the recording was "a quite Nixonian move," and much like "Watergate."
"This is what you get from the political left in America these days," he added.
McConnell ignored repeated questions as to whether it was appropriate to consider Judd's mental health or religious beliefs as a campaign tactic, repeating a similar answer three times before cutting off questioning on the subject. Judd, who decided not to challenge McConnell, has written extensively about her bouts with depression, as well as about her religious leanings.
McConnell's words echoed charges made earlier by National Republican Senatorial Committee Chairman Sen. Jerry Moran (Kan.).
"Secret recordings, private conversations leaked, reports of bugs -- these Watergate-era tactics have no place in our campaigns," Moran said in a statement. "I am glad to read Sen. McConnell's campaign is working with the Department of Justice and the FBI to find answers."
Moran called on Mother Jones and political groups -- including the Democratic National Committee, the Democratic Senatorial Campaign Committee, the Kentucky Democratic State Party and outside political groups -- to "state for the record that they had nothing to do with these illegal acts, denounce them, and make clear they have no place in our political debate."
DSCC Executive Director Guy Cecil responded that McConnell was "desperate to play the victim," and should apologize.
"The DSCC doesn't know if this tape came from a disgruntled Senate staffer who was forced to dig up dirt on their boss' potential opponents or another source, but its content is a clear example of how Mitch McConnell is the living, breathing embodiment of everything that is wrong with Washington. It is beneath the office of Minority Leader to engage in this kind of trivial politics. He should apologize to the millions of Americans who suffer from depression and don't believe it's a laughing matter."
Before You Go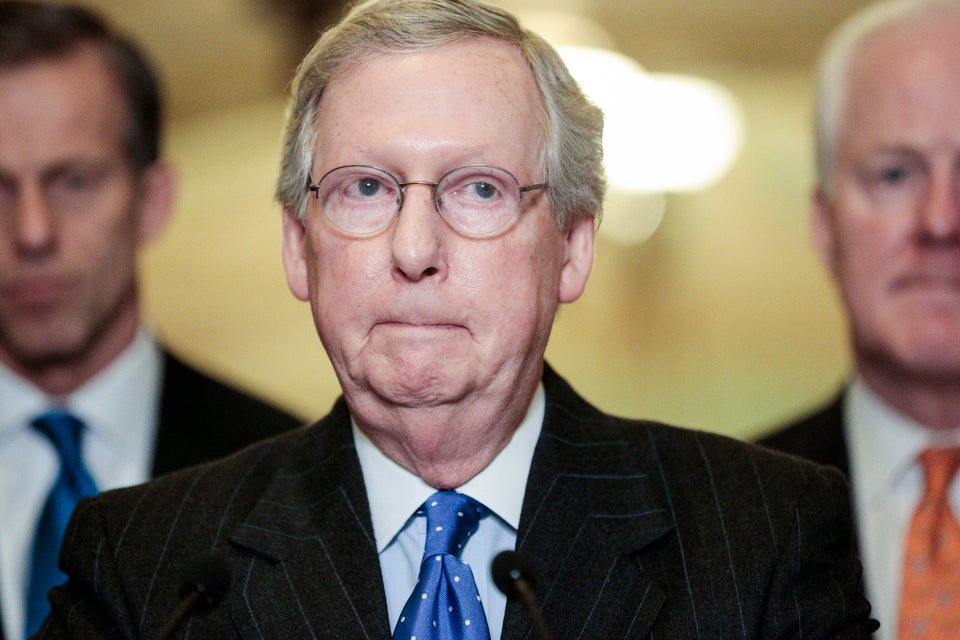 Say Cheese! Mitch McConnell Smiles
Popular in the Community