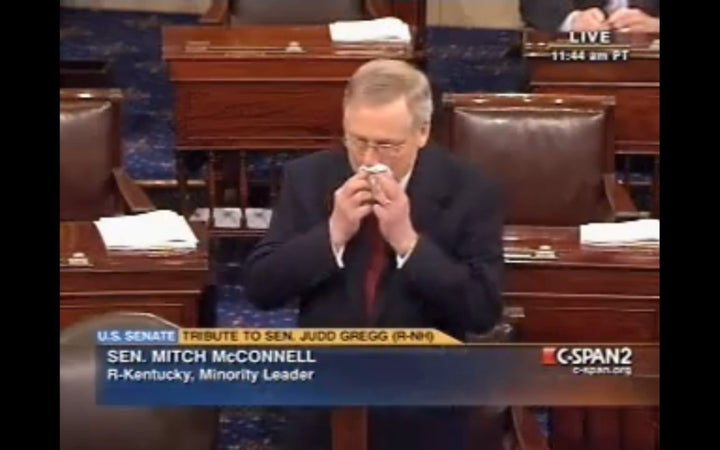 Senate Minority Leader Mitch McConnell delivered a tearful sendoff to his GOP colleague Sen. Judd Gregg of New Hampshire on the Senate floor Tuesday, becoming the second Republican leader this week to draw attention for exercising his tear ducts in a public appearance.
"Now to say that I tried to convince Judd to stay is an understatement," McConnell said with a belabored smile that quickly transformed into a crescendo of emotion. "But he knew it was his time to move on, and to write the next chapter in his life. And while senators come and go all the time, I can't help but note that when Judd walks out of this chamber, when he walks out of this chamber for the last time, he'll leave an enormous void behind. So I'll close, old friend and colleague, by saying that you're certainly gonna be missed."
McConnell's bout of sniffling builds not only upon an appearance by John Boehner on CBS News's "60 Minutes" last weekend, in which the future Speaker of the House discussed and displayed his renowned propensity for uncorking the optical floodgates, but also upon a previous incident in which the Senate Minority Leader let loose on the Senate floor.
Earlier this year, McConnell sobbed during a lengthy farewell address to his chief of staff, Kyle Simmons, who was leaving to start up a lobbying firm.
And late last month, McConnell was also reported to have "choked up" during a final floor speech by outgoing Sen. Chris Dodd (D-Conn.)
Popular in the Community